Wednesday, March 30, 2005
I've long had the feeling that the Boston media, in particular the Globe, has some of the best online baseball coverage available anywhere. The amount of audio and photo content they regularly get up there is fantastic for those of us who spend some of the season out-of-state, and the articles are well-written (with exceptions, and you know who I mean). They're not perfect, they make some dicey decisions (note to newspapers: leave the bloggers be, do not attempt to affiliate yourselves with them), but they're still excellent.

Sometimes, though, I still like to rocket around the newspaper 'net and see what everyone else is saying.

From the Miami Herald, on how winning the World Series has affected the team:

''If you really have a good team, your team polices themselves,'' Francona said. ``No place polices themselves better than [our clubhouse]. When you walk through the door, everyone's open, fair game. And if somebody's out of line, they get them back in line. That's how it's supposed to work.''

A World Series hangover? That's not going to stop this bunch.

''I have a feeling,'' Francona said with a grin, ``some of these guys play with hangovers anyway.''

Yup, I think David Wells is gonna fit in juuuuuuust fine.

From the Nashua Telegraph, on Trot Nixon batting second:

"I've never really had an issue where I hit," Nixon said, "as long as I'm playing."
...

Francona said Renteria accepted the decision.
"He was the first guy I talked to or this wouldn't have been a reality," he said.
...

"I didn't necessarily come into camp thinking Trot was going to hit second," Francona said. "The more I look at things and get some input, it just seems like the right thing to do."

I guess it didn't occur to me that Tito would have to make sure Edgah was on board with the decision. I don't know why, it just didn't.

From the Baltimore Sun, on the Idiot Red Sox:

Standing in the middle of the spring training clubhouse, Varitek implores the media to look beyond the appearances and quirks of a few characters and instead concentrate on the bond of hard-nosed baseball that unites an eclectic clubhouse.

His words are still hanging in the air, waiting to be absorbed by tape recorders, jotted down into notebooks and eventually fed to the masses, when Varitek changes tone.

"That's gross. That's disgusting," he shouts toward the corner of the clubhouse, where Boston first baseman Kevin Millar, the poster boy for Idiot Nation, is doing jumping jacks wearing a red "Cowboy Up" T-shirt.

And nothing else.

Millar, a husky 210 pounds, has his back to reporters, but he is staging his half-naked workout directly in front of backup catcher Doug Mirabelli. However, Mirabelli is just sitting at his locker, staring straight ahead and occasionally erupting with a deep, rehearsed "I scoff at danger" laugh.

Unable to break Mirabelli's concentration, Millar scoots down two lockers and continues the routine in front of star outfielder Manny Ramirez.

Ramirez refuses to look at Millar, only further encouraging the first baseman while prompting bursts of infectious laughter throughout the clubhouse.
....

"A guy is walking around doing jumping jacks naked, but before that he is out there for an hour and a half hitting with the best right-handed hitter in the game," Varitek said. "So he got his work done first."

I have nothing to add to this. Nothing.

From the Daily Democrat, on Dustin Pedroia:

He laughs about the difference between shortstop and second base.

"Nothing...just the angle's a little different. Anytime you're playing in the middle of the diamond, it's kind of all the same. It's not that big of an adjustment."
...

"Bellhorn is always talking to me, trying to help me out," Pedroia continues.. "The guys on the big-league club are unbelievable. There's not one that separates himself from the team. Everybody is great. That's why they're world champs.

"You're be surprised how nice a guys and how everybody cares about everybody else. It's awesome. Francona is unbelievable. If you play hard, he loves you."

Pedroia and Francona, who played at rival University of Arizona, are constantly trading barbs.

"He gives me a hard time, asking me how ASU is doing," Pedroia jokes.
...

"Major league pitching is not that much different," he says matter-of-factly. "They make mistakes like we do. They're not perfect. They don't hit all their spots. Sometimes, they leave balls out over the plate. They're human."

Kid's got poise, yo. I love this little guy, I can't wait to see him move up the ranks.

From the San Diego Union-Tribune, on Dave Roberts missing Opening Day for the Padres:

The Padres' plans for Opening Day took a sharp turn Tuesday afternoon when club officials said center fielder Dave Roberts likely will be held out of the April 4 game because of lingering groin soreness that could put him on the disabled list.
...

"If it's not 100 percent, we'll give him a couple of weeks to get it right," [Padres GM Ken] Towers said. "I don't want it to be lingering for the whole season."

Also interesting is that his replacement for now is Xavier Nady, a Padre I have noticed in the past as being kind of cute.

From the Lynchburg News and Advance, on Brandon Inge's move to third base:

"Maybe it's less of a mental load being at third base," Inge said. "When you're catching, you've got to think about all the hitters on the other team, how to pitch them, working on all of your catching, framing, blocking, throwing runners out and, the biggest thing is, keeping that pitcher in line out there.

"Third base? Look at the scouting report, know who pulls the ball, who doesn't pull the ball, and go out there and catch what's coming to you and throw it across the infield and then go hit. That's it."

Seeing how Brandon Inge has publically and repeatedly admitted that he's 'not all that smart', a position that lets him play without thinking too much can only be a good thing.

From the Chicago Tribune, on A-Rod's new approach:

"I have a lot of respect for Jason [Varitek]," Rodriguez said Wednesday. "That's why he's the captain of that team. In the heat of the moment, New York-Boston, sometimes you do things you regret. I'm not really proud of it now that I have a daughter.

"But you play hard, you live and, again, I do have respect for Jason and what he's done. And he's a world champion and I'm not."
...

Torre said Rodriguez could work more this spring because the media focus was off him. The big stories are Randy Johnson, the new Yankees ace, and baseball's steroids controversy.

"It's been a lot more stealth, going back under the radar screen and focusing on one thing and that's winning," Rodriguez said. "Everything else is secondary."

OK, who called that one? Only I was talking about this effect working for Pavano and Wright, not A-Rod. Because, last I checked, A-Rod didn't really have a media-free offseason, what with the whole everyone-on-the-Red-Sox-will-call-him-out thing.

Blue Cats and Red Sox: reading the newspapers so you don't have to.

As a side note, today my photography professor, Joanne Leonard, was presented with a Distinguished Professorship by the University, which is apparently one of the highest honors they can give out. She gave a speech and a little overview of her life's work today, so my class had to attend. She's the first professor from the school of Art and Design to get one (when the University provost announced this before her speech, Dean Rogers [of A&D] whooped "Yes!" at the top of his lungs into the silent auditorium. It was hilarious and mortifying).

The point is, the whole crowd was filled with art students, and art faculty, and University bigwigs, and tons of professors from random departments, and whatnot. After the speech (which was quite good), I trotted down the stairs to tell the prof. that I had enjoyed it and to ask how many photos we had due on Thursday. As I made my way down, I passed the University provost, who was going up, deep in coversation with Dean Rogers. He glanced at me as we passed, then looked back and grinned.

"Great to see the football shirt in this crowd!"

Yes, I was wearing my acid yellow Michigan football tshirt, the one you get every year with your season tickets (I was wearing last year's edition). I guess in a crowd of art students and elderly professors the Provost wasn't expecting to see many football fans. I smiled and said, "Hey, gotta bring the sports in here somehow!", he chuckled, and we continued on our separate ways.

That was my exciting encounter for the day.
2:15 AM

Tuesday, March 29, 2005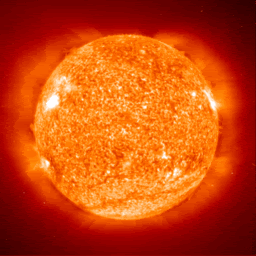 We started off with the jewelers saws, which were kind of scary because you could cut yourself on them.

Then we learned soldering, which was scarier than the jewelers saws because you had to wear goggles and it involved a torch, and fire, and little tanks you could blow up if you weren't careful.

Then we learned gas welding, which was scarier than soldering, because you had to wear tinted goggles, and safety gloves, and a safety jacket, and it involved a bigger torch and a hotter fire and much bigger tanks that you could use to incinerate the entire building if you weren't careful.

We figured that they were working us up in terror, each technique scarier than the last, but gas welding had to be the end of it. Nothing worse than gas welding. Right?

Today we learned MIG (metal inert gas) welding.

For this you have to use a face shield called an Auto-Dark, which has a tiny green-tinted window that becomes perfectly black automatically as soon as you start welding. If you don't wear gloves while you're using the MIG welder, you'll get a bad sunburn on your hands. Do you know why this is?

IT IS BECAUSE THE WELDING ARCH IS AS BRIGHT AS THE FUCKING SUN.

It looks bright white-blue through the face shield. I don't know what color it is without a shield, because if you look at it with your bare eyes YOU WILL BURN OUT YOUR RETINAS LIKE IF YOU STARE DIRECTLY AT THE SUN.

And we're supposed to hunch directly over it to make sure it's welding in a straight line.

*whimper*

I hope to god that we're done learning new techniques. What could possibly be worse than welding with something as bright as the sun? Welding by harnessing the power of an atomic bomb?

In other news. We have him? We don't have him? We have him? Mike Myers might be back in Boston. I'm not sure why we'd want him, exactly... I mean, do we have the roster space right now for a LOOGY? Wouldn't he just languish in the minors for a while? Is that cool with everyone? I don't know how these things work.

THANK FUCK. We all know how I feel about JJ, and how I feel about Bonderman in contrast. Plus, the kid deserves it, the way he pitched last year and the way he's been pitching this spring. Nice to see that Tram actually came to something generally resembling his senses.

That's about all I've got right, what with the stress of finals closing in, but if you're a human being who likes baseball you need, need, NEED to go over and read what's been going on at Athletic's Nation. I am equal parts absolutely delighted and absolutely, horrifically jealous. Basically, Blez (the blogger) gets to hang and chat with the A's media, Billy Beane, AND THE FUCKING PLAYERS.

I'm wondering if this is a function of his blog in particular, or if it's an Oakland thing, or what. Because honestly, much as I love the Sox, free and crazy as they are, I can't imagine them ever giving this kind of access to a blogger. He has several of the players promising to come and write little articles on his blog all throughout the regular season, for crissakes!

So, yeah, jealous times 400, but I can't wait to read it all, and all you kids should go take a look too. If nothing else, it's a big step for sportsblogging everywhere, and it can't hurt to bask in Blez's blogging glory.
2:35 PM

Sunday, March 27, 2005
The latest talk of the Red Sox 'net has been the Powerpoint presentation that a group of adorable little schoolchildren out in Acton made, telling the Red Sox and the Yankees that they want the players to shake hands before games and not set a bad example by being 'violent' and 'mean' and 'awesome to watch and root for'.

You can see this infamous and insidious presentation here.

Now, if you know me at all, you know my stance on small children-- I don't like them. I don't like them at all. I don't trust them, I don't enjoy their company, and I don't want any of my own. Small children who try to ruin the Boston/New York rivalry, therefore, are like my worst nightmare made real. The only way it could be worse is if they were all from Ohio and wanted to grow up to be Buckeyes.

Obviously a response was necessary.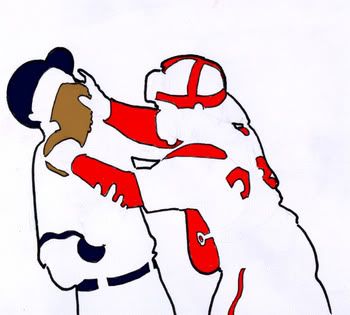 Click on the lovely fight drawing to get to my Powerpoint presentation about why shaking hands would be a bad idea for everyone involved. Hey, if small children can make a crappy, incoherent Powerpoint, so can I. And yes, I realize that it seems to have turned all the images into .gifs that sometimes have icky black lines on them, if anyone knows how to fix that please let me know.

Now, the kids sent their little slideshow to the teams, right? Quick, someone get me some front office addresses. We can't let them make their decision based on just one side of the story, now can we?

Join me in my fight against camaraderie, handshakes, and small children. Spread the message. Children are evil, and we like our baseball rivalry just the way it is.

edit: Amy put me on to this one. Barry Zito, 26 year old ace of the Oakland A's rotation, is kind of emo and kind of hippy and kind of an aspiring photographer. He chronicled his spring training in a photographic fashion. Some of them are actually pretty artsy and some of them are actually pretty good. Plus, Barry Zito. Dear lord.

"I like the moist sensation."

Theo, any chance of picking this kid up when his contract expires in Oakland? If he has a good season they probably would have a devil of a time affording him...
4:46 PM

Friday, March 25, 2005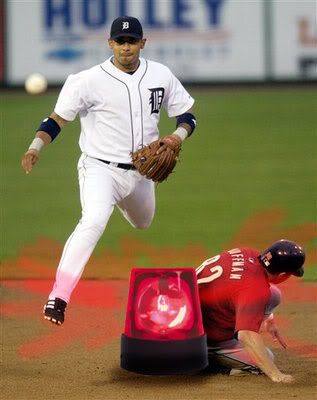 KNEE SIREN! In my brain!

Bill Simmons is doing a running diary of March Madness over in his little corner of the internet. So far as I'm concerned this is a great wrongness. College basketball sucks. There, I said it. Either the rest of the world is insane or I am. I'd believe either with equal ease (bam, alliteration!).

Anyways, I felt a great need to recitfy this wrongness, primarily by doing a running diary of baseball. Sadly, there is not much in the way of baseball going on right now, but there was Detroit Tiger spring training on TV tonight! Yes, I watched it. Yes, I did a running diary of it. Yes, you now have to see it. I'm not sorry at all.

Oh, and in light of recent events, we'll be doing a Bee Watch today. Just, you know, in case they decide to come back. And swarm. And KILL.

BOTTOM 1

Missed the top of the first, because hey, hamburger day in the dorms. Not to be missed. I didn't see who led off, but Guillen just got a hit into center… his leg sort of slipped out from under him at the end of his swing and only got a single. KNEE. KNEE. THAT IS THE KNEE SIREN GOING OFF. My brain doesn't enjoy that.

"It has been an absolutely torrid spring training for Rondell. Just gaudy, gaudy numbers." Thanks, Mario, for that torrid announcing.

Guillen scores on a long Dmitri pop fly, and it's 1-0 Tigers. Sweet. No Pena or Inge in the lineup, I note… I don't think Pudge is here either. Ugh. That's what we get for a split-squad. I know Brandon Backe is pitching for the Astros, but I missed who's pitching for us.

The River Thames pops out. Let's see.

TOP 2

It's Jason Johnson again. FSN is televising three games this spring training, and TWO of them are started by JJ? Shouldn't there be some sort of law against that? We could be watching Bonderman, we could be watching Maroth, and we're watching JJ. It just seems cruel.

Oh look, a double for Mike Lamb. Way to go, JJ! Nice pitch! Give him a double, you know you want to! His first pitch to the next guy has to be dug out of the dirt by Vance "44th Round" Wilson. And then he hits him with a fastball. It's only the second inning. It's only the second inning. It's only spring training. It's only spring training. Note for psychologists: repeating something that should be soothing does not stop you from flipping out.

Wow, Dmitri's miked up today. Before the game he was doing the do-si-do with Carlos Guillen. Seriously, they linked arms and were bouncing around in a circle, Dmitri warbling happily into the mike. I'm not really sure what to say about this, but it was a welcome break from watching JJ lose it this early.

Vizcaino doubles in two runs. 2-1, 'Stros.

Raul Chavez RBI, 3-1. The throw to home isn't in time, but 44th Round chucks it to second and we're mercifully out of the inning. Pretty alert of him to realize the ball wasn't going to get there, and stepping up off home plate to make the play at second. Look at me, making the best of things.

Bee Watch: There are no bees as of yet.

BOTTOM 2

Mike Maroth wants me to buy a luxury box. Mike Maroth looks so nice, I want to oblige him. Look at his little clean-shaven self! Alas, it is not meant to be.

Oh, we're getting the 'Bobby Higginson's always been a slow starter in spring training' speech. I can't count the number of times we've heard this one already. He flies out to right, so yeah, slow start indeed.

Opposite-Nomar Martinez flies out to center. Flies flies flies. Musca domestica is getting quite the workout today.

Ha ha, Brandon Backe just squeezed his own ass right in front of the camera. And he walks 44th Round. Go on then Brandon, give us another squeeze. Obvious, but it's got to be said: baby got Backe.

Bleh, we're out on a DeWayne Wise liner that was caught by, um, I think that was the Astro shortstop. DeWise somehow hurt himself and… uh… someone else is heading out to the field for us. Blue? The kid's name is… Vince Blue. OK.

TOP 3

"Farnsworth, hoo, he's a biggun!" Rod Allen, your commentary is so enlightening.

Oh. Infante just snags a ball out of the air—it looked like a single for sure, maybe a double if it bounced funny. Man is it good to see Omah throwing that shoulder around, and lord knows JJ could use the defensive assistance.

Second stolen. Bollocks. 44th Round doesn't look as comfy in his crouch as Pudge does. Or maybe he just doesn't look as good in it as Pudge does. And JJ walks the next guy, so they've got guys on first and second.

JJ's fastball is up in the low 90s right now. Unfortunately, Carlos Rivera gets an RBI single on a full count, and it's 4-1, 'Stros. Mound meeting time. JJ just wiped the ball briefly across his crotch, but if it helps I'm totally on board with this maneuver.

RBI for Chris Burke. 5-1, 'Stros. Here comes Bob Cluck to jaw mildly with JJ for a minute. Bets on whether it will help? I'm putting my virtual money on NO.

Mario: "I think this rally started with two outs, didn't it? That's not really what you're looking for from your starting pitcher."
Rod: "No."

Oh hey, Tram just said something interesting. Apparently the 22 lbs that Pudge lost was more like 15… he lost 22 lbs from last spring training, not the end of last year, he was already a little lighter by then. Huh. And Tram also adds, "He's been working with a running coach, and if you see the guy… he's just in great shape." Now this is what I like to hear.

44th Round runs around in circles for a while until a pop foul ball lands in his glove, and we're out of the third. Can I say 'mercifully' again, or would that be too repetitious?

BOTTOM 3

4 straight balls to Omah. Backe seems to be having some trouble with his control all of a sudden, starting from the end of last inning.

Rod and Mario just spent 5 minutes discussing how Nook Logan "is one of the fastest players in the American League" and "he can just fly" despite the fact that Nook is not actually, you know, in the game. There's a perfectly good Carlos Guillen at-bat happening right here in front of them, but I guess it's not enough to grab their attention. Look guys! Shiny object! Shiny object!

Lamb drops a normal little bloop to left, kicks it over the foul line, and we've got men on first and second with no outs for Rondell White. Rondell is rockin' the separated mustache-and-goatee combo lately. Backe throws one waaaayyy inside and high, I'm actually shocked Rondell managed to get out of the way of that one. Walks him. Bases juiced, and not in the Jose Canseco way. No one out, and not in the Mike Piazza way.

Oh boy, Dmitri. This could be cool.

Popped to left, that'll score Omah. Well, a grand slam would've been nice, but we've still only got one out and now it's 5-2, 'Stros. The River Thames up, aaaand he's walked. Loaded.

In the dugout, in what must be footage from last inning, Dmitri and Guillen face each other, pound their chests, and hoot like monkeys. See, this is the stuff you miss out on if you want to follow the Tigers from Boston.

2-0 to Higgy. Backe is having Issues with a capital 'I'. Maybe a couple of capital 'S's too.

Bobby Higginson: the most violent gum chewer on the field. It's like he's trying to dislocate his jaw. He also keeps throwing me off… Higgy's one of those guys who can look kind of old and decrepit one day, really attractive the next. Looks good today, but it won't mean shit to me if he strikes out here.

Walked 'em! Higgy, your cheekbones looks fantastic today. That'll score Guillen! 5-3. Opposite-Nomar immediately pops foul, which is caught, so now we have 2 outs.

44th Rounder sends one to the wall! Triple! Three runs in, and just like that we're on top 6-5!

"Keep goin', Vance! Oh oh! Whoooo!" *slightly scary point in a skyward direction* -Dmitri Young. Miked up.

Bee Watch: Still no bees.

TOP 4

Higgy catches a liner in right, one away. Oh man, inexplicable shot of a TERRIFYING Pudge bobble-head doll. The only way I could tell it was Pudge was because of the catcher's gear, but damn, that thing looked like it was all of 5 seconds away from leaping off the desk and crushing a baby's tender little trachea somewhere.

Oh bollocks. Men on first and third, one out.

"Boy, you really want to see your starter slam the door when your team scores 5 runs to give you a 6-5 lead in the previous inning." Mario, we all agree that JJ is sucking boiled eggs today. Why is this man starting for us on Opening Day. Why. Why.

Grotesque. Luke Scott got ALL of JJ's pitch, and it was gone all the way. Three runs score, 8-6 'Stros. You could tell that was gone the second it came off the bat, pretty much a perfect hit.

After a looper into left puts a man on first, Tram peels himself off his chair and so much for JJ getting into the games longer, huh? Six or seven innings? Laughable. Doug Creek, fat lefthander trying to make the bullpen, comes in to hopefully not suck as badly.

Opposite-Nomar catches a foul ball about a foot away from the stands, causing the security guard in the area to pick up his folding chair and scramble out of the way in a portly panic. Another guy flies to center, and that'll be that. Jason Johnson, I hate you. I HATE YOU.

Trevor just called. "Did you see that?" Yes, I did. "Why is he starting Opening Day?" I do not know. "Sometimes I hate life. I am a Tigers fan." Then he hung up. I'll probably hear from him later.

BOTTOM 4

Aaand it's raining. The fans are all fleeing. Pansies.

Guillen gets a solo home run to make it 8-7 'Stros. Again a little slip leaving the box. The Knee Siren went off in my head and I almost couldn't enjoy the score. KNEE. KNEE.

Short inning.

Bee Watch: The bees remain conspicuous only by their absence. The rain might now keep them away for the rest of the night.

TOP 5

To encourage you to buy a luxury suite, they show a bunch of people in nice outfits, wearing Tigers hats (excuse me, only the men wearing Tigers hats, no hats for the women) standing around talking. Wow. You, too, can wear stiff clothing and a baseball hat (but only if you are male). You, too, can stand around and talk in the most boring and sedate fashion ever invented. Tigers baseball! Whoop whoop!

Someone went to Georgia Tech. Mario and Rod and talking about Nomar and Varitek. Uh, I think it was Creek who went there. Also graduates of Georgia Tech? Wallwhacker Brown, Mark Teixeira-of-the-Texans, and new Red Sock Jay Payton.

"I hope I don't get electrocuted wit' this wire on." –Dmitri Young, to whichever Astro that is on first base right now. It's not quite accurate science, but at least Dmitri knows that electricity and water is not a good mix. This is more than I would expect from a baseball player.

44th Rounder 'got crossed up' and Vizcaino gets to third. He thought the ball was coming one way and it went the other.

Double play! Guillen to Dmitri. Thank heavens, I thought Creek wasn't going to get out of that one.

BOTTOM 5

Aw, two kids are holding signs and standing next to each other. The slightly older-looking one is wearing a Michigan State hat, the younger one is wearing a Michigan hat. The second the camera is off they leap upon one another and begin bloodily tearing and rending with teeth and tiny child-claws.

The River Thames gets a single, his first hit of the game. The Farns is warming in the 'pen. Rod Allen just keeps talking about how big he is, "He could play linebacker in the NFL." Mario says something about how you can't tell how big Farnsworth is "until you stand next to him in the lockerroom." It's not specified, but I feel this statement somehow involves nudity.

The crowd's not booing, just saying "Bllluuuuuueeeee!" Cute. Embrace the kid. Backe, meanwhile, is being taken out despite striking out the last two guys. I guess they just had a pitch limit they wanted him to hit. Mike Gallo is in. I have no idea who this guy is, so I'll have to believe our wise announcers when they say that he's a lefty specialist for the Astros who usually comes in for just one hitter or something.

TOP 6

The Farns is on the mound. Hee hee hee. That's not funny if you don't know his history, probably.

I know the female Cubs fans used to call him Captain Tightpants and I must say, upon inspection, the pants are indeed quite tight. They also appear to be a little long, so he's practically stepping on the backs of them. Pretty goofy. I'm going to have to advocate high socks here, from an aesthetic point of view. The short hair, though, is definitely an improvement over whatever he was trying to do before.

Ha ha, they just showed one his games from last year. Paul Wilson (Reds, pitcher, but it was a National League game, of course, so he was batting at the time) was jawing and took a step or two towards the mound, so Farnsworth came charging down off it and body-slammed him to the ground. As the delighted Detroit announcers are saying, "Oh, what was he thinking about? What was Wilson thinking about?"

Oh, Guillen's out of the game. Good. Maybe the Knee Siren will be quiet for the rest of the night.

The Farns is throwing consistently and comfortably at 97 mph. Oops, sorry, that last one was 98. Huh. This is my first time seeing him for the Tigs, by the by, so I find this pretty interesting.

Rondell catches a Mike Lamb fly, that's the inning. Farnsworth has looked the best of all our pitchers so far today.

BOTTOM 6

Brad Lidge pitching for the 'Stros, and him I've heard of. He quickly brings it to a full count on Omah, who gets cuter the longer I look at him. He looks pretty unfortunate in photos, though. Ah, out at first. Oh well.

Gilberto Mejia batting for us, I think he's the guy who came in for Guillen. I have no idea who this kid is. Looks awfully young. I love it when the batting helmets looks too big for their heads.

Rondell snaps one over the glove of, um, the second baseman. Whomever he may be. Man on first, two outs.

Rod Allen: "We knew Lidge couldn't throw a fastball past Rondell, now."
Mario Impemba: "Mmm hmm."

Dmitri's loose uniform just makes him look more huggable. Like a great big teddy bear. I know the SG guys are scared of him, but c'mon, so huggable. And so struck out. Eh. Poo.

Bee Watch: Hard to tell if it's still raining. Regardless, the bees are staying in for now.

TOP 7

THE AD WITH PUDGE AND DMITRI LEANING ON EACH OTHER AND AT ONE POINT DMITRI WADDLING AT THE CAMERA LIKE HE'S GOING TO KNOCK IT OVER FOLLOWED BY MORE LEANING YAY I AM HAPPY.

Wow, nice catch by a little girl in the crowd on a foul ball. Dmitri's done for the night, Old Man Palmer's playing first. I guess his biceps feel better. Ah, screw Percy and Rodney, I just wanna watch Farns for a while longer. See, on the one hand I know how he behaved in Chicago, so ew. But on the other hand, hmm, tight pants. Also, 97 mph fastball. A dilemma.

Coolbaugh (is that a real name? Cool-baw? It sounds like a freezer company) hits a ball off the third base bag, which turns what might have been an out into a double. Rat bollocks.

Mejia's almost knocked over by a ball, but he hangs on and send it along to the Old Man at first. Palmer kind of looked at the ball in his hand afterwards like he was confused. Oh, Deano. Whatever will we do with you, you crazy former retiree, you.

BOTTOM 7

"Maaaaan yessir DEEEEEwise!" –Dmitri Young, greeting Dewayne Wise in the dugout.

Some guy named Springer pitching, the River Thames and Higgy both out in short order. Uh, who's up? I wasn't paying attention. Oh, Opposite-Nomar. The shortstop couldn't get the throw over in time, so he's on base. Rod Allen feels the need to say that no one can make that play like Derek Jeter can. "He catches that ball, and he goes up in the air and he throws a strike!", all said in an admiring tone of voice. Thanks Allen, I just threw up in my mouth.

44th Round strikes out. Bloody heck, we need to start scoring soon.

TOP 8

People on giant chickens running around the field. I don't even want to know. Fernando Rodney in.

Oh, ball was a little off the line but Palmer reeled it in for a double play. Suh-weet. Luke Scott strikes out looking, and that was a nice inning. For once.

Trevor calls. "Johnson." What of him? "Maybe there were bees. Maybe he couldn't pitch because there were bees and they were scaring and/or stinging him." Then he hangs up. Oh Trevor.

Bee Watch: There is no apian presence on the field.

BOTTOM 8

Blue gets his first hit! First base it is. Maybe I will call him Blue's Clues.

"The other day the guys were kidding Don Kelly about his boyish looks," so saith Mario Impemba. Boyish looks. In his defense, the guy does look younger than me. He's allegedly 5 years older. 6'4, 190 lbs. Sheesh.

Double play, fuckin' Astros. It's been 8-7 forever. STOP THE PAIN PLEASE.

TOP 9

Troy Percival will pitch the 9th for us, and some guy named Dax Norris is batting for the 'Stros. Troy versus Dax. Dax versus Troy. I enjoy that far too much.

OH MY, Kelly went flat on his stomach to get the ball, got up and somehow managed to throw to first in time.

It's now Troy versus Trinidad. Trinidad hits it to Blue, who catches it. I am starting to giggle uncontrollably. I think this game has worn me out a little. It's going to take some time for me to get back up to full baseball-watching stamina.

Here is some fun trivia for you. Percy has pitched 40 innings to the Minnesota Twins, and his ERA to date against them is a great big shiny 0. Yes, 0 earned runs. And now he is in the AL Central. That sounds like happy good times to me.

Bee Watch: The bees have only half an inning left in which to swarm the field. If they're going to make their move, they'd better do it soon.

BOTTOM 9

The Astros shortstop throws the ball a little high, and some dude is on first base for us. No, I don't know who it is. Oh wait, it's Kurt Airoso. Old Man Palmer's batting right now, though. C'mon, Deano. You can do good things here. Good things like tying the game. Or, at the very least, not striking out.

Naturally, he hits into a double play. Thanks, ol'pal.

It is all up to the River Thames. Who pops up, and that is the game, 8-7, Astros.

"The bullpen did a really nice job. Unfortunately, Jason didn't get off to a really good start."

Rod Allen sums it up nicely. Our bullpen was nice, our offense was nice. Our starting pitching was horrendous. JASON JOHNSON YOU UNSIGHTLY GOAT OF A PITCHER DO NOT FUCK UP THIS SEASON.

Trevor has not called back again. I'm sure he's crying and throwing things and then slowly remembering that this was just a spring training game. It is possible that, by the end of the night, he will have convinced himself that JJ had bees in his eyes, all Appleby-flies-in-the-eyes, Catch 22 style.

Final Bee Watch: No swarms were in evidence. Not even Houston Astro Killer Bees, as neither Biggio nor Bagwell was in the game, and Beltran is no longer an Astro. So, overall, no bees. I guess neither starting pitcher uses coconut hair gel.

In other news, there's 10:49 left in the Wolverines/Badgers hockey game and it is 4-0, Michigan. We have taken 31 shots on goal. They have taken 10. It looks like we'll be playing the number one seeded Colorado College in the near future.

Tomorrow my automobile-wielding friend Taylor picks me up at noon and we head North, to take on the metals studio together. Wish us luck. We shall have need of it.

Nickname Guide

Pudge: Ivan Rodriguez. Catcher. Spectacular. Awesome. Hot.
JJ: Jason Johnson. Starting pitcher. Diabetic. Sucktarded.
The River Thames: Marcus Thames. Contending for a spot in left field.
44th Round: Vance Wilson. Backup catcher. Selected in the 44th round of the '93 draft by the Mets.
Opposite-Nomar: Ramon Martinez. Utilityman. His name is the opposite of Nomar.
The Farns: Kyle Farnsworth. Million dollar arm, ten cent head.
Captain Tightpants: Kyle Farnsworth. He wears tight pants.
Omah: Omar Infante. Second base. I will write his name with a Boston accent if I want to.
Tram: Alan Trammell. Manager. Former Tiger. Inexplicably saying that JJ will be the Opening Day starter.
Higgy: Bobby Higginson. Contending for a spot in left field. Been around for ages now.
The Old Man: Dean Palmer. DH/backup infielder type. Formerly retired due to injury and age, now trying to come back. Played with Pudge in Texas.
Percy: Troy Percival. Closer. Former Anaheim Angel. I mean Los Angeles Angel. I mean. Um. I'll just call them the Rally Monkey Angels from now on, I think.
11:01 PM


It always warms my stony little heart to see a Red Sox blogger really be on the ball about something.

Red Sox Nation is awash with glee over Jon Papelbon due to the recent notebook by Chris Snow (who, by the by, is rapidly establishing himself as the darling Sox writer of the blogging masses). Here's a guy that a lot of people hadn't heard of before Snow wrote about him, and now they're all excited.

Now, see, I had heard and gotten excited about this kid a little over a month ago. Not because I'm wicked up to date on my low-level Sox minor leaguers (I'm not), not because I have any special insider tracks to the organization (I don't), but simply because I read the fleet of Red Sox blogs, and most of them are much more au courant than I am.

Case in point: FireBrand had an interview with Papelbon last month. Credit where credit is due. FireBrand done good.

Anyways, Tigers/Astros spring training is on TV tonight. I'll probably update this later so I can natter on about, you know, real baseball.
12:45 PM

Wednesday, March 23, 2005
Oh.

Oh.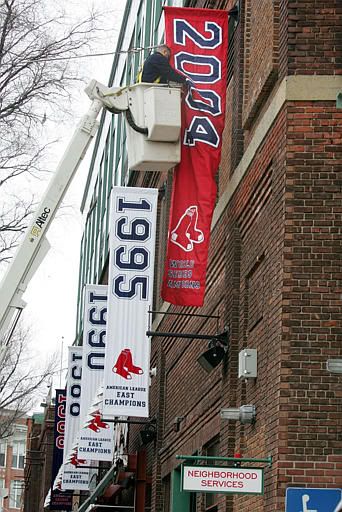 I knew it was coming, but that still doesn't compare to actually seeing it...

And Barry Bonds? Whatever. I'm not a Giants fan, it doesn't affect me. So far as I'm concerned, the only interesting thing (which no one else has pointed out, oddly) is what his son was wearing yesterday: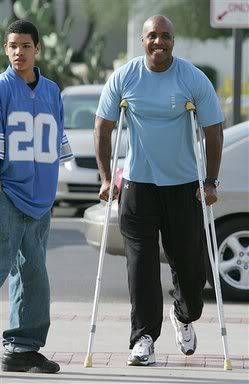 Maybe he just likes Barrys?
3:59 PM

Tuesday, March 22, 2005
Sometimes art school facilitates being a sports fan.

The University of Michigan art school, for instance, is not particularly multi-cultural in a wide spectrum, probably because it's so relatively small. But there is a very large contingent of Korean students in the art school, for whatever reason (heavily targeted recruiting, I suspect), and naturally I'm friends with a number of them.

While we were taking a short break today in photography I was flipping around online. I opened up the site for those Korean baseball cartoons to see if there were any new ones up, and it suddenly occurred to me hey, I have these Korean cartoons right here, and I have my buddy Hye-Jin, who happens to be Korean and is very good at putting up with my various insane behaviors, sitting right here next to me.

"Psst, Hye-Jin, can you tell me what this stuff means?"

Click the preview image to see the whole cartoon. It should open up in a new window so you can follow along with the translation if you wish.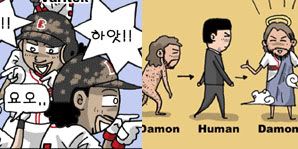 First panel: Manny is doing the double-point gesture with everyone. They're not saying anything important, just "Heeey!" and stuff like that. Note the accurately pine-tar covered batting helmet.

Second panel: Curt is saying, "Randy [Johnson] and [Roger] Clemens aren't here?!! Pedro's numbers are falling off... the AL [Cy Young] is all mine!!!" The guy in the background going "....." is, of course, Johan Santana. We all know how that one worked out.

Third panel: Ortiz-as-Shrek is chuckling, Millar-as-Donkey is saying, "I don't get it [or 'this doesn't make any sense']!! How'd I end up as the donkey?! I'm gonna kick something!" Well, Ortiz does kind of call Shrek to mind, and quite frankly Millar as the voluble ass and sidekick is more appropriate than, well, lots of things.

Fourth panel: The guys in the suits are supposed to be the Men in Black (yes, like the movie). The one sitting down is asking Pedro, "Where are you from?" and Pedro is replying, "I am from planet P45." It's unclear whether this is referring to the fact that Pedro is so good it's like he's from another planet or he's so bizarre that he's from another planet. There's this earlier cartoon, which would presumably clear things up if I could get a translation on it. Hmm. During which class can I next harass Hye-Jin...

Fifth panel: Foulke is saying, "[I'm] Throwing the slowest pitch... heh heh." Then he whirls around (that second figure is Foulke again, in case you weren't clear) and says, "So how do you explain yourself [or 'that'... he could be pointing at a baseball off-panel, maybe]?!!". Wake is yelling, "None of your business!!" I'm pretty sure it's a reference to Foulke's bread-and-butter pitch, as it were, his slow change-up. But of course the knuckleball that Wake throws is slower.

Sixth panel: No explanation needed.

Seventh panel: DLowe is saying something to the effect of, "Go on, run... it's your legs that'll hurt, not mine, huh?" I think it's about the number of guys who steal bases on him, but if someone has a better explanation that fits let me know. Anyways, note the flushed cheeks that've been drawn in... it's the famous (infamous?) Derek Lowe Face!

Anyways, Hye-Jin seemed to actually get a kick out of this, so maybe I'll bug her for some more translations eventually, or at least the Tigers one. But let's all have a hooray for bilingual friends!

On a side note, we started gas welding in metals today. Kids, it is bloody terrifying. Here are the ways that you can end up in the hospital (or morgue!) by being in this class:

-If you turn on the acetylene tank incorrectly or knock it over, you can cause it to explode into a GIANT FLAMING BALL OF CRISPY DOOM that will not only singe your eyebrows, it will also kill you and probably everyone within that entire wing of the art school. I am not even kidding about that.

-If you turn on the oxygen tank incorrectly or knock it over, you can cause the pressure to release explosively. This will not create a FLAMING FIREBALL unless you light it, but it will cause the huge fucking tank to go shooting away so precipitously that it will actually break through the wall with missile-like force and go shooting across the street into Pierpont Commons, where it will continue to shoot through walls until it's had enough. Of course, that's assuming it shoots out backwards, if it goes the other way it'll hit you full on and break every bone in your body. And probably kill you. Again, not exaggerating. I don't want to go within 50 feet of these bloody tanks, let alone right up to them to twist their dials every day.

-If you hold your torch facing the tanks when you light it... yes, you guessed it, flaming bomb of doom. This reaction would actually probably flatten half the building. It goes without saying that you and everyone in the metals studio would swiftly perish.

-If you have a loose grip on the torch while it's lit, or you hold it too far down the barrel where the hoses are, it can flop down and set your clothes, your hair, and you on fire. What happens then depends on how quickly you are put out.

-If a spark catches your hair or clothing, your hair or clothing will catch on fire. Bonus points if you used hair spray or are wearing a particularly fast-burning material (synthetics, usually). We're also not allowed to wear sandals, because I guess if sparks land on the top of your shoes it's OK, but if they land on bare toes you will have Major Pain.

-If you don't wear a face shield, or don't wear your face shield properly, or your face shield accidentally slips, you can singe your eyebrows. You can also literally ruin your eyes by staring directly at the torch flame without any eye protection. If you're wearing regular clear goggles and think you're safe, guess what, you're not. You won't get sparks in your eyes, but if you don't have the industrial, green-tinted eye protectors you'll burn out your corneas anyways.

-If you accidentally touch the metal, or the vice you're using to hold the metal, or a little scrap of metal that some asshole of a sorority girl left lying around, you can severely burn yourself.

-If you let your metal get too molten it can drip down, and then you're screwed sandals or no sandals.

-If your torch tip is kind of old and hasn't been filed out recently it can back up and send flames shooting out the holes at the base of the tip, which is incidentally where you're supposed to hold it. Crispy hands will result.

And bear in mind, that's just gas welding, and only gas welding in it's simplest form. That's not even getting into what the power tools can do to you, or what happens if you get your hair caught in the buffer, or if you're using the metal drill press without goggles and a stray bit of metal flies up and hits you in the face.

Yessir, metals. It sure is the art for me!
5:39 PM

Monday, March 21, 2005


Thanks Detroit News!

The MVP and the team captain, lifting their hands in the age-old language of exuberant victory. The Michigan flag about to be attached to the CCHA* Championship banner. The media closing in. The adoring crowds in good old Joe Louis Arena. The yellow jersies, in which Michigan has yet to lose a game this year. The championship hats, fresh out of the box with the tags still on them.

Nice picture, isn't it?

This year's hockey team has the largest senior class they've had in, well, a long time. So it's nice that they got this CCHA Championship, especially as they lost last year to the very same Ohio State Buckeyes that they beat out this weekend (ha ha, bite me Ohio State!). Of course, winning this means that Michigan has won the CCHA 7 times, 3 out of the last 4 years, which, hello, if we're looking in a Patriot direction, can you say Dynasty?

The names of the Michigan players are absolutely perfect hockey names. Just saying them makes you feel like you're in an arena somewhere, and if you scream them violently, like we were doing this weekend, all of us crammed into Trevor's apartment, wearing maize and blue even though there was no rational reason for us to be dressing in support of the team-- why, then you can practically feel the boards pound with a body check and the floor under your feet vibrate with the enthusiasm of the crowd. That's how perfect their names are. Just try it, recite the litany of Wolverine skates, and you'll see what I mean:

T.J. Hensick.

Milan Gajic.

Brandon Kaleniecki.

Jeff Tambellini.

Eric Nystrom.

Al Montoya.

Assuming there actually is such a thing as the NHL at some point in the near future, you could build an NHL team on those names.

With all the seniors leaving, the team won't be the same next year, and might not be as overwhelmingly dominant. Then again, the incoming freshman class is supposed to be very strong, and there's an old saying in Michigan about Yost Ice Arena, where the Wolverines play-- in Yost, they don't rebuild.

They reload.

So we're starting the NCAA tournament on Friday against Wisconsin, playing in it for an NCAA-record 15th consecutive time. And we could be knocked out in the first round, or we could go on to play whoever wins the Colorado College/Colgate game. Either way, we're the CCHA champs, and we beat the despicable Buckeyes to get there, and that's good enough for me.**

This weekend I also finally got the see the Tigers play live baseball that wasn't a tiny little square on my computer, as FSN aired their first spring training game of the season. Yes, the first. They will be broadcasting a grand total of 3 games before the regular season starts. It's hard for someone from Boston, who's so used to the near-blanket NESN coverage to comprehend this, but following the Tigs is a cat of another color. TV coverage is spotty, the local newspapers have tolerable sports reporting but pale in comparison to the Globe, especially when it comes to photos available online. And have I mentioned the sports radio?

I have only three words for you all: Stoney and Wojo.

Actually, I can add nine words to that: make me want to stab forks into my ears.

So, anyways, it was nice to see the Tigs play. It was a split-squad game, so I didn't get to see some guys I would've liked to see, like Brandon Inge and Carlos Pena (who doesn't appear to have played in either game? hmm), but there was Dmitri Young running over the catcher again (slidin'? I'm Dmitri Young, bitch, I don't need no stinkin' slidin'!), there was Jason Johnson struggling on the mound (a walk for you, an' a walk for you, an' a walk for you...), there was Omar Infante hitting a ball out of the park and making me feel a lot better about his slowly healing shoulder injury.

There was Craig Monroe overrunning balls in centerfield and using his opportunity as a 'miked up' player to leave us with valuable baseball insights along the lines of "Yessir, yessir, that's a long run," when Pudge ran into third base and perplexing verbal notes to himself, which included the timeless quotes, "Score. Score. Anything else would be uncivilized," (psyching himself up just before his own at-bat) and "Gonna shave my head tonight so I look sexy," (I only wish I was making this up).

It was great to get to see Magglio in a Tigers uniform, swinging away out there. He did some running in the field and some running on the bases and I saw nary a limp. I hate to say it before the season even starts, but as of right now his knee looks pretty good. Pretty good as in, not injured. Pretty good as in, Dombrowski mighta done good.

We were also treated the return of Pudge, or the catcher formerly known as Pudge, or whatever you're calling him these days. Let me tell you kids, he looked good, and I don't mean that in a 'hot catcher just asking to be molested' kind of way. OK, maybe I do mean that, but I also mean that he looked good as a baseball player. He was very alert and mobile behind the plate (Rod Allen termed it 'spunky', and I wanted to cry), going after balls with his body instead of just his glove, which was getting difficult for him at the end of last year, what with the hip flexor and all. He looked very easy going into and coming out of his crouch and moving around once he was in it.

It really does look like that lost weight is going to be helpful to his defense this season. Oh, I know he won the Gold Glove last year, but Pudge himself said that he felt he won that more on the strength of his reputation than his actual performance, and if Derek Jeter can win a Gold Glove at shortstop I think we can all see that reputation counts for more in those things than real, honest-to-gosh defensive execution. If he can be more comfortable behind the plate and react more readily this year, it will be Happy Fun Good Times in Tigerland.

It was just plain ol' good to watch them play.

Oh, and if you want to check out something neat, hop on over to Bleacher Guy. He's done a podcast, and it is ace. There's quite a bit about college basketball which I naturally glossed over, but the best bit is his voice-- he has the perfect voice for sports radio. It's like a WGBH voice. Rob, I want to trust what you are saying and also give you money. Seriously, I was shocked and amazed. Go listen.

As for Boston... erm... well, I was watching todays Dodgers/Red Sox spring training game on MLBTV just now, but it cut out on me so that they could do 'site updates'. Screw you, MLBTV, I'm stuck in the fibers studio until 9 tonight, I want to watch my goddamn baseball. Anyways, I saw that DLowe was pitching, which was weird and surprisingly uncomfortable. DLowe in blue and white shirtsleeves. Disturbing.

Then he walked Youks and I felt better.

*Central Collegiate Hockey Association

**Lies. I want to fucking win. But I don't think Friday's game is televised here, so I won't be able to tear my hair out over it properly.
6:51 PM

Friday, March 18, 2005



So I'm checking the website fleet, as one does, and I'm a bit behind on the articles because of the art school kicking my ass (ha ha ha, whee, metals! God I hate soldering) and general insanity (including last night, which involved glowsticks, green hair dye, and painstakingly drawn anatomical renderings on the face of a certain amphibious commentor on this site, who was quite unconscious at the time).

There's plenty going on in Tigerland, as Alex Sanchez (see appropriately goofy photo above) was cut due to either his defensive failings or the possibility to save a lot of money, depending on who you're listening to. It's good for both reasons, in my view: it's less likely now that every routine pop fly to center will result in a harrowing adventure as the fielder peers confusedly at the clouds instead of tracking the ball, and the Tigs save some cash by releasing him now, according to the Detroit Tigers Weblog. In any event, it lead to lots of speculation about who the Tigs are going to stick in center field now. Will it be Craig Monroe, who has more bat than glove but in any event can't be worse than Sanchez? Nook Logan, he of the occasionally Manny-level insane hair? And will former Tiger (and former Texas teammate of Pudge) Dean Palmer now make the team, possibly over the head of old-time Tiger and creepy bugger Bobby Higginson?

I've no idea, but it's fun to think about the Tigers during spring training with something other than complete despair, even if their minor league system is deep in the slimy basement of Major League baseball minor league systems, according to John Sickels, who would know. Boston, by the by, is pretty well rated, not fantastic but definitely good, and should get better with more Theo-run drafts in the future.

Speaking of Boston...

Reading through the official Red Sox site, I come across the news that Johnny Damon will be out for a little bit with cellulitis, which is a skin infection, on his leg and groin. Jere quipped that "Johnny Damon forgot to wash his crotch," which besides making me snicker made me wonder just how one got cellulitis. Can you really get it from not washing enough?*

Since this is the internet, and all manner of wonderful information can be found thereon, I went looking for it. WebMD seems to indicate that you can indeed get cellulitis by way of uncleanliness-- they say that at-risk people include "people who handle fish, meat, poultry, or soil without using gloves." They also note that "One study found that inflammation caused by toes rubbing together (toe-web intertrigo) is often a cause of cellulitis in the leg," which could certainly have happened to Damon-- those damn cleats, perhaps? You're also more likely to get it if you have a wound in the area, and Damon apparently had a cut on his ankle that could have been exposed to bacteria in the water, as he's been fishing, so he very easily could have gotten it that way. The doctors seem to think that this is in fact the likely cause.

For the heck of it, I checked out emedicine, which I've found is usually somewhat more scientific and less, well, dumbed-down than WebMD sometimes is. It had pretty much the same stuff to say as WebMD on the subject of cellulitis, until my eye snagged on a little bullet-point second from the bottom of its 'Causes' list:

"Chronic steroid use increases the risk of cellulitis."

Well, fuck.

Now, no need to panic, as I don't think Damon is on steroids, and there's absolutely no reason to think that he is. Even the Yankee fans haven't floated his name, and the most doleful of east coast media pundits haven't seen a reason to suspect him. His biggest physical changes have been of a hirsute, not muscular nature. His laidback personality is perhaps the opposite of 'roid rage. I'd easily believe lots of things about Johnny... wildly drunken partying, pot smoking, dirty monkey sex with his recently married wife... plenty of stuff to get the Jesus-for-real-not-Johnny-as-Jesus crowd in a tizzy, but steroids? Nah. Everything says that he's squeaky clean.**

I just hate, hate, hate that something like this even has to cross my mind, no matter how fleetingly, no matter how immediately chased away by every bit of evidence available to a fan. The sad fact of the matter is that baseball and steroids are inextricably linked by now, and any player illness that's even the slightest bit out of line with complete normalcy will plant a little question mark in someone's mind.

I didn't get to see the congressional hearings in their entirety because I was in class all day (literally, all day... left the dorm at 8 am, got back to the dorm around 9:30 pm). ESPN showed quite a bit of it on Sportscenter, though, which was probably boring and annoying for everyone who'd seen some of it during the day, but was nice for those of us who haven't got a speck of TV time during the diurnal hours. If you're like me and didn't get to see it, Will Carroll did a nice liveblog of the hearings, which you can read in two parts: Part I and Part II.

The bits that ESPN showed were mostly of the players. From what I saw, Canseco looked ridiculous, like he had pillows stuffed into the shoulders of his suit jacket, and with not much more substance in his comments. The guy who came out and advocated steroid use like mad suddenly doing an about-face and saying it needs to be banned? Way to go, Jose, everyone believes you now. Sosa looked like he hardly talked at all, and Palmeiro looked well-spoken for the bits I watched. Schilling definitely came out the most articulate, or at least he was the most willing to talk. Both Palmeiro and Schilling actually looked up from their papers to address the crowd during their prepared statements, which a lot of people didn't do, and it may be a small thing but they looked much better for it. Schill spoke very quickly but very smoothly-- he sounded very much like a politician. Which, given what I know about his political and religious leanings, ugh. I love the guy, but I sure as hell would never vote for him if he ran for a public office.

Pretty much everyone has already commented on McGwire's weird breakdown and refusal to answer to his use (or lack of use) of steroids in a straightforward fashion. I guess he could have just been refusing to be a party to the whole thing, refusing to comment one way or the other in protest, but would it have been so bad to just say he hadn't used them? He claimed that if he said 'yes' he would be villified and if he said 'no' no one would believe him, but he could've just looked around-- Palmeiro said he never used steroids, Sammy said he never used steroids, they were sitting right down the table from him, it's not like he would've been taking a stand and making a statement on his own.

It just smacks of an unwillingness to deny use in fear of perjuring himself. I guess there's no way to know what the real story is right now, and like David Wells reminds us, it's 'innocent until proven guilty'. But McGwire didn't help himself with any of that, not his refusal to answer, not his delightfully intelligent "steroids is bad" quote, not his wire-rim glasses and wobbly almost-jowls, which just made him look old.

Something that I did not see, but Carroll made a quick, throwaway mention of in his blog, was this very worrying apparent fact:

"Insulin is on the big poster of substances that this committee thinks needs to be added to the banned list."

Um, what? I mean, is insulin a substance that's regularly abused by athletes? And cripes, what about Tiger pitcher Jason Johnson, who is diabetic and wears an insulin pump on his uniform belt? OMG guys, better slap an asterisk on that lifetime-low 4.09 ERA in 2001! And how could baseball let this happen? I mean, he's wearing the pump right there on the mound, Trammell's gotta know about his insulin use, he can't pretend that he doesn't know what's going on. How does he allow such immorality to occur under his very nose? The shame for baseball, the shame.

Also as per Carroll, someone in the hearings was claiming that "1 in 16 kids has used steroids". OK, OK, not to be unprofessional about that, but what the fuck? I'm not that far removed from high school, and I'm pretty damn certain that 1 in 16 is not accurate. There was that whole thing with a couple morons on our football team getting sick from using rancid horse steroids (not kidding-- they were too dumb to realize that they were a) horse steroids and b) no longer even viable horse steroids), but at the time I got the impression that this was more an ill-conceived experiment gone wrong than a long-term thing suddenly exposed.

Now, maybe you could say that college kids who are in highly competitive athletics programs are more likely to use steroids, but if you look at the whole damn college I'd still think you couldn't say 1 in 16 of everyone. I mean, not 1 in 16 kids here are athletes, and let's face it, you're dumb if you use steroids in the first place-- if you're not on any teams and you're using them, I'm not sure there are any words for how dumb you are.

In any event, the fact that there are even congressional hearings on this is ridiculous. Kids have died from using steroids, and kids have been influenced by steroid use of their favorite ball players, but this can't be the most worrying thing they have to attack. I don't know the numbers, but I'd be more than willing to bet that WAY more kids die from alcohol-related incidents every year than steroid-related ones. Athletes drink too. Why not a witch hunt to eliminate alchohol use from the public eye, as it so obviously is more dangerous to the precious youth of today?

Hmm, guess those old congressmen haven't used steroids, so it's a nice safe topic for them to rail against. Bet they wouldn't like if you told them that, for the good of the kids, they'd have to give up their brandy.

On a completely unrelated note, the sports blogging world is connected to the real-life one, something that is easy to forget as we all communicate through the magical interweb. A few instances of this have brought it more forcibly to my attention lately. Kristen has distinguished herself as one of the best people to ever sportsblog, ever by sending me an entire boxful of homemade chocolate chip cookies, ostensibly for doing the graphic design over at Bring Back the Bullpen Car!, but mostly just because she is awesome. Kristen=cookies. Cookies=awesome. Kristen=awesome. Got that? And the fact that sportsblogging on the internet has netted me actual cookies in real life? I don't think that there has ever been anything more fantastic to come out of sportsblogging.

Ian from Fried Rice Thoughts was recently in Ann Arbor and the other day emailed me to say that he had actually bothered to go down to the WORK Gallery and check out my wonky tiger sculpture. Wow, thanks Ian! Sportsblogging: it gives you Culture!***

Da Kine, a regular commentor over at the Soxaholix, was recently involved in a terrible accident while transporting military materials on assignment in Kuwait. He had a number of immediate surgeries to deal with the damage and is currently recovering. I think I won't be remiss in saying that everyone in RSN wishes him the best.

Come home soon, Da Kine, and come home safe.



*Something that, for the record, I believe Damon to be completely capable of. Johnny Damon, not regularly cleaning himself-- this is entirely plausible. I've no sense of numbers, but I'm willing to say it's about 94.67% more likely that he's lax about showers than that he's on steroids.

**On the steroids front. Apparently not on the personal hygiene front. You know.

***Albeit bad, undergraduate art levels of Culture. Still, it's something.
11:54 PM

Wednesday, March 16, 2005
Sitting in the art school... an hour until my next class... plenty of battery power... friends sitting around making it impossible to do actual work... you know where that leads.

Fun with roster photos!

If you look back at the Red Sox one and the Tigers one, you'll notice that the captions no longer directly correspond to the photos. This is because I'm linking directly to the photos used on the official sites, not hosting them on my own, so when the team changes their roster photos, the photos on this page change. It's actually kind of funny to go through and see what changed and what stayed the same, but I guess it's just one of the hazards of using those photos. I intend to not change anything, as I'm far too lazy to actually host them all on my own.

Anyways, Yankee time! Pitchers first, and as usual I probably won't do a few of them. I'm sure you'll survive.


Kevin Brown
OK, you know the guy from Everybody Loves Raymond who plays Ray's brother? Or something, I haven't actually ever seen the show, but you know who I mean. Take him, and put him on cocaine. Then take the cocaine away from him. Then increase the circumference of his neck. Put him in a Yankee hat. Ladies and gents, I give you Kevin Brown.


Jorge De Paula
I count at least 4 discrete chins here. Surely that is an accomplishment worth noting.


Tom Gordon
Now really, how does taking Tom Gordon's puppy and tormenting it before his very eyes count as good photography? Shame on you, MLB photographers, shame on you.


Alex Graman
I can't... I can't even begin with this one. The sunken eyes. The creepy, toothy grin. The widely disunited eyebrows. The overall impression of Ogre-who-has-not-been-eating-his-vitamin-C-and-now-has-jaundice. This, this is a masterpiece.


Randy Johnson
"Ay-yup, Ah'm a big ol' hick pitcher, an' y'all can thank these here photo-takin' folk fer makin' sure that y'all could see that jus' fine. Ah miss mah mullet."


Steve Karsay
I really just want to go into Photoshop and pull that left part of his upper lip down into line with the rest of it. Really, it would only take me a few minutes. So simple, so easily remedied, yet so vital to making this photograph's subject look absolutely retarded.


Mike Mussina
All I have to say here is that I have never seen anything that looked less like a moose. And I think the right side of his jaw is caving in.


Carl Pavano
Oh my god, hairy catepillars are eating his face! Wait, those are just his eyebrows. And am I the only one getting a little freaked out by the perfect diamond formed by the creases that go from his nostrils to the corners of his mouth to the sides of chin? So geometric.


Bret Prinz
Yay color washout! Maybe they could just photograph the hat glued to a blank wall, as that's pretty much the only focal point of the photograph anyways.


Scott Proctor
Scott Proctor's neck is an entity unto itself. Possibly his brain resides there, as opposed to the more traditional, cranial location.


Paul Quantrill
I just like how the unevenly worn blue undershirt makes it look like there's a sort of pseudo off-the-shoulder thing happening here. Paul Quantrill, you little 80s sorority girl, you.


Mariano Rivera
"Mariana fruit bats live in colonies ranging from a few individuals to more than 800 and group themselves into harems (1 male with 2-15 females) or bachelor groups consisting primarily of males. The bat colonies sleep during the day, but they perform many other activities as well such as grooming, breeding, scent-rubbing, marking, flying, climbing to other roost spots, and defending roosting territories (harem males only). Bats gradually depart colonies for several hours after sunset to forage."
You think I'm kidding? I'm not. There is an actual, honest-to-god Mariana fruit bat. Sometimes, nature is good to us bloggers.


Felix Rodriguez
Sticking with the zoological theme, I'm not sure how good ol' Felix here can see anything with his tiny, mole-like eyes.


Edwardo Sierra
I really like how this lighting they're using completely washes out any and all shadows. Really, it's fantastic.


Mike Stanton
Are we sure it's not actually the ghost of Mike Stanton?


Tanyon Sturtze
At first I was very amused by the look of startled confusion on the rubbery face of WOTS, but then I realized that much of this amusing expression was due to the fact that WOTS's pupils appear to be hugely dilated. Stop inhalin' the ether, WOTS!


Chien-Ming Wang
Note the slender, girly neck... sort of the opposite of the Scott Proctor neck (braincase), as it were. It's the wispy little attempt at mustache above the uncomfortable sneer, however, that makes the photo.


Jaret Wright
Even his eyes attempt to follow the lines laid out by his solid cube of a head.

Catchers.


John Flaherty
Too glorious. The clearly waxed eyebrows above the cheefully squinted eyes, combined with the big ears and the usual MLB photography color washout, make Flaherty look more like a mildly aged cave elf. I say 'cave elf', because I imagine that if he lived long enough in a cave he would lose all his natural pigmentation, like those albino lizards.


Jorge Posada
Like The Fruitbat, Posada is a classic, and I am glad the MLB photographers upheld all his classical mocking points. The promienent, Dumbo-esque ears are evident, as is the small and rodent-like mouth. The only thing that you can't see as well you normally can is his fantastically weak and receding chin, but one can't have everything.

Infielders.


Robinson Cano
Like a sunflower, Robinson Cano's hat leans towards its source of nutrition. In the sunflower's case, this would be the sun. In Cano's case, I imagine Steinbrenner is standing just to his right.


Felix Escalona
Inflatable infielders? Who knew?


Jason Giambi
Here piggy piggy piggy! Here piggy piggy piggy! Here piggy pigg--aarrrrgggh! Get it off me! Get it off me! Kill it! Kiiiillll iiiiiiiitttt....!


Derek Jeter
I'm not sure how the photographers managed to catch the underside of Jeter's hat, but it's not much improvement over their usual 'have the hat brim shade the eyes of the player in a creepy fashion' style. That lighting, again, is really not doing any favors to the famed Jeter complexion either.


Tino Martinez
"Those aren't bags under my eyes, they're extra pouches I can use to catch ground balls."


Andy Phillips
Hello, Colgate commercial.


Alex Rodriguez
He must have just freshly applied his lip gloss, which would explain why he's biting his upper lip here.


Rey Sanchez
What a hale and hearty fellow! Except that he's so old that his eyebrows look like they're graying. Blimey.


Tony Womack
Tony Womack: compressed.

Outfielders.


Bubba Crosby
I hate to keep harping on it, but I'm really having a hard time with this lighting. I mean, it almost breaks all barriers of conventional portrait photography lighting. Maybe the MLB photographers are artists on the cutting edge and I'm just not giving them enough credit. Also, Crosby looks stoned, but that's pretty standard for these things.


Hideki Matsui
OH MY GOD THEY'VE CROSSED THE LINE THIS TIME, THE PHOTOGRAPHERS HAVE THROWN A VIAL OF CORROSIVE ACID AT HIS FACE. Oh, wait.


Gary Sheffield
I never knew Sheffield had a lazy eye. Good for him, staying in the major leagues with that kind of handicap.


Bernie Williams
In the finest of MLB mugshot traditions, they just couldn't wait for Bernie to actually smile before taking the picture. I'll bet he threw a guitar pick at the photographer's head in frustration. Or maybe he just went back to painting on his eyebrows.

And finally, the DH.


Ruben Sierra
His right eye appears to be just about to wink, which is a little disconcerting. And again, that lighting... makes it look like he's covered by a thin film of dust.

The 2005 New York Yankees. May they never cease to amuse us.

Must be off, it is time to learn me some computer programs. Later, kids.
2:07 PM

Monday, March 14, 2005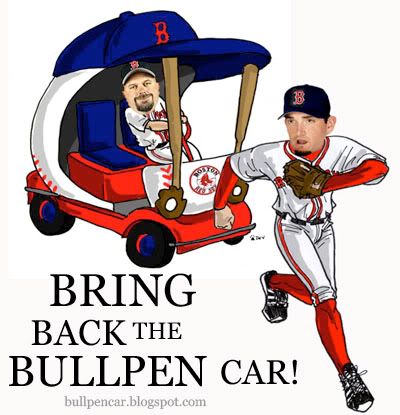 Can you feel the joy inherent in that image? The sheer, unabated terror of Matt Clement as he flees the gleeful recklessness of David Wells in a scenario that, as of right now, we can only hopefully imagine? The natural comedic splendor of the small, baseball-shaped vehicle, caroming along at an absurd pace? This, my friends, is the bullpen car. Once upon an idyllic time it was a presence in the major leagues, transforming the ordinary journey from bullpen to mound and back again into something more exciting and entertaining than watching A-Rod get called out for his girly slap again.

I am not alone in my wish to see the reinstatement of the noble bullpen car, and it is this universal desire that, on a slow and snowy afternoon, spawned the birth of a website for this wonderous revolution: BRING BACK THE BULLPEN CAR!

As of right now it features myself, Hoo of Hoo's on First, Kristen of Basegirl, Amy of Platooned, and Emma of The Professional, the Idiot, and the Tailback. We are the front line offensive in the grand battle to restore the bullpen car to the national baseball consciousness. We are tireless. We will not rest until this lofty goal has been reached.

We are, by and large, insane. Check it out, kids. Join the revolution.

I'm not going to address it in great depth, because I'm pretty heartily sick of it all by now and figure I may as well wait until the circus that will be the hearings on Thursday, but there are a of couple interesting things about this latest steroids controversy that I'd like to bring up. First off, Idiots Write About Sports has a good post about why the players named by Canseco probably won't sue for libel. It's a point I've been trying to make to people in conversations out here, and since I'm not a lawyer I lacked the right way to word it convincingly-- he explains it pretty well. The Sports Law blog (which is absolutely fucking addictive, by the way) also has some good things to say on the matter, and presumably will address it more as more happens.

The other interesting little tidbit thus far is the fact that this sordid tale has an Ann Arbor connection. Yup. I was combing through the original New York Daily News story, and the first thing that hit me was the location at the start of it: Ann Arbor, Mich. Hello, what?

The article goes on to detail a meeting between the guy who allegedly supplied Canseco and McGwire, Curtis Wenzlaff, and the FBI agent who originally collared him: "A man in an overcoat and a sharp charcoal gray suit enters the Old Town tavern in Ann Arbor last week, and Wenzlaff recognizes the face instantly... Schmidt's [the FBI agent] real name is Bill Randall, and for 33 years he was an FBI agent, based mostly in Ann Arbor."

Sweet! Free publicity for the Old Town tavern! Apparently Wenzlaff is from Flint, but I guess they couldn't find a setting convivial enough out there, so A-squared it is. Gosh, nothing like a little local color to spark your interest in a national steroids scandal, huh?

RantBlog update: As I said before, there has been quite a bit of movement in the sports blogosphere lately, in any event, on the group blog front. It all began when All Baseball suffered a mass exodus, with the Mariners writers jumping ship early and heading over to USS Mariner, only to be followed by Bronx Banter, Dodger Thoughts, Will Carroll, and (one of the writers for?) Cub Reporter as they departed for the greener.... er, more tan pastures of Baseball Toaster. Update your bookmarks accordingly.

That's not all, though. After All Baseball was decimated, it began picking up new writers-- a couple of new guys taking over the old Cub Reporter, a new Dodgers writer, and a White Sox writer. It also seems to have merged, or been acquired by, the Most Valuable Network, which if you recall was the other large baseball blog group out there. I'm not sure exactly how the two are going to integrate, but presumably this will be an ongoing process and may involve writers moving from one to the other. I guess congratulations are in order to Evan, the guy who owns (moderates? maintains? presides magisterially over?) the entire MVN. If he has plans of world domination, he's already well on his way.

Got all that? The only group sportsblogging affiliation that hasn't seen upheaval is the SportsBlogs group... except that they have. Since I last brought them up they've expanded to include still more teams. The new additions are Amazin' Avenue (Mets), Let's Go Tribe! (Indians), Camden Chat (Orioles), and Gaslamp Ball (Padres).

Check 'em out, they're mostly good reads, although the Indians writer seems to be still getting his feet wet, and the Padres guy (confusingly named Brewer) seems slightly confused about the concept of 'updating regularly'. I've seen the Padres blogosphere, though-- it would be hard to do much worse than they've already done. The Mets and Orioles guys are already proving themselves to be worthwhile reads even this early into their blogosphereship (bite me, dictionary). I guess you could expect that from the larger-market teams-- remember back to the numbers in the first installment. It keeps coming back to those bloody numbers, doesn't it? I'm starting to feel like I'm inside the Moneyball of blogging here.

Anyways, I'm still patiently (OK, impatiently) waiting for them to pick up a Tigers writer, but I guess it could be a while. I think they're mostly trying to find people who already have blogs and are willing to move to a new domain and affiliation, and there just aren't that many established Detroit Tigers blogs out there. This is in defiance of the blogging numbers, by the by, but the problem is that most of the 'Detroit' bloggers are actually from Ann Arbor, and are far more interested in blogging about the multitude of coffee houses in town and the drama of the University interacting with the city than about baseball. Sigh. Such is life.

That's about it, unless there's some other new group baseball blog system that's sprung up somewhere without my noticing it (in which case, please let me know about 'em).

Oh, and be sure to check out the little movie that A Red Sox Fan in Pinstripe Territory whipped up the other day. I quiver in jealousy of his parade footage, I do. Go see.

I know the Lions have been making offseason moves left and right, picking up Kennoy Kennedy (yay!), Marcus Pollard (yay!), and Jeff Garcia (uurgh). This is sort of the opposite of what the Pats are doing (dumping players like mad, seemingly), but then again the two teams had very different needs going into this offseason-- I wouldn't be too concerned about either one yet. There are a few coaches I always am willing to give the benefit of the doubt to, in the assumption that they have a workable plan behind their moves, and Belichick is one of them. Mooch, eh, not so much, but at least the Lions have shown a logic this winter-- they had holes that they knew they needed to fill in free agency, so they went out and filled them, so I can make a case for being optimistic going into the draft.

I just really hope that Garcia only is present to inspire Joey to greater quarterbacking heights, not as a replacement. I still believe that Harrington has the stuff to be a good quarterback, he just hasn't been able to maximize it yet, what with the injuries to our receivers and the bewildering insistence on the West Coast offense, which doesn't play to his strengths and only serves to lay out our receivers for yet more injuries.

But hey, I no longer need it for the Red Sox, so maybe I can move the sentiments over to the Lions: Wait 'till next year.

edit: Oh, my god. OK. You need to go see today's post over at RallyCuff, like, right at this very moment: If I were a star Major League baseball player... Seriously. Go read right now. Unless you're in class or some place where you'll get in trouble for laughing out loud in a raucous fashion.
12:51 PM

Saturday, March 12, 2005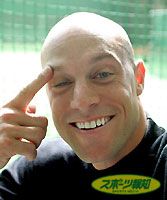 Greetings from Japan!

No, not me. The most international I've gotten is Montreal. These greetings come from Gabe Kapler, who's been tearing it up in preseason play for the Yomiuri Giants. Sitting in the art school earlier this week, I was letting my friend Yuji use my computer to surf the web, and I noticed at one point that one of the websites he was reading had the word 'Yomiuri' in English across the top bar, and pictures of Japanese ballplayers in white and black and orange on the page.

I got all excited and asked if there was anything on Kapler in there-- I couldn't tell, because everything was in Japanese, of course. Yuji's very accomodating about this. He likes to keep tabs on the Japanese players in the American majors, so I don't think he finds my desire for fresh Kapler photos as odd as other art students might. So, with me hanging over his shoulder, he flipped around and found a few photos, pointing to the accompanying text and trying to instantly translate it for me. I wish I'd written it down, but I didn't, and a couple were rushed because, yeah, we were kind of two minutes away from going to lecture.

What's unfortunate is how small the photos are, but the Yomiuri site (I'm not sure if it was the official team site or a newspaper site or what) didn't have anything larger. Still, it's nice to see Kapler again, albeit in an unfamiliar uniform (one that looks almost exactly like the San Fran version of the Giants-- same colors, same interlocking letters on the hat) and unfamiliar surroundings.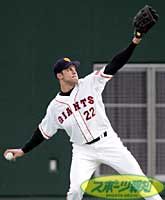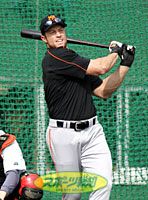 Gabe can field and Gabe can hit. Hopefully he can do both as a starter for his new team.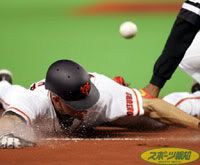 Stealing a base here. See what I mean about the helmet looking like the SF one? Curious.



Rounding the plates on a homer, baby.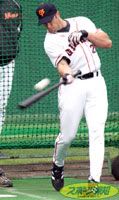 This is one I wish I'd listened to more closely when Yuji was explaining it. Something with how he's been hitting really well, and hitting with one hand. At the time I assumed he meant, like, not a switch-hitter, but when I got back to the dorm later I looked at this shot and realized maybe he meant something else. It doesn't look like Gabe should be releasing the bat for his followthrough just yet here-- is he hitting one-handed? Can you even do that? I'm not sure what's going on.

The funniest bit about these photos are the file names. Three of them are 'kapler', which is fine, but then two of them are 'kyapura' and one is 'g_capra'. Japanizations of Kapler? I hope so, because that would be hilarious.

I know it's not exactly fantastic material, but I was just so happy to see how Kapler's doing. Call me sentimental, but I don't want to lose track of any of last year's team, and it's not like other members of The 25 who've moved on, who'll be easy to keep track of-- Dave Roberts is across the country, but with the internet that's nothing these days. Japan is a whole world away, and the internet is no help if you can't navigate the sites. So big thanks to my friend Yuji, for being so awesome.

While we're on this photo kick I'd like to introduce you to an interesting little memeber of the San Diego Padres. Here he is hanging out with relief pitcher Rusty Tucker in the bullpen:



Photos via the SD Union Tribune.

His name is Butter, and he belongs to Padre Ryan Klesko. I've no idea what he's doing in the bullpen, but he seems pretty cool about it. Hoo claims that he looks a bit like David Wells, which I can sort of see.

Also, the guy over at the Detroit sports message board who's doing the Tigers spring training photos thread? Oh my, thank you sir. This is so far beyond glorious that it's, I don't even know, splengloritastic.




Gee Pudge, why don't you just SLAY ME ON THE SPOT, huh?

I was going to get into the blogosphere upheaval, but I don't think I can follow that image up with anything, so that's it for tonight. Well, that and this quote I just heard from Linda Cohn on Sportscenter. I care not at all about basketball, but this made me giggle like the three year old I am at heart.

"Aren't George Karl's Nuggets on fire?"

*giggle*
1:19 AM