Wednesday, June 27, 2007


Of course it's not only Julio Lugo who was hypnotized by the Mariners and their evil moose-ish ways, but he was a big part of it. I'm aware that everyone has slumps, but with Lugo it's starting to look like we're leaving the "alas, poor fellow's in a bit of a low spot" slump and rapidly entering the "may as well go up there holding a fuzzy purple pipe cleaner, he's just as likely to hit something with THAT" slump.

I'm starting to fear that we have the Curse of Cabby. It's nothing quite so panic-mongering as that Bambino business; just that since we declined to keep Orlando Cabrera, we will henceforth be doomed to suffer through shortstops who really, REALLY just can't hack Boston. It wasn't the kind of place where Alex Gonzalez could play, and it's starting to look like it's not the kind of place where Lugo can play either.

When he was pulled for a pinch hitter today and smashed his bat at the ground in the dugout, that was when I realized it. Oh, I had realized that he can't hit a cockroach's weight right now (or, rather, I SAW that... it didn't take any REALIZING) some time ago, but I thought that maybe his simmering belligerence would be enough to buffer him against everything that comes from playing in Boston.

That wah wah wah i don't wannaaaaa bat slam showed a depth of helpless frustration that convinces me this is not the case. He may be simmeringly belligerent, but he's not using it to shield himself against Boston... he's directing it AT Boston, or at himself, or at both at once. And that will only end in tears, and a lot of angry words about contracts from everyone in the area.

And to think, I usually LIKE when the Sox play the Mariners. I get to watch Ichiro play baseball, which is always a delight... when you watch Ichiro play baseball, you are watching a more pure and exacting form of baseball. His little measuring gesture with the bat, his pigeon-toed stance, the way he flies over the outfield grass... it's just a simple joy to watch. I reckon that if you don't like watching Ichiro, you don't like baseball.

Oh, and the whole Matsuzaka vs. Ichiro thing is a pretty good storyline too, y'know. I love how everyone gets so unreasoningly excited about it. NESN even put on the NHK broadcast for an at-bat-- so there I am, watching Ichiro up to bat against Matsuzaka, and the broadcast is in Japanese, which means I don't understand a single word of it... and I still LOVE IT. Why? I don't even know. It's probably something to do with the fact that you can almost imagine what they're saying. The universality of baseball announcing and all that. And maybe it's that little reminder that somewhere halfway across the world there's someone your age sitting there, listening to that very same broadcast, just as excited about the coolness of the matchup as you are.

I also always enjoy seeing JJ Putz, because with Mike Matheny out of baseball, he and Rich Hill are holding down the Wolverine alum fort. So it was great to see how well Putz is pitching. The Red Sox fan bit of my brain, however, spent much of that series screaming that HE MUST BE STOPPED. 'Cause, wow. That was SOME kind of game closing action.

edit: Man, I REALLY need to get around to overhauling my sidebar. I've got a bunch of work-things due soon, and am heading into NY this weekend for art and a ballgame, but after that! Blog gets attention. Suggestions welcome.

Labels: baseball, Ichiro, Japan, JJ Putz, Julio Lugo, loss, Mariners, MLB, Red Sox


10:19 PM

Sunday, June 24, 2007
Fun with Roster Photos! New York Yankees, 2007

I feel like harassing Yankees today, especially since next week I will, weather permitting, be venturing into enemy territory.

Usual disclaimer: all these photos are from the official MLB site and are directly linked, so they WILL change year to year and as guys switch teams. The images you see may no longer correspond exactly to the comments if you are viewing this in an archived form. But I am OK with this, because it lends an air of strange surreality to the whole thing, and also reassures you all of the happy laziness of bloggers. (I also copy-and-pasted this disclaimer from the last time, so you can REALLY be reassured that the laziness of bloggers is going strong as ever).

Pitchers!


Brian Bruney
If a toad could look self-satisfied after swallowing a particularly juicy fly, that toad would look very much like Brian Bruney here.


Roger Clemens
Holy freakin' cats aahhhhhhh!!!! THE PASTY ZOMBIE FACE OF DEATH! I am NOT just saying that because it's Clemens either; just look at him!! His face is melting off of his cheekbones!


Kyle Farnsworth
The rectangular block goes in the rectangular hole, children.


Kei Igawa
Yet another ballplayer falls victim to the old "quick, he's starting to smile, take a photo before he gets there so he looks like he's actually uttering the sound 'durhurrrr'!" photography trick.


Mike Mussina
It's pretty hard to screw up Mike Mussina, but the half-squinted eyes and the half-smirk, plus the washed-out prison mugshot lighting manage the job quite nicely.


Mike Myers
Give him some pointy teeth and a helmet and you've got an orc straight out of Lord of the Rings.


Andy Pettitte
His left eye has some serious designs on laziness. I don't THINK Andy Pettitte has a lazy eye, so it seems likely that we can put this one down to another fine piece of work from the photographer.


Scott Proctor
Sixty-five years old, AND with the dreaded triangle neck.


Mariano Rivera
The very first pitcher to successfully play Major League Baseball while heroically battling leprosy.


Ron Villone
I had no idea the Yankees were employing a beluga whale to pitch for them these days.


Luis Vizcaino
I feel like I say this every year, but every year I CANNOT get over how TINY Vizcaino's facial features are in relation to his ENORMOUS, OUTWARDLY POINTY cheekbones. It looks like someone took the Liquify tool in Photoshop to his face.


Chien-Ming Wang
The wide-eyed, innocent 8-year-old was startled to find himself pitching for the Yankees.

Catchers!


Wil Nieves
It's like his entire face was flattened and allowed to squish out horizontally, so his mouth is too wide, his eyebrows go too far around the sides of his head, and he generally looks like smarmy roadkill wearing lipstick. I don't think the angle helps here.


Jorge Posada
If Nieves was flattened top-to-bottom, Posada was flattened front-to-back, as from a hearty SPANG in the face with a frying pan. Looks like he was pretty startled to receive the spang too. The jersey falling off to the side is clearly a dishevellment resulting from the frying pan attack.

Infielders!


Chris Basak
Who? Well, whoever he is, he looks like his head is being jerked to the side by an invisible fish hook through the mouth.


Miguel Cairo
Has he been Botoxing?


Robinson Cano
This is actually a lot better than some of his past roster photos. Still seems to be sort of staring in two different directions, which would be a useful baseball skill I guess.


Derek Jeter
After a hard night out on the town, with some hardy ladies of the night, Jeter stumbles in unprepared for photo day.


Andy Phillips
OH MY GOD A GOPHER.


Alex Rodriguez
The appearance of lipstick clashes mightily with the appearance of a shadowy mustache. Perhaps he likes the transvestite look on himself as well as in his strippers?

Outfielders!


Bobby Abreu
Fozzie Bear!
Melky Cabrera
What the hell. Is he pregnant and retaining water? Did someone decide to pump his face full of saline for obscure fetishistic reasons? This oddly swollen and rubbery beast barely even looks like Melky Cabrera.


Johnny Damon
His mouth just kind of disappears into the rest of his lower jaw. I can't tell if this is due to the lighting or because his face is desperately crying out for a beard again.


Hideki Matsui
As he so often does in roster photos, Matsui looks like someone has thrown acid on his face. This year, however, he's pleasantly bemused by it.


Kevin Thompson
The eyes of a 15-year-old atop the jaw of a 50-year-old. Creepy.


Ladies and gents, your 2007 New York Yankees.

Labels: fun with roster photos, MLB, Yankees


2:06 PM

Wednesday, June 20, 2007
Yes, it is now time for the not-at-all anticipated follow-up to the mascot rant. Because it's a poor blogger indeed who complains about something without offering an alternative.

The Mascot Rant, if you've forgotten ('tho how could you, because it's just two posts down... I was so bummed about the Michigan loss that I had to take a little break to sulk and kick beavers).

Now, I'm not saying that these mascots are The Answer. They are simply alternatives to the current designs. They may not be any good, but they are, in my wildly biased opinion, better in concept than the ones in use now. Let's be honest: it would be hard to be WORSE than this terrifying and confusing beast, or this ferocious abuse of fake fur.

First up, the Astros!

Again, to refresh your memory, here's the current mascot, Junction Jack, feeling up his front-butt.

Why a rabbit? Why a rabbit wearing a train conductor's uniform? Why all of this ESPECIALLY for a team named the ASTROS, a team whose name has roots in the local space program? WHY NOT A MASCOT THAT MAKES SENSE??




Do you see how RIDICULOUSLY EASY it would be to have a dude in an Astros-colored astronaut suit running around out there? Or even how easy an aggressively goofy rocketship in Astros colors would be? Both of these would make SO much more sense than a sleepy-eyed rabbit manbeast that it's not even funny, except in that "ha ha oh god nervous laughter" kind of way.

For the record, I am a big fan of things that shouldn't have arms or legs having arms and/or legs sticking awkwardly out of their bodies but clad in similar-colored spandex so that everyone knows they should be assuming they're a part of the costume. Donuts... coffee cups... hot dogs... space shuttles.

the Devil Rays

If you recall, the current mascot is Raymond, seen here making terrifying eye contact with the cameraperson.

The more I think about Raymond the more OK I am with him as a mascot. He just misbehaves too well, by which I mean that he torments the other team during BP, he goes out of his way to interact with fans, he runs over tiny stuffed versions of rival mascots in toy cars, etc. That's what you want in a mascot, and I give Raymond credit for doing his best.

HOWEVER. This does not satisfy me, because when I see a team name that IS AN ANIMAL, I want to SEE THAT ANIMAL AS A MASCOT. There is no giant plush devil ray, and this strikes me as a deep wrongness. So.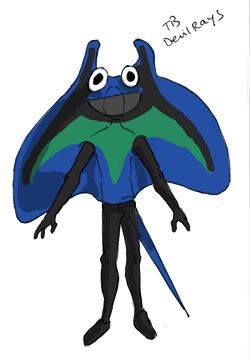 You can see how a person would wear this. The 'wings' would be stiff foam, I guess, or whatever it is that makes Lefty and Righty's protruding sock appendages possible. The tail would be stiff and would stick out the back, while the mascot-suit-wearers limbs would be all black spandexed up and would have pretty good freedom of movement.

Yes, it would be bad news going through doorways, but since when are mascots supposed to be practical? At least they don't have to deal with oversized clown shoes and giant unwieldy paw-hands. And the eyes (which Devil Rays do not have, but a mascot would need, so the children know where to poke it) could be googly eyes, so when he danced around they would jiggle all over the place and it would be a hilarious floppy chondricthian.

the Indians

Current mascot, again, is the abominable pink furman known as Slider.

Slider exists because nobody wants to see the mascot that would be based on the actual logo. Can you even imagine? A giant dancing bright red figure with a hooked nose, huge grin, and a feather sticking out of its headband... ugh, I can barely even type that. Which is maybe a sign that you need to CHANGE YOUR LOGO, CLEVELAND.

Personally, I think that Cleveland's best bet is to go back to the days of baseball in Cleveland BEFORE there were the Indians, which means going back to the Cleveland Spiders.

Pros:
-getting rid of Chief Wahoo
-embracing history
-spiders are cool, different (when it comes to mascots), and scarier than, say, orioles
-TONS of new merchanidising opportunities!
-no longer having to be embarrassed to market your team logo
-positive press for getting rid of a longstanding racist image
-losers are cool (look at the Sox pre-04, and the Cubs now)... the Spiders are the holders of the worst record in baseball history
-ability to get rid of the pointless and alarming Slider

Cons:
-having to revamp an entire team brand
-having to do the work to get new logos/mascot designs/uniforms/etc. made and approved
-idiots who claim that history is important to preserve even when it's wildly offensive
-necessity of having the chutzpah to make the change

I don't really see an argument.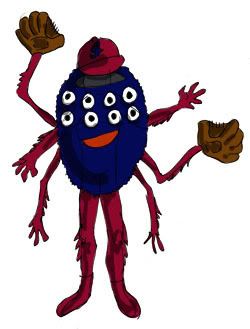 I'm not sure if you can see the outline there, but the suit fits so that two of the spider legs are the person's real legs (in red spandex) and two of them are the person's real arms, similarly attired. I did try to make him as goofy and nonthreatening as I could, since some people are irrationally afraid of spiders, but my mother still claims that the 8 eyes are not cool. I think a giant fuzzy blue and red spider dancing up to you with 8 possibly googly eyes staring in 8 different directions would be AWESOME, but maybe that's just me.

the Diamondbacks

For reference, the current mascot, Baxter the bobcat, in his old uni.

Aside from the problems relating to the fact that Baxter looks like a furry, this is another team with an animal name that DOES NOT USE THAT ANIMAL AS THEIR MASCOT. Why. Whyyyyyyy. Is it because they thought a snake would touch off some people's snake phobias? Because let me tell you guys, they have snakes already in their logos. See? Snake. And check it out, this is their sleeve patch: more snakes (I actually REALLY like this logo, it's a glorious success of graphic design and I could write a whole separate article about how good I think it is. But that's for another time).

So the snake phobic ship sailed a long time ago, Arizona, and anyways, what about the people who have serious phobias of fursuiters? They're going to be just as perturbed by Baxter as they would be by a snake mascot. YOU ARE THE DIAMONDBACKS. THAT IS A SNAKE. EMBRACE IT.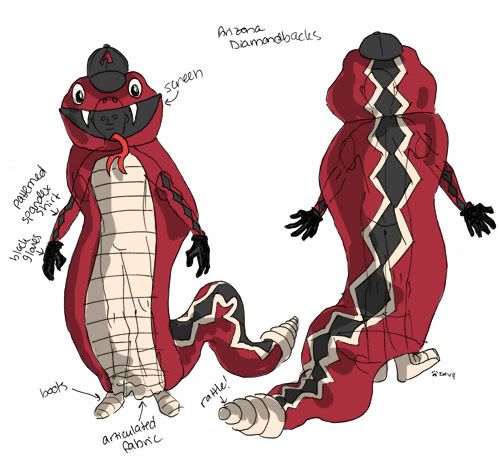 This is the same mascot, just from the front and the back. He's friendly! He's goofy enough to count as a mascot and not terrify children! He doesn't look like a sexual fetish! HE'S ACTUALLY A SNAKE!

I think children would love this. Two of my favorite stuffed animals from my childhood were snakes: one was a snake made out of ties that I think my grandmother sewed for me, and one was a big fuzzy cobra that is in fact still sitting up on top of my dresser, along with a giant cheetah pillow I made myself, and a sock monkey. Snakes are awesome. Bobcats are SO overused as a mascot... how many college teams are the bobcats? They're probably only overrun by the wildcats, which are even more ubiquitous. You have a good mascot potentially right there in your lap, Arizona.



I'm still trying to decide which would be better for Seattle: a giant compass, or a seafaring dude in the style of Bernie Brewer. And I'm thinking about the White Sox. Suggestions welcome.

Labels: baseball, drawn, mascot, MLB, rant


3:19 PM

Sunday, June 10, 2007


Stupid freaking tree-gnawing paddle-tail-having brown scruffy hideously-pinstriped cheap-hit-getting Beavers.

Let me tell you something: Zach Putnam pitched the game of his life. The game. Of his life. His fastball had sink on it like you would not believe if you didn't see it yourself. It seemed to fall out of the sky in a way you almost never see with a fastball; it almost looked like a curveball, except that I don't think it was. He was almost short-arming his pitches, which I guess is his way of keeping that sink on it (really 'sinky' pitchers are often sidearmers... see this kickass Hardball Times article for more on that).

It was like watching Derek Lowe when he threw his perfect game. I know how whacked-out that sounds, but I'm not kidding. It was the same. kind. of sink. I mean, pitchers get in trouble when they leave the ball up in the zone. Putnam hardly seemed to scrape the upper parts of the strikezone. It was MASTERFUL.

OK, obviously it wasn't a perfect game. Zach Putnam is not Derek Lowe (this makes it a lot easier to wholeheartedly root for Zach Putnam). There were a few walks, and in the end there was one hit. That was all it took. If you didn't see the game I can't impress on you how suddenly it was all over. A guy walked. There was a sac bunt to move him up to second. Putnam got another out, I think it was a strikeout. Then Joey Wong stepped up, dumped a single into left that was weakly thrown home by Derek VanBuskirk, not nearly fast enough to catch the runner, and that was that.

Maybe VanBuskirk thought it would come back to him quicker than it actually did on that weird carpet turf they have in Oregon, and his throw was off because of that. Maybe he just couldn't set himself properly. Maybe he never got a good grip on the ball. Maybe the animal spirit of a beaver rose from the ground beneath the turf and bit his ankles with its unnatural giant ghostly beaver teeth, surprising him enough to slow down the throw. Who knows?

That one hit, that was it for the Beavers. I mean that was IT. Zach Putnam threw 8.2 innings of HITLESS BASEBALL. He threw 129 pitches. It was.... I can't describe how amazing it was to watch him pitch this game. Maybe it's just that his delivery looks different when I'm not watching it through the back end of a camera, but he seemed to be pitching with a greater clarity of pitching than he has before. I guess that doesn't make sense. I can't really think of any other way to put it.

And you know what, there were a lot of dubious calls in this game-- A LOT, and some of them were SERIOUSLY off-- but I will give the homeplate umpire credit for one thing. He called balls and strikes based on where the ball was when it crossed the plate, not when it ended up in the catcher's glove. This is, of course, what they're supposed to do, but it doesn't always work out that way and can sometimes hurt a pitcher like Putnam, whose pitches often end up dragging dirt as they cross into Pickens' glove because they've dropped so far AFTER they've crossed the plate. The homeplate ump correctly called a lot of these strikes, and infuriating as some of his (and his crew's) miscues were*, I have to give him props for that.

The problem is that while Putnam was busy throwing this beautiful, miraculous game, the opposing pitcher was busy doing the exact same thing, and every time Michigan got men on they were unable to bring them home. Frustration? Yes.

I waited a long time after the game had ended to write this post, in the hopes of allowing myself to calm down a little, but I find that I'm beginning to get riled up again, so bollocks to that, I need to ask a vital question about the Oregon State uniforms, that question being: WTF?!

Gray. With dark pinstripes (I couldn't tell if they were black or dark brown or navy or what). With orange piping around the jersey front closure and collar that COMPLETELY failed to work in any way, shape, or form with the pinstripes. That would be a visual mess by itself, but the numbers were orange satin and were unreasonably large, on the front and the back, and they ALSO did not really work with the pinstripes... pinstripes and shiny satin, I think, is too many textures. THAT would have been horrible enough, but they ALSO had the letters "OSU" across the front, ABOVE the overly large and shiny numbers, in UNBORDERED WHITE, which failed to work with the pinstriping, the piping, and every color/texture already on the jerseys.

Their socks might have been black, but looked navy blue. Their hats might have been black, but looked a kind of dark faded brown. Neither shade of possible-black referred back to any color on the jerseys.

It's possible that the Michigan hitters were rendered so speechless by this sartorial horror that they were unable to muster up more than a few hits today. I would believe it. They also might have been hypnotized by the dancing layers of stripes and piping, or maybe by the shiny, shiny orange. Or maybe they were just terrified of the Oregon State people who designed these uniforms. Who knows what goes on in the sick minds of people who think this combination is a good idea?

I would believe almost anything after a game like that. Ugh. What a frustrating loss, what a frustrating waste of a pitching performance.

If you desire mental relief from this agony, I recommend bathing yourself in the fetid waters of yesterday's baseball mascot rant.



*Major miscue the first: Early-ish in the game, Joey Wong watched a pitch go by, too low to be a strike. The umpire(s?) called it a strike, saying he had gone around. Replays showed that he had barely flinched. Nobody seemed to know what the umpire(s?) had been looking at.

Major miscue the second: The leadoff Beaver in the 7th inning bunted inside the first base line. Putnam picked it up, threw it to first. Out. Only... not. The homeplate ump called the batter back, saying that the ball was foul because it had hit him (the batter) before he left the box. Replays clearly showed him bunting the ball a good foot or two in front of himself, well away from his body before it made its first bounce. The ball remained inside the baseline and Putnam picked it up inside the baseline and long before it reached first so... fair in every particular. Should've been an out. The kid ended up working a walk, so this could have been disasterous, but Mitch Canham grounded into a lovely double play for us to clear him off the bases.

Labels: baseball, Beavers, college baseball, loss, Michigan, NCAA, Oregon State, Wolverines


11:22 PM




It is time for me to go on a rant about one of my favorite/least favorite subjects: MASCOTS.

Or rather, THE APPROPRIATENESS OF VARIOUS MASCOTS IN RELATION TO THE TEAMS THEY REPRESENT.

Some things irrationally infuriate me. One of these things is a bad concept mascot. This is not to say that I don't appreciate a random mascot... I'm a huge fan of surrealism, y'know, and a completely wacked-out and random mascot can be a huge success. But some mascots are just A DEEP WRONGNESS. I don't ask for a lot. Usually I just want LOGIC to dictate the form of the thing, with something clever in the name of the mascot. You'd think that wouldn't be so hard to find, but you would be dead wrong.

So I have here compiled a list of Major League Baseball teams, the mascot I think they SHOULD have, the mascot they DO have, and why this actual mascot is, in my opinion, good or bad. It's been too long since I went on a pointless, inane rant around these parts. BCRS shall be rantless no longer.

The Mascots of Major League Baseball

Baltimore Orioles
Mascot they should have: An oriole.
Mascot they do have: The Bird.
How'd they do? Good job, Baltimore. Boring name, but it's an oriole. Bonus karma points for having a realistic design on the hats, and even MORE bonus karma points for having the mascot design refer back to the old, thankfully abandoned cartoony logo design.

Boston Red Sox
Mascot they should have: Red socks.
Mascot they do have: Wally the Green Monster.
How'd they do? As it turns out, the Red Sox DO actually have a pair of red socks mascots... I've seen 'em in the ballpark before. Wally's the main mascot, however, probably because those red sock things are completely terrifying. When I step back and try to look at Wally objectively, I guess he's OK. The Green Monster (the wall) is a very distinctive and well-known feature of Fenway... he's a 'green monster'... his name is 'wally'... ehhh. Let us not forget that when he was first introduced at Fenway, though, he was booed loudly and thoroughly. It's only through the efforts of Jerry Remy that he's become almost universally beloved in Boston.

New York Yankees
Mascot they should have: Satan. Alternatively, a giant dollar bill. I'm being mean. Really they should have a giant baseball thing along the lines of Mr. Met, because they consider themselves to BE baseball.
Mascot they do have: none.
How'd they do? The Yankees are too good to have a mascot, didntcha know? I can't fail them because there's nothing to fail.

Tampa Bay Devil Rays
Mascot they should have: A devil ray. I'd settle for a zoologically incorrect but thematically similar manta ray.
Mascot they do have: Raymond.
How'd they do? What is Raymond? His biography describes him as related to a dog, and I think we are supposed to assume that he's the product of an unholy mating between some sea mammal (dolphin, manatee, whale, walrus, dugong, take your pick) and a strong-swimming golden retriever, despite the fact that he looks like a giant fuzzy blue imagining of a sugar-high six-year-old.

I know what he's NOT, and that's a goddamn manta ray.

Bonus points for giving the mascot a blog, bonus points taken away for having it updated so infrequently.

I was going to fail Raymond, but then I thought about it more closely. He's got personality, backstory, and he definitely misbehaves... he hates Wally and always torments stuffed versions of him at Sox games. It's possible that, in time, he will reach the status of the Phanatic for sheer random beloved mascotness and I'm just being unfair because Raymond hasn't been around that long. However, the Phanatic comes from a team with no obvious mascot possibilities. Raymond comes from a team with a built-in mascot. I thus label him a

potential FAIL.

Toronto Blue Jays
Mascot they should have: A blue jay.
Mascot they do have: Ace.
How'd they do? Pretty good. It's a blue jay. The head design is a little aggressively cartoonish for my tastes (he looks like a freaking Hanna Barbera creation), but such is the mascot business. I assume he's "Ace" because he's a good pitcher or something. I don't know what this has to do with birds, but it has to do with baseball, so I guess I'll let it pass for now. Bonus points for using the actual scientific name of the blue jay in his profile.

Chicago White Sox
Mascot they should have: A pair of white socks.
Mascot they do have: Southpaw.
How'd they do? O HAI GUYZ LOOK ITS RAYMOND ONLY GREEN. Unlike Raymond, who at least has a backstory, absurd and moronic though it may be, Southpaw has no explanation available. What does he have to do with the White Sox? Nothing, so far as I can tell. What does he have to do with Chicago? Nothing. He's a lefty, presumably, and that's all we know.

FAIL.

Cleveland Indians
Mascot they should have: Um. Let's put it this way. Chief Wahoo should not be their logo, so despite the fact that he IS, I'm not gonna say that he should be their mascot. I think it could be cool for them to have a spider as their mascot, you know, recalling the Cleveland Spiders of old. Or something generically baseball.
Mascot they do have: Slider.
How'd they do? It's pink. It's hairy. What is it? Nobody knows. Beyond the pink and the hairiness there is a vacant, soulless creature. It only exists because the actual logo/mascot is a racist holdover of a bygone era and nobody in the Cleveland marketing department was clever enough to come up with something actually relevant to the team or city.

FAIL.

Detroit Tigers
Mascot they should have: A tiger.
Mascot they do have: Paws.
How'd they do? Good. DO YOU GUYS SEE HOW EASY IT IS WHEN YOUR TEAM NAME IS AN ANIMAL AND YOUR MASCOT ACTUALLY IS THAT ANIMAL?? Why do so many teams have trouble with this simple, simple concept? We may never know. Anyways. Paws recently underwent a redesign, which is good, because his old incarnation was actually an incredibly deformed and disturbing-looking version of a tiger. He's still not great (how can you screw up a TIGER costume? only in Detroit), but he's getting there.

Kansas City Royals
Mascot they should have: A king? Now I'm getting mental images of the Burger King guy leading the wave at Kauffman Stadium and it's just a bad scene.
Mascot they do have: Sluggerrr.
How'd they do? A lion is a clever take on "royals", I'll give them that. And "Sluggerrr", while cutesy, also works. MAJOR point loss for the fact that he's a MUTANT LION WITH A CROWN GROWING OUT OF THE FLESH OF HIS HEAD. I get that the crown over the scoreboard is a major feature of the ballpark, but I think a regular old gold-colored lion, sans crown, would have done just fine. Or even a lion WEARING a crown. The idea that his skull is deformed out into a crown form is just disturbing.

Minnesota Twins
Mascot they should have: Twins, maybe. I dunno. Freakish siamese twin baseballs. That would be insane and amazing.
Mascot they do have: TC Bear. All of poor TC's photos seem to be red-x-ing... are they phasing him out of existence? Here he is.
How'd they do? Not bad. I think the bear thing refers to a number of Minnesota landmarks which are named after bears, right? They should have two, though. Identical twin bears.

Los Angeles Anaheim California Western US Region Angels
Mascot they should have: The name is religious, but the mascot shouldn't be. So they shouldn't have an angel. 'Tho I must say that a giant 3D dancing version of their logo- an A with a halo 'round its top- would be hilarious.
Mascot they do have: Rally Monkey.
How'd they do? Good. It's got nothing to do with the name or the city, but the Rally Monkey is a freakish, idiosyncratic LAAWhatever Angels phenomenon. It's random, and they've embraced it. Perfect mascot material. Bonus points for having a real monkey, or at least video of a real monkey, instead of a guy in a cartoon suit.

Oakland Athletics
Mascot they should have: I got nothin', beyond some generic big muscular guy. Someone who knows something about the Oakland area could maybe suggest a mascot, but I know very very little about Oakland (except for the fact that apparently it's terrible and the team needs to flee it).
Mascot they do have: Stomper.
How'd they do? Good. It has nothing to do with Oakland or athleticism, but the elephant nickname is a part of the team's history, and as such makes for a unique yet topical mascot. Top work, Oakland.

Seattle Mariners
Mascot they should have: A mariner. Anything nautical. A ship. A giant freaking anchor. A compass, like their logo. Anything along those lines.
Mascot they do have: The Mariner Moose.
How'd they do? They try to claim that the moose has tenuous ties to the "forests of the great Northwest". Yeah, OK, how many forests are there in Seattle? If they were the Washington Mariners, maybe. As they are, nope. Sorry. Doesn't work. They FREELY ADMIT that the damn moose was chosen as a mascot because a 14 year old girl thought that moose "are funny, neat and friendly. The Moose would show that the Mariners enjoy playing and that they still have a few tricks up their sleeves. It shows they're having fun no matter what the situation." You know what else is funny, neat, and friendly? My dad. Why isn't he your mascot? He has exactly the same amount of claim on the position as the moose does, because guess what the moose actually has to do with the team? NOTHING.

FAIL.

Texas Rangers
Mascot they should have: A ranger. Cowboy hat, boots, spurs, fake guns, badge, the whole hokey shebang. It is the Mascot Way.
Mascot they do have: Rangers Captain.
How'd they do? OK. I guess this is the horse the ranger rides in on? Boring, but serviceable. Loss of points for the most boring mascot bio in existence, and the resemblance to an oversized plush chess piece.

Atlanta Braves
Mascot they should have: Er, this is another thorny one. A dancing Native American is not the route to go here. A giant anthropomorphic tomahawk isn't much better, but it seems to be what the Braves have set themselves up for.
Mascot they do have: Homer. Homer doesn't seem to have a page, but you can see him in the photo accompanying the article here.
How'd they do? Mr. Met is a Braves fan? Or is it the Cincy Red dude? Either way, it's a blatant knockoff inspired by the fact that, like the Indians, the Braves' old mascot was too racist to be allowed to exist. Sorry, guys, no sympathy here. Update your shit and get with the times.

FAIL.

Florida Marlins
Mascot they should have: A marlin.
Mascot they do have: Billy the Marlin.
How'd they do? Good! Florida Marlins... Billy the Marlin... good lord it's LOGICAL! Small loss of points for having two flipper-like feet instead of an actual tail. You could totally have a guy in a suit where his feet go in the ends of a huge one-piece tail. I could design it. It would be a little awkward, but it could definitely be done. Heck, even keep the legs separate and just have the tail in a kind of skirt down to the ground... you gotta problem-solve, guys!

New York Mets
Mascot they should have: Since Mets is short for Metropolitans, I would love to see a big plush walking city skyline. You may not be able to picture that but I could design that suit in a second. A giant apple would work too. Big apple and all that, and they do have that apple that comes up in Shea when someone hits a homer.
Mascot they do have: Mr. Met.
How'd they do? He's an institution. And it's kind of hard to argue with a baseball as a mascot for a baseball team. I do wish they'd done something a little more specific to the team and city... put him in a different uniform, and Mr. Met could represent any team in the league. But he doesn't fail because he is, as I said, at least a long-standing Met.

Philadelphia Phillies
Mascot they should have: Tough, tough. A giant plush liberty bell.
Mascot they do have: The Phillie Phanatic.
How'd they do? What does the Phillie Phanatic have to do with anything? Nothing. I can find no reasonable explanation for his design, and I think this is probably because none exists. The name makes sense, at least... it's a reference to insane Philly fans. But the creature himself? No reasoning can explain it.

And yet. Unlike Raymond, who comes from a team with a built-in mascot possibility, there is no ready answer for the Phillies.

The Phanatic is beloved BECAUSE it is so random. It eats people's heads! It misbehaves gleefully! It has an enormous tongue! It is AN ABOMINATION AGAINST NATURE, and this last is perhaps exactly why it fits. Philadelphia fans are ALSO an abomination against nature. It begins to make sense.

The Phillie Phanatic also manages to get Tommy Lasorda's manties into a twist, so whatever inclination I had to fail it is immediately nullified based on that alone. That is solid win.

Washington Nationals
Mascot they should have: Lots of choices here. The capitol building! Abraham Lincoln! Anything patriotic!
Mascot they do have: Screech.
How'd they do? OK. It's a bald eagle. Totally works. I actually especially like the feet, or at least the fact that he HAS talons and not some comically oversized sneakers. The only problem I have with him is that he seems to be less of a bald eagle and more a... well, an eaglet. He looks like a baby eagle. Why couldn't they have had an adult eagle? You know?

Chicago Cubs
Mascot they should have: A baby bear.
Mascot they do have: none.
How'd they do? I couldn't quite believe it. I guess I just hadn't thought about it before, but despite the fact that several of their logos have bears in them, and despite the fact that they have a ready-made easy mascot in their name, the Cubs... do not have a mascot. Huh. Wow.

I guess this is a "we're so old-school we don't need one" kind of thing, and is the same reason why the Yankees don't have one, and why it took so long for the Red Sox to get one.

Cincinnati Reds
Mascot they should have: Reds is short for redlegs, IIRC, so... more red socks, I guess.
Mascot they do have: Mr. Red and Gapper.
How'd they do? Mr. Red is a classic, especially his incarnation with the mustache. Gapper is a pointless, inexplicable and superfluous hanger-on. Why would they team a vague fuzzy anthropormorphic nightmare up with their classic guy? Only the twisted minds in Cincy can tell.

1/2 FAIL.

Houston Astros
Mascot they should have: A rocketship! A star. Something related to NASA or astronomy.
Mascot they do have: Junction Jack. His photo there is red-x-ing, so here he is.
How'd they do? IT'S A DEFORMED RABBIT IN A TRAIN CONDUCTOR'S OUTFIT
IT'S A DEFORMED RABBIT IN A TRAIN CONDUCTOR'S OUTFIT
IT'S A DEFORMED RABBIT IN A TRAIN CONDUCTOR'S OUTFIT

FAIL.

Milwaukee Brewers
Mascot they should have: A brewer. Or a giant beer bottle.
Mascot they do have: Bernie Brewer.
How'd they do? Awesome. I think Bernie Brewer is the only mascot in baseball to be based on an actual guy. The suited-up mascot is a little terrifying; what's up with those INSANE eyes? But the concept is too cool.

Pittsburgh Pirates
Mascot they should have: A pirate. A ship. A cannon. A parrot. Anything piratey.
Mascot they do have: Pirate Parrot and Captain Jolly Roger.
How'd they do? Good. Both mascots are piratey to the max. The parrot is the classic... I'm not sure why they felt like they needed another mascot to go along with him, but I guess when you're the Pirates and you draw 3,000 fans per night or something, you need all the mascots you can get.

The guy behind the parrot in the mid 80's used to smuggle cocaine to the players. The rumor is that he did this by hiding it in the beak of the parrot suit. Now THAT'S mascot history.

St. Louis Cardinals
Mascot they should have: A cardinal.
Mascot they do have: Fredbird.
How'd they do? OK. Bird teams are 3-for-3 when it comes to actually using their name as their mascot. There's one thing about Fredbird (I assume a cutesy take on "red bird") that worries me, though. Why are the feathers hanging from his arms/wings yellow and blue? Not nearly enough to fail him, but I do wonder.

Arizona Diamondbacks
Mascot they should have: A diamondback snake.
Mascot they do have: Baxter.
How'd they do? Why. Is it. A bobcat? YOUR TEAM NAME IS A SNAKE. YOUR TEAM LOGO IS A SNAKE. IN FACT YOU HAVE SEVERAL DIFFERENT SNAKE OR SNAKESKIN-RELATED LOGOS. HOW DO YOU GO FROM ALL THAT TO A BOBCAT??? This is exactly what I mean when I say that you'd think it would be easy for a team with an animal name to have a mascot, but it apparently is not. A bobcat?? WTF? Not only that, but Baxter in "person" is incredibly disappointing. He doesn't even have a bob-tail sticking out the back.

He also looks a lot more like a furry than most MLB mascots.

FAIL.

Colorado Rockies
Mascot they should have: A mountain crag! Or a giant boulder. A boulder with eyes, you can't tell me that wouldn't be amazing.
Mascot they do have: Dinger.
How'd they do? Uhhhhh.... OK? It's a triceratops? Colorado is indeed known for having several important paleontological sites, with dinosaur fossil deposits, so. I guess it works, although the whole 'purple dinosaur' thing is dangerously Barney-esque. Loss of points for the completely ridiculous name of "Dinger".

Los Angeles Dodgers
Mascot they should have: A trolley car.
Mascot they do have: none.
How'd they do? Another grandfathered-in mascotless team.

San Diego Padres
Mascot they should have: The name suggests a padre, which I think is a priest of some sort. I'm still uncomfortable with religious figures in baseball though.
Mascot they do have: The Swinging Friar.
How'd they do? Fine. Uninspired, but it fits, and the friar's been around for a while. It's just awfully hard to beat out the Chicken...

San Francisco Giants
Mascot they should have: A giant.
Mascot they do have: Lou Seal.
How'd they do? Good. This is a blatant slap in the face of the team name, but I assume it's a reference to the fact that the ballpark is on the water, and... well, I assume there are seals in there. It's a little bit of a stretch, but it makes more sense than the Mariner Moose, and makes a whole heckuva lot more sense than, say, Slider. Can't fail it.




So there you have it. Out of 30 MLB teams, you have 6 outright FAILs, one half FAIL, and one potential FAIL... and that isn't even getting into the design issues many of these mascots have. If we went into that, we would have many, many more FAILs and partial FAILs. The moral of the story is that marketing departments are filled with idiots.

Labels: baseball, mascot, MLB, rant


12:37 AM

Thursday, June 07, 2007



How badly did you want to kick Shannon Stewart in the spleen after this one? The entire ballpark's standing up, A's and Red Sox fans both, everyone at home is holding their breath and squealing... two outs in the ninth... no hits... Schilling rearing back and pitching... and Shannon freakin' Stewart pokes through a single.

It wouldn't have been a perfect game anyways, because there had been an error on Lugo that resulted in a baserunner, but a no-hitter would have been amazing, both for the morale of the team (which sorely needs boosting after this latest streak of losing) and for Schill himself, at this advanced state of his age and career.

The win's still good, obviously, and breaking up the losing streak is still good, obviously, but now everything is gonna be tinged by that slightly deflating 'what if'.

And then listening to the postgame dissection by the dolorously-voiced Ken Macha... blah. Just depressing. I would've liked to hear The Eck's take on this one, and I'm quite sure he would've had a lot to say. Macha just plods on in that droning voice and eventually you kind of want to scoop your own eyeballs out... but slowly, you know, in time with his speaking cadence.

Oh wait, lockerroom interviews. Shirtless Jason Varitek DOES do a little something to erase the Macha-depression, I must admit that. NESN is good people.

"I looked at the board, I saw all the zeros under the H, and I was like "Wait a minute!" Then I looked around and everyone was like shhhhh!" -David Ortiz in the lockerroom, on when he realized that Curt was throwing a no-hitter

OK. Still an amazing outing for Schilling. I hope Daisuke was taking notes.

Labels: baseball, Curt Schilling, Red Sox, Shannon Stewart


6:27 PM

Monday, June 04, 2007


They won!!

Michigan baseball! They won Regionals!

I know nobody who reads this cares, but eeeeeeee! First time since 1989! They had to beat NUMBER ONE RANKED Vanderbilt.... twice! And, goodness, they did! They lost the middle game, but it was unlikely that they were going to make it out of this round, because, you know... Vanderbilt! Ranked number one in the country! And Michigan DID make it out of the round, they're on to the Super Regionals, and Vanderbilt... now they've fallen to THE WOLVERINES!

I saw that the game was tied 3-3 in the 9th, but I couldn't watch the little online stat-tracker thing because I was a) too nervous and b) afraid of jinxing it. I know, I KNOW how irrational that is, but the one game I tried to follow on the stat tracker was the one they lost, so. No more checking. It was all I could do to restrict myself to that small glance in the 9th. And just now I thought that surely the game must be over, it should be safe to check again, and it was over, and we'd won!

For those of you who don't follow NCAA baseball, Michigan "won" the Big 10 regular season, coming out of it with the best record. They lost the Big 10 Championship to Ohio State, though, and thus were not assured a spot in the NCAA tourney. They received an at-large bid, though, which was right and proper because they had been the highest-ranked Big 10 team on the national boards throughout the year (in fact, they might have been the only Big 10 team to be nationally ranked... but don't quote me on that, I think Minnesota might have been on there too).

Michigan fans were grateful to see them in the tourney at all. Anything beyond that was assumed to be gravy.

They were matched up against Memphis first, which seemed a tough battle because the tourney is in Tennessee and Memphis then should have a home field advantage. No such luck, though, and Michigan beat them only to suddenly find themselves scheduled to face an even more fearsome opponent in Vanderbilt.

Whom they defeated! The middle game, which Michigan lost, even that wasn't some kind of insane Vandy blowout, like one would maybe expect from the nominally best team in the nation. It was a 10-7 score, and Michigan had come back from a 6-2 deficit, I believe. But the Wolverines won the first game, and they just now won the last game in extra innings, sending me into a series of overwhelmingly happy squees.

SQUEE!

Opponents to be announced for the Super Regionals... I guess we have to wait to see who wins the other games and whatnot before we know who Michigan plays next. In any event, the team's already done more than most people expected them to do, and it is nothing short of painfully exciting.

Labels: baseball, college baseball, NCAA, win, Wolverines


10:53 PM




I was commiserating with Beth about this game, and the bloody UNFAIRNESS of it all. "How could this happen?" we sulked. The Red Sox are playing good ball these days! The Yankees are cellar-dwelling gnomes whose supposed savior is an old man with a case of muscular crotch rot! The standings say that this series should have been ouuuuurrrrssss!

Maybe so. But Red Sox/Yankees games exist outside of the "real" world. If the standings represent the space-time continuum, a Red Sox/Yankees series represents a parallel plane of existence where none of the usual physical rules of the universe apply. In the NORMAL world, the Red Sox should have at least taken 2 of 3. But in the RED SOX/YANKEES world, records go out the window and anything at all can happen. In my deranged little Red Sox fan mind, I firmly believe this.

The Nation did its collective best. Chants of "Where is Roger?" and screams of "MINE!" or "HA!" every time a ball came near ARod... blonde wigs and masks, also directed at ARod, and all the usual range of anti-Yankeedom that unites Fenway for such games were out in full force.

There was the usual dash of Sox/Yanks drama. All the hit batsmen in the first game, and then Lowell and Mientkiewicz colliding... Yankees saying Lowell's play was maybe dirty, Lowell immediately snarking back that he learned that sort of thing when he was on the Yankees... just a mess. A glorious, typically frenzied rivalry-fueled mess.

It all came down to those moments of ridiculously perfect drama that characterize Sox/Yanks matchups. Who should hit the game and series winning homerun but ALEX FREAKIN' RODRIGUEZ, the brunt of every joke in both cities for weeks. Of course, right? Like it could come down to anything else. And then Mariano Rivera had to remember that he's Mariano Rivera, and shut us down. The rest of the league has been discovering that he's human, but of course in the strange parallel world that is Sox/Yankees, he has fully regained his alien powers.

It's tiring. It's hard being in an alternate universe where up is down, black is white, and the Yankees are an actual threat. I'm sure everyone will be glad to head to Oakland for some hopefully normalized baseball, even if it does mean Wrong Coast times and prolonged exposure to the sheer horror of Danny Haren's facial hair.

Labels: ARod, baseball, loss, Red Sox, rivalry, Yankees


1:05 AM