Saturday, March 12, 2005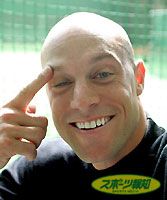 Greetings from Japan!

No, not me. The most international I've gotten is Montreal. These greetings come from Gabe Kapler, who's been tearing it up in preseason play for the Yomiuri Giants. Sitting in the art school earlier this week, I was letting my friend Yuji use my computer to surf the web, and I noticed at one point that one of the websites he was reading had the word 'Yomiuri' in English across the top bar, and pictures of Japanese ballplayers in white and black and orange on the page.

I got all excited and asked if there was anything on Kapler in there-- I couldn't tell, because everything was in Japanese, of course. Yuji's very accomodating about this. He likes to keep tabs on the Japanese players in the American majors, so I don't think he finds my desire for fresh Kapler photos as odd as other art students might. So, with me hanging over his shoulder, he flipped around and found a few photos, pointing to the accompanying text and trying to instantly translate it for me. I wish I'd written it down, but I didn't, and a couple were rushed because, yeah, we were kind of two minutes away from going to lecture.

What's unfortunate is how small the photos are, but the Yomiuri site (I'm not sure if it was the official team site or a newspaper site or what) didn't have anything larger. Still, it's nice to see Kapler again, albeit in an unfamiliar uniform (one that looks almost exactly like the San Fran version of the Giants-- same colors, same interlocking letters on the hat) and unfamiliar surroundings.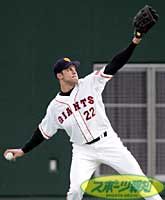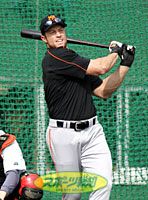 Gabe can field and Gabe can hit. Hopefully he can do both as a starter for his new team.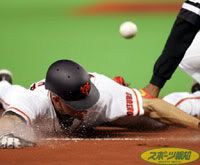 Stealing a base here. See what I mean about the helmet looking like the SF one? Curious.



Rounding the plates on a homer, baby.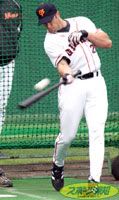 This is one I wish I'd listened to more closely when Yuji was explaining it. Something with how he's been hitting really well, and hitting with one hand. At the time I assumed he meant, like, not a switch-hitter, but when I got back to the dorm later I looked at this shot and realized maybe he meant something else. It doesn't look like Gabe should be releasing the bat for his followthrough just yet here-- is he hitting one-handed? Can you even do that? I'm not sure what's going on.

The funniest bit about these photos are the file names. Three of them are 'kapler', which is fine, but then two of them are 'kyapura' and one is 'g_capra'. Japanizations of Kapler? I hope so, because that would be hilarious.

I know it's not exactly fantastic material, but I was just so happy to see how Kapler's doing. Call me sentimental, but I don't want to lose track of any of last year's team, and it's not like other members of The 25 who've moved on, who'll be easy to keep track of-- Dave Roberts is across the country, but with the internet that's nothing these days. Japan is a whole world away, and the internet is no help if you can't navigate the sites. So big thanks to my friend Yuji, for being so awesome.

While we're on this photo kick I'd like to introduce you to an interesting little memeber of the San Diego Padres. Here he is hanging out with relief pitcher Rusty Tucker in the bullpen:



Photos via the SD Union Tribune.

His name is Butter, and he belongs to Padre Ryan Klesko. I've no idea what he's doing in the bullpen, but he seems pretty cool about it. Hoo claims that he looks a bit like David Wells, which I can sort of see.

Also, the guy over at the Detroit sports message board who's doing the Tigers spring training photos thread? Oh my, thank you sir. This is so far beyond glorious that it's, I don't even know, splengloritastic.




Gee Pudge, why don't you just SLAY ME ON THE SPOT, huh?

I was going to get into the blogosphere upheaval, but I don't think I can follow that image up with anything, so that's it for tonight. Well, that and this quote I just heard from Linda Cohn on Sportscenter. I care not at all about basketball, but this made me giggle like the three year old I am at heart.

"Aren't George Karl's Nuggets on fire?"

*giggle*
1:19 AM