Sunday, July 31, 2005
NO NO NO NO NO NO WHY.

WHY WOULD YOU DO THAT DAVE DOMBROWSKI.

WHY.

OMG ANGUISH.

however, i was at that red sox game. woah papelbon. woah curt. woah gabe kapler defense. woah manny like 12 times. more on that later when i load in photos and stop sobbing onto my tigers hat.

THE FARNS. NOOOOOOOOOOOOOOOOOO.
6:37 PM


To the kid I saw on the T holding a folded-up Twins jersey on his way to the game: Just a word of advice-- if you're headed to Fenway, you might want to put the jersey on. Because a folded-up jersey can't have its name or number read, and if said jersey happens to be black and white pinstripes, people are going to think some bad things about you.

But when I finally decided to give you the benefit of the doubt and asked if you were a Twins fan, you said "Yes" and looked terrified, like you thought I was going to beat you up at the thought of a Twins fan venturing into my territory. When I said, "Welcome to Fenway, then," you smiled in such utter relief that I almost fell down on the subway laughing. Man, we don't bite that hard.

Although you did have an Iowa Hawkeyes hat on. I might have had to beat you up a little for that, but I was in a good mood at the time.

To Terry Francona: Changing the lineup 5 minutes before gametime, so that the lineup announced is one way but the team that actually takes the field is another... that may or may not be good for the players, but it is most emphatically not good for the crowd, who are left to wonder in a panic just what the hell happened to a certain player who was announced in the lineup but who is not in evidence. Please do not do that again.

To Gabe Kapler: Welcome back! I hope you enjoyed the standing ovation you got in your first at-bat... we certainly enjoyed giving it. I hope you take to being a backup better than the last guy to wear number 44 did. But I know we don't have to worry about that, because you're Gabe freaking Kapler, and you're probably just happy to be out of Japan. Thanks for coming back and immediately driving up the hotness, Jewishness, and intelligence points of the team.

To the Kosher hot dog stand: Holy cats, I totally did not know you existed. Also, my god, you cook the hot dogs. Like, actually cook them. I wasn't aware that there was a single hot dog anywhere in Fenway that was actually cooked. Bravo for you. I enjoyed consuming your products greatly.

To the people in our row who got up 8 billion times to get more beer: I swear you were not in your seats for more than 3 accumulated innings. Besides the annoyance of having to get up every time you wanted to go or come back, there was the worrying fact that you did not appear to actually see any of the game. What, I ask, is the point? You can drink beer anywhere. Please either drink a moderate amount of beer that necessitates getting up for refills only once or twice, or watch the game at home and give your tickets to someone who actually enjoys baseball.

To the little kids sitting behind us: I'm sure you were cute to some people. But if you blew on the whistle one more time I was going to come up there and punt you down into the bullpen, where you would splatter messily, but where you could not blow on your damn whistle and where you would be in close proximity to Mike Timlin, so the plusses would greatly outweigh the minuses.

To the Notre Dame group who was in attendance today: I have no idea what the hell you were doing out in force at Fenway, but just for the heck of it, fuck you. Fuck you and your pretentious academic standards and your 'too good for any conference' attitude and your fucking Touchdown Jesus.

To John Olerud: When the Bleacher Creatures start high-fiving each other and screaming, "Who needs Manny? We got Olerud!!" you know you've done something truly special. They did, and you did. I think I maybe love you.

To Bret Boone: Don't be confused about what you did to make Fenway boo you whenever your name is announced. It's not anything you did. It's what your brother did. We'll never forgive him for it, and you're just sort of guilty by association.

To the Fenway Park cameraman who gave us a 20 or 30 second prolonged shot of Bill Mueller flexing his ass on the big screen before one of his at-bats: Thank you. Thank you. Thank you. You are a good human being.

To Bill Mueller: A triple in Fenway is even hotter than your ass.

To the group of sailors a few sections over from us who started the wave late in the game: It's great that you're in the armed forces and are defending our country and all, but that does not give you the right to start the wave at a baseball park. Nothing gives anyone the right to start the wave at a baseball park. It is a Wrongness.

To the umpire who called Adam Stern out at second base: That was a bullshit call and you know it. You were just too stubborn to overturn it.

To David Wells: Wow. That was pretty much complete domination until the very end when you got tired. Wowity wow wow. I wasn't expecting to see that today. Thank you, our battered pitching staff needed to see it.

To Curt Schilling: I know you saw Beth at the fence, because you turned around and gave her a little head-jerk of acknowledgement. Just because she stared at didn't say hi or even wave, it doesn't mean she doesn't like you. In fact, she is one of your biggest fans and defends you violently when we say we're sick of you gabbing or we don't like your political outspokenness or that you are eminently not hot.

Beth just sucks at life, see, and freezes up when faced with people she really likes. I probably would have screamed, "HI CURT!" if I'd been down there, but Beth just stared at you like a deer in headlights. Trust me when I say that this was a sign of extreme affection.

And don't worry, you weren't hallucinating, she actually was wearing a Keith Foulke jersey.

To the old-timer blooper reel: You never get old.

To the guy a few rows in front of us who was singing bits of 'Sweet Caroline' innings after the song had actually finished: Ha ha, you were drunk. But very passionate about your singing, so that's OK.

To Juan Rincon: I don't get it. Bonds and Giambi and Sosa are booed as cheating juicers, but you were actually suspended under the steroid policy, and you can go anywhere with nary a boo. This is why I announced to the entire section that you had been suspended undet the steroids policy, and if you heard any really loud booing or shouts of "Rincon, you JUICAH!" that's why.

To the guys sitting next to us who were quite nice all game and who also booed Rincon mercilessly and loudly once I told them about his suspension: You guys were pretty cool, and you seemed to know a bit about baseball All the screaming for Rincon's head was pretty awesome.

To Tony Graffanino: Thank you for having a nice posterior. Our location in the outfield meant that we were seeeing kind of a lot of it.

To Kyle Lohse: Ha ha, you Lo(h)se.

Great, now I'm afraid that if I got to sleep I'll wake up and there will have been some massive and massively upsetting trade that happened in the night. Trading deadline stress, it'll drive me mad in the end for sure.

Oh and ALSO! Did we all see how, at the end of the game, Kevin Millar was removed from the outfield, Kapler moved over to left, and Stern came in to play right? Did we all see that? Did we all see the Red Sox fielding an outfield that was 2/3rds Jewish? Because I'm not sure the last time that happened in, you know, Major League baseball history.
5:10 AM

Saturday, July 30, 2005
David Ortiz, in his postgame lockerroom interview on NESN, chastises Red Sox Nation:

"I don't think it's fair, people booin' Manny, at this point.

In hours, you gon' change what Manny ha' done for this ballclub, for this city?

I don't care [what the fans are saying], they gotta sit down and think about what Manny done here.

His numbers, always there every year, and this town should never feel that way about Manny Ramirez.

If Manny's outta here, it's gon' be hard on everybody. That's my question. How you replace a guy like that?

I don't think what our fans did today to Manny [booing him in his first at-bat] was fair. At all.

He was here waay before I got here. He was here way before many guys got here, and the guy, he leave his heart out there every day. I don't care what kind of rumor there is, I don't care what people are sayin', you gotta see the whole thing."

Man, I wasn't even really ragging on Manny, and I still feel all bad that Papi is so disappointed in the fans as a whole.

Nice interview with Dustin Pedroia. My favorite bit is him saying that he's not sure if he doesn't know how to drive, or if people around here just drive insanely.

The Much Hated Eric Byrnes has been booted from town yet again. The Rockies have traded him to the Orioles for Larry Bigbie, which means we'll get to see the Hated Eric Byrnes Hair a bit more often. The really interesting part is that this article seems dead certain that Bigbie is just up north for a stopover and is ultimately destined for Boston, with Colorado picking up Kelly Shoppach.

The assumption seems to be that if the Sox do manage to move Manny, they'll need another outfielder. And Johnny Damon knows the Rockies could use a boost in their catcher slot.

Twinkie notes:

Looks like Torii is on the DL with a strained and possibly torn tendon in his ankle. Ouch. They have all those big rolled-up tarps on the walls in the Metrodome that he's used to jumping onto... no such cushion at Fenway.

"It stinks," said Hunter, standing on crutches with a protective boot on his foot after the game. "I knew the dimensions of the field. They're weird and not the same as any other stadium. I should have just held up, but that's not my game."

My mother had almost as much fun saying 'Terry Tiffee' as she does saying 'Pujols'.

Hilarious as it was to see tonight, I don't think we can count on getting three runs off of an RBI single, two balls shooting by the catcher, and a ball hitting Damon in the head, all on one play, again this series. It was a wonderful complete meltdown, but the Twinks are just too good defensively to do it again. Although, with Torii out, who knows. Could throw things all out of whack.

Joe Mauer looks like he should still be playing high school ball.

Lew Ford is much cuter in live-action than he is in photos. Hmm.

Sucks for Carlos Silva... he looked really dominant at the start of the game. Then again, so did Arroyo. Still, 3 straight-up earned runs is probably less painful than 4 runs, only 2 earned.


Curveball in reverse,
Long smooth motion; Olerud
Has a pretty swing.
1:41 AM

Friday, July 29, 2005
Oh yes, and I've got a guest column up at Firebrand of the AL wherein I perform a short but educated study into who would be better for the Sox at second base, Mark Bellhorn, Tony Graffanino, or a Dead Sea Lamprey.







Check it out, kids.
2:45 AM


I was listening to WEEI on the hour-long drive home from The Internship today for some ungodly reason. Probably because I had been up there from ass'o'clock in the morning until like 4 in the afternoon and was feeling out of the baseball loop. In any event. They were, as one might imagine, talking about Manny Ramirez.

Being the insane Boston media, they were, to a man, calling for the immediate termination of Manny's contract, lockerroom space, jersey production, and possibly life. Because you know, he's never dogged it down the basepaths before. He's never complained and said he wanted out before. That's all totally new to us. It's not like we've heard these things, oh, several hundred times in past years from Manny. Don't be silly. Why else would the radio guys be reacting so strongly?

My absolute, absolute favorite was when they had a caller try to defend Manny and his spot on the team. He said something to the effect of, "Well, so he refused to play when Trot was hurt, that's bad and reprehensible* and all that, but the guy still has 92 RBI on the year for us."

To which the radio hosts replied, "Who cares?"

They then went into a long rant about honestly, who cared about the numbers if Manny was going to be a me-me-me prima donna in the clubhouse, and 92 RBI didn't mean shit in that case, and 92 RBI and 28 homeruns were not as important as a guy like Bill Mueller (42 RBI, 4 HR) who was a tough guy who was dedicated to the Game of Baseball.

I'm not making it up. One of the radio guys actually said, multiple times, "Wouldn't it just make you sick if we ended up trading away a clubhouse guy like Bill Mueller, and we had to keep that mutt Manny Ramirez?"

I'd love to be able to say that I clucked my tongue in mild dismay and kept driving, but my fellow bloggers who have seen me try to watch both a Red Sox game and Tigers game at once can probably assure you that they expect no such calm behavior from me.

I'm sorry to say I started screaming at the radio. And thumping the steering wheel, and yelling things like, "Jesus fucking cats are you SERIOUS?! 92 RBI DON'T MATTER?? You would honestly rather have a guy who was A NICE GUY IN THE CLUBHOUSE than someone who would hit you 92 FUCKING RBI SHORTLY AFTER THE ALL STAR BREAK?"

Now, I know that the sabermetric way of viewing baseball is catching on, but is still frowned upon in many circles by 'the old baseball' types. But to see numbers, numbers that DIRECTLY TRANSLATE INTO RUNS SCORED FOR THE TEAM, ignored in favor of pugnacity and team spirit... egads. I'm not a stathead by any stretch of the imagination, but this was appalling.

And people passing me going in the opposite direction, who were treated to brief glimpses of my spazzing out, probably thought I was clinically insane.

Oh, and while I'm on a random rant, may as well throw this one in there.

I do not see how A-Rod could say that he's going to play for the Dominican team in the World Baseball Championship or whatever they're going to call it.

That's like someone announcing that they're going to have a tournament, all over the United States, for roller hockey. Your home state is your team. I'm convinced that Florida is going to win, because they've got tons of great roller hockey players from there and they take their roller hockey seriously in that state.

So I announce that I am, in fact, Floridian, and will be playing for the Floridian team.

Bear in mind, I wasn't born in Florida... I was born in Massachusetts. I didn't grow up in Florida, I grew up in Massachusetts. Hell, I didn't even go to school in Florida... I went to school in Michigan.

But, see, my mom is from Florida, and she has family living there. So I visited Florida some, as a kid, because that's where my mom's family is.

So, based on that, I declare myself Floridian. I will play for the Floridian team, and we will kick roller hockey ass.

Now you tell me how A-Rod, who was born in New York and grew up in Miami, can say that he is qualified to play on the Dominican team just because his parents (or one of his parents, I'm not sure) is from there. Maybe he even still has family down there. Doesn't make him Dominican. Isn't that just like me saying I'm Floridian because my mom is from there and I have family there? I have cultural Floridian roots!

Apparently today was 'drive BCRS batty very easily with very minor things' day.

*This is how you can tell it's not a direct transcript and I'm just putting down what I can remember. If a WEEI caller ever used the word 'reprehensible' in a call, I would probably drive my car off the road in shock.

Oh yeah, and.

Clement looked OK.
Had a presser so it seems.
He's got dork glasses.
12:39 AM

Thursday, July 28, 2005
Harry Potter and the Boston Red Sox

Because I do believe we all could use a little break after the two extra-innings games and the one hairy 9th inning game we just suffered through, all against the lowly Devil Rays. I think there are still some Sox fans out there huddled in the corner crying over Matt Clement (although all indications are that he's going to be OK, thank cats); that, along with all the insanity of trade rumors and Manny sulking and whatever, is enough to drive anyone mad.

So, as usual, here at Blue Cats and Red Sox we turn to bad photoshopping. And I just finished my second run through Harry Potter VI, so.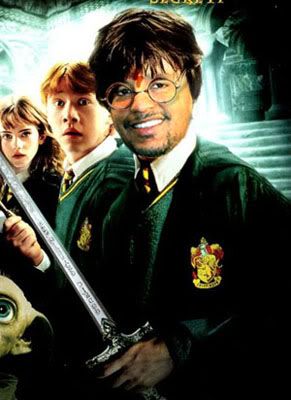 Harry Potter: Manny Ramirez
Harry's not very good at the school stuff, but the one thing he is good at (Quidditch), he is wicked good at. See: Manny, hitting. There's also the whole 'saving the world' thing, be it from Lord Voldemort or from another year of World Series disappointment. They're both prone to occasional childish outbursts. Oh yeah, and the crazy uncontrollable hair.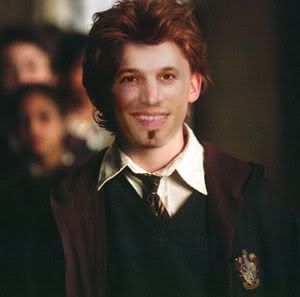 Ron Weasley: Doug Mirabelli
Because they're not real spectacular on their own, but when you get right down to it they're the best backup you could ever want. Plus they're both sort of awkward and not nearly as loved by the ladies as the guys they're backing up (Harry, Varitek).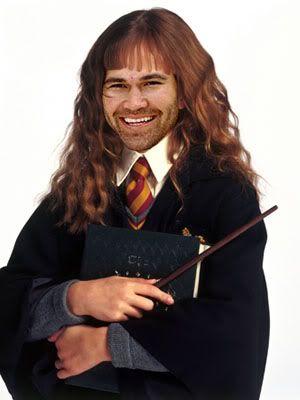 Hermione Granger: Johnny Damon
I know Hermione's the clever one and Johnny is most definitely not any sort of superbrain (or even regular brain), but bear with me here. There are the copious amounts of hair to consider, but more importantly the fact that Hermione is a bit mouthy most of the time. I think we can all see where that one's going. I probably could have done Curt Schilling too, but that photoshop disturbed even me.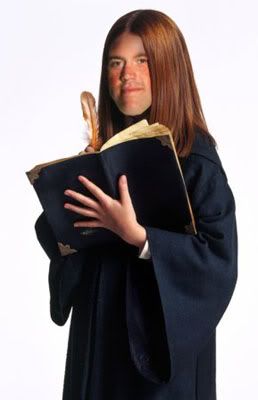 Ginny Weasley: Kevin Youkilis
The quiet kid in the back that no one expects much from, who surprises everyone by being much better at everything than people expected. Of course we weren't really surprised by Youks, because we're insane Boston fans and know our minor leaguers almost as well as we know our major leaguers. Still, you see what I mean.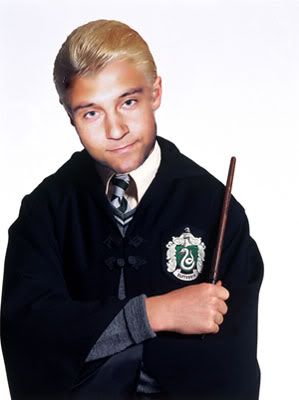 Draco Malfoy: Derek Jeter
Spoiled rich kid who's kind of too pretty, to the point of being feminine. Not that I think Jeter's pretty, but Gryffindors probably don't think Draco is pretty either. Pureblood wizard, True Yankee. Probably overrated. This one was almost too easy.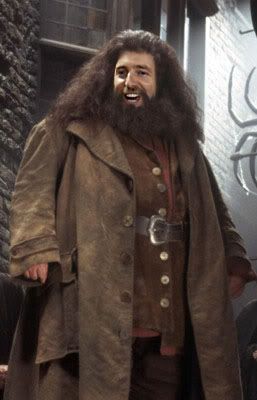 Hagrid: Kevin Millar
Big and dumb, but funny and well-meaning. Sort of a retarded older brother/helper/good buddy figure to Harry/Manny. Also: absurd hair.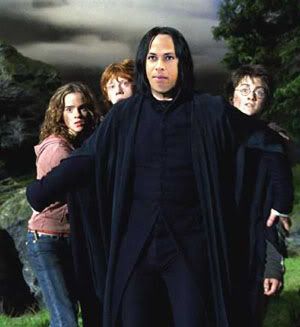 Professor Snape: Alex Rodriguez
Complete mercenary (zing!). Greasy hair accompanied by one really prominent and annoying facial feature (overlarge nose, purple lips). Almost everyone in the entire universe hates them, except for Slytherins/Yankee fans, and probably even some of those hate them as well. Much to everyone's annoyance, they're still both really, really, sickeningly good at what they do (make potions, play baseball). Both have a slight air of the snivelling coward about them. Both really want one job but are forced to step aside into a similar, but lesser job (Snape wanting to teach Defense Against the Dark Arts and being shunted aside into Potions; A-Rod wanting to play shortstop and being shunted aside into third base). Also: EVIL.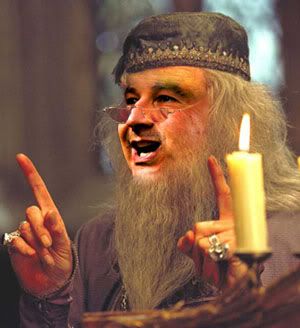 Professor Dumbledore: Terry Francona
There's the whole 'presiding over the madhouse' thing, but even beyond that is the fact that both are leaders for the forces of Good, and both have wicked senses of humor.

And just for the heck of it, if the American League was Hogwarts, here's what Houses I think, in my deranged little mind, the various teams would fall into.

Gryffindor
Boston Red Sox
Texas Rangers
Chicago White Sox
Detroit Tigers
Baltimore Orioles

Ravenclaw
Minnesota Twins
Oakland Athletics
Toronto Blue Jays

Hufflepuff
Cleveland Indians
Kansas City Royals
Seattle Mariners

Slytherin
New York Yankees
Rally Monkey Angels
Tampa Bay Devil Rays

That's got nothing to do with how good or bad a team is, it's just how I see their 'personalities'. Although Hufflepuff did end up kind of sad and pathetic.

If I hadn't cemented my position in your mind as a complete and utter dork, I just did so now.


A great big homerun
For Alex Cora. But wait:
Castig says Joey.

Yeah, I was in the car when that happened, so I didn't get to see it. Didn't get to see Dougie's stolen base either. I was pissed.
12:42 AM

Wednesday, July 27, 2005



Sometime in late July the Sox play a game against a divisional rival with one crazy, emotion-stirring incident in it. They then go on to win the game in dramatic fashion.

Yeah, heard that song before.

I rather preferred having the emotion-stirring incident be Jason Varitek jamming catcher's glove leather up A-Rod's nose instead of Matt Clement taking a line drive to the head and crumpling to the mound.

There are many acceptable exaggerated motions in baseball. It's OK to smash into the walls in pursuit of a flyball, it's OK to belly flop in pursuit of a groundball, it's OK to swing at a strike so hard that you spin around in a circle. It is OK to piledrive someone into the dirt, even if baseball sees fit to slap you with a 6 game suspension afterwards.

It is not OK to make Kevin Millar absolutely solemn, it is not OK to make Jason Varitek have to walk away for a bit to compose himself, it is not OK to make us all have to watch Manny gesturing frantically for the trainers, it is not OK to make Carl Crawford feel really really bad even though it's not really his fault, it is not OK to make us all listen to Don and Remy sit there in absolute stunned silence-- not that the rest of us were doing anything different, mind, unless you're willing to count little whimpers as speech.

It is not OK to crumple to the mound.

There is to be no crumpling from any of my boys for the remainder of the season, see? Not from anguish of loss, not from disgust at self, and most especially not from baseballs to the head.


He's got the hair right,
And he retired the side.
New Manny looks good.
3:03 AM

Tuesday, July 26, 2005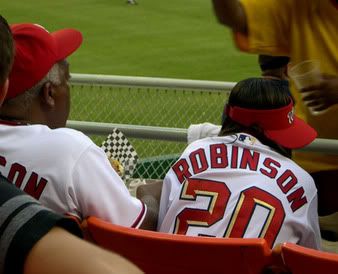 Right, so, RFK Stadium!

I had heard that the park was awful, just a complete dump, in a completely awful section of town. I'll admit that the guys peddling 'Nats hats' on the walk between the subway station and the stadium looked like they could have been peddling illegal powdered substances on nights when there were no games, and I'll admit that the concourses of RFK, with their dirty off-white concrete and generally crumbly appearance, are not particularly welcoming and/or charming.

I'll admit that the National Guard Armory right next to the stadium doesn't really do much for the ambiance.

But the park itself... well, I had been expecting something more along the lines of US Cellular in Chicago. Completely soulless building, random and gimmicky stuff tacked up all over the place, half the fans apathetic and the other half rooting for the opposing team*.

RFK doesn't look like a baseball park. It doesn't look like an old baseball park, like Fenway, and it doesn't look like a new baseball park, like Comerica. It looks like, well, like a stadium, like something you'd play football or soccer in, which is appropriate because it basically is something you play soccer in. Baseball is still so relatively new to the venue that if you're looking to get there from the highway you're directed to the DC United logo, with no reference to the Nationals. The weirdly undulating roof is kind of interesting though, once you get over the fact that it doesn't look like baseball should be played inside it.

The concourses, as I said, were pretty depressing, but the field at least looked nice as we ran around trying to find our seats. We weren't expecting much from them, since they were way out in left field, but as it turned out they were really close to the field itself so they ended up being pretty good. It was kind of a neat perspective, that far out and that low down. The seats were roomy and the aisles between the seats were ridiculously wide, but that may just be because I'm used to Fenway, where you couldn't squeeze a heron with an eating disorder between some of those rows. We were also extremely close to the Nats bullpen, and if you stood up and went to the railing you were basically right on top of whichever reliever would come out between innings to toss a ball around with the left fielder. More on that later, though.

The problem with seating in RFK is that if you're not on the lower deck you're really, really far removed from the field. The uppermost seats in dead center especially looked bad... I can't imagine how you'd be able to see anything from out there, unless you had good binoculars or a high-powered telescope or eyeballs on 100-foot-long stalks you could lower down.

Despite that, and despite the blistering heat in which I suffered mightily, the crowd was huge and it looked like most of the stadium was full. Most of the fans were rooting for the Nats, and I saw a few hats that looked kind of beat-up, even, although that was most likely a carefully crafted effect, what with the whole 'team not existing before this year' bit.

There were a few Astros hats in the place but to be honest I think I actually saw more Red Sox hats there. I was surprised at the number of Sox fans present... I was expecting maybe a few, but I saw at least 20, and there were undoubtedly more. It might have been because Clemens was on the mound, but then again it might have been because there were just a lot of Sox fans in the area who like going to baseball games. There was a lot of kind of random stuff, much more than you'll see in Fenway... a kid sitting in front of us was wearing Cardinals gear, and I saw a Jeter tshirt, and there was a little kid on the subway in full Pirates gear, black tshirt and black hat and all. My mother pointed out that DC is sort of a place where people often come to live after growing up somewhere else, so I suppose it all made sense in a way.

I saw exactly one Expos hat, although maybe there were more floating around somewhere. On a side note, I wonder if Montreal newspapers carry Nats news now.

When the fans were psyching themselves up into a frenzy, they would stamp on the ground. Since the stadium is basically made out of some kind of hollow vibration-conducting concrete, this meant that the entire place would start to shake and you'd feel your seat moving and it basically would seem as though the entire place was about to collapse in on itself. I wavered between being impressed by this and being utterly terrified by it throughout the game.

Ah, the game.

Clemens threw 102 pitches in 6 innings, which may not sound too impressive. He issued a few walks and, early on, seemed to be laboring a bit more than you would expect from the Rocket.

But I was scoring the game** and I have never seen a tidier-looking scorecard at the end of a game. Part of it was that the Nats made hardly any substitutions at all, since they were trying so desperately to score right up until the very end and had to keep all their big bats (such as they are) in the lineup, but part of it was also the fact that Roger Clemens had 10 strikeouts in his outing, so most of the little boxes, instead of being filled with lines and numbers and notations, just had great big single Ks in them.

Let me repeat that.

ROGER CLEMENS HAD 10 STRIKEOUTS IN 6 INNINGS.

Only 3 hits, and not a single run off of him.

When I heard that Clemens was going to be pitching, I was excited and was looking forward to some pretty good baseball, but holy freaking cats, I wasn't expecting him to be that good. Maybe if I'd been watching the Astros all year I would have been, but still, sheeeee-it. After a while all we could do was shake our heads in amused amazement at each K as it happened. Even the Nats fans seemed quietly stunned by it.

Of course it probably didn't help that Ryan Drese got touched up for quite a few runs, and poor Sunny Kim got absolutely hung out to dry by Frank Robinson, who recognized a lost cause when he saw one and basically conceded the game.

Before the game started and before the ushers came around to shoo people away, I was standing over by the railing looking into the Nats bullpen. A reliever came out and started long-tossing casually with Ryan Church. He was really close to where I was standing, so I snapped a few shots of him. I am never close enough to the players to get good shots of them, and the zoom on my camera may as well not exist, so the fact that I was close enough to even this anonymous player to get a good shot of him excited me beyond measure.

After seeing that the guy whose photo I snapped was named 'Kim' I had the obligatory, "ha ha BHK ow it hurts to think of it" memories, then I sat down and forgot about him while the game started.

That is, until Kim came running out of the bullpen in the 7th. 'Cool!' I thought. 'I have a photo of that guy!'

Kim proceeded to give up 10 hits and 8 earned runs over 1.2 innings. There were many times when Robinson could have probably pulled Kim and put in a not-bombing reliever, but he appears to have fully realized how out of reach this game was and, opting to save his bullpen, left Kim out there to get shelled. Ouch. Hard to tell from my distant outpost in the field, but it looked like Kim was about to start sobbing freely on the mound at points, and that of course brought back those fond BHK memories all the more.

Late in the game I saw another pitcher get up to toss a ball around with Church between innings. I casually glanced over, then whipped my head around and stared. I jumped out of my seat, and dashed over to the railing, because, kids, it was CHAD CORDERO, closer extraordinaire. I started snapping away in a frenzy of joy and as such only really got one photo that came out sharply but dudes! Chad Cordero! Right near me!

There were some other people arrayed along the railing, yelling for Cordero to throw them up a ball or, in certain cases, heckling him. He was literally mere feet away from us, he could probably hear everything we were saying. It was a golden opportunity to shout something that the best closer in the game could ignore, and I was not one to squander such an opportunity.

"HEY CORDERO! COME PITCH FOR THE SAWX!"

Of course he didn't even look 'round, but maybe he heard it and has been thinking about it and has been thinking about asking his agent if Boston is looking for a closer these days. Hey, a gal can dream, right?

Anyways.

There was a Nats fan screaming, "Its! Not Oh-Ver!" in the 9th inning, but the margin was something like 11 runs by that point, and he seemed much more sarcastically humorous than actually hopeful. Although, to give them credit, the crowd did in fact get terribly excited when the Nats scored their one run of the game (very late, off of Wheeler) and clapped their little hearts out, like they thought a comeback was actually possible.

Jason Lane and Willy Taveres were both impressive at the plate, but the story was really in the pitching. RFK is a big field, too... despite the heat (which, I repeat, was immense and painful) there were only 2 homeruns in the entire 14-run offering by the 'Stros. A lot of balls kind of died in center field.

Photos from the event can be viewed here if you should so desire. Sunny Kim! Chad Cordero! Photos of RFK looking like a giant off-white UFO!

My final impression of RFK was a tolerably good one, despite the multiply-mentioned SEARING HEAT OF WOE that made us melt painfully into our seats. I really was surprised by it, and by how dedicated and numerous the fans were. Of course it didn't hurt that I got to see Roger Clemens absolute dominate the fuck out of the game of baseball on the mound.

So good for you, Washington DC. Looks like you do deserve baseball after all.

Now please get rid of all the DC United stuff.





This haiku is all I'm going to say about today's game.

Aubrey Huff: silly
name. Sounds like a movie star,
Not walk-off hitter.

*Look, I was at a ChiSux/Tigers game last year, and I'm sorry, I'm sure there were some actual Chicago fans there, but at least a third of the already-sparse crowd were Tigers fans, and most everyone else seemed to just be there for the beer. Maybe things have changed now. I don't know, I haven't been back. And after being subjected to computerized food-item races every half inning, I'm not real sure I want to watch baseball there again.

**In the scorecard that came with the Nats program... I've now used three different program scorecards: Tigers, Red Sox, and Nats. The Tigers and Nats both have pretty pisspoor scorecards... no diamonds in the boxes, no room to write in anything other than starters, etc. The Red Sox, probably unsurprisingly, have the most detailed and useful scorecard.
5:35 AM

Sunday, July 24, 2005



Just a placeholder entry, should anyone happen to check this before I get up a real post about this weekend. DC was brutally hot, Roger Clemens was one sick mofo, and RFK Stadium was very different from what I was expecting.

More later.
3:00 PM

Thursday, July 21, 2005



I'm an artist, so I can say 'let me paint you a picture' and it won't be completely pretentious. Or does being an artist in the first place automatically necessitate pretention? Buggered if I know, I'm probably too close to the problem to see it clearly.

Anyways. Let me paint you a picture.

You're at US Cellular, on what basically amounts to the wrong side of Chicago, for a White Sox/Tigers game, and it starts to pour. Your team is down 2-1, but you're the goddamn White Sox, it's early in the game, that's nothing to you this year. The grounds crew rolls out the tarp and the rain delay drags on-- 20 minutes, 30 minutes, an hour. Fans are leaving in droves, and if the park was never too full to begin with, now the crowd looks positively skeletal.

But goddammit, you're a White Sox fan, and you're here to watch a ballgame, and you'll be damned if you leave the park when there's still a sliver of a chance that the game will be played. You're soaked and you're bored and you're probably sitting all alone in your section because everyone else has fled.

Suddenly you see two guys emerge from the home dugout. Since you're still at the park, it's safe to assume you're a pretty hardcore fan, so you immediately recognize the two as Mark Buehrle and Willie Harris. It's still a rain delay, the field is still covered by a tarp, you wonder what the hell they're doing coming out into the open and getting wet.

They get a running start and hurl themselves at the tarp, sliding across it on their stomachs like absurd, cleated penguins, huge jets of water sluicing off in a V-shaped wake after them, laughing hysterically. They get up and do it again, and you're reminded of little kids playing on the Slip'n'Slide on a hot and sunny day, only the Slip'n'Slide is the tarp covering the infield, and the little kids are your light-hitting backup second baseman and your fast-working All Star starting pitcher.

The White Sox go on to lose 8-6, because they ran into the wrong side of the unstoppable Chris Shelton and the resurgent Omar Infante, dropping the series to the Tigers. You sat through an hour and 11 minutes of rain delay just to watch your team lose at home to a squad that can't even hang tough at .500, but as you leave the park you've got a bit of a smile on your face, because you're a real fan who stuck around to watch your boys and you got to see them goofing around on the tarp, having a stupid good time themselves but also putting on a show for the people who, in the end, probably deserved it most.

I know that's got nothing to do with anything, but it just made me happy.

My mother and I were at yesterday's sweltering afternoon Red Sox game. I'm pretty well used to taking the T in for games, but my mother hadn't been to a game at Fenway since about 1990. One of the nice things about taking the T in is how the absurd majority of your fellow commuters are also going in for the game, even from a far-off stop all the way down the Blue Line like Wonderland. You don't even really bat an eye at it after a few games, but my mother was greatly amused to see all the hats and jerseys.

We saw a little boy clutching a bright Colombian flag (with a woman wearing a pink hat, most unfortunately) at Wonderland. I wonder if he was just 'yay Colombia!' in general, or if he was a great big Edgar Renteria fan.

Man, it sure was nice to see us win with all our replacement players in there. When we first got there we saw a Sox player come out of the dugout during warmups and greet a couple of Devil Rays with hugs and some light chatter. Usually it's Manny and Ortiz who have friends on every team, but this wasn't Manny or Ortiz. In fact, I didn't know who it was, because the uniform number (10) wasn't one I'd seen before. I figured it had to be Hyzdu or Cora or Stern or someone, one of the new guys whose numbers I don't know yet.

It was Tony Graffanino. He used to play for the Devil Rays, and he's bounced around enough that he's probably got friends all over. It was kind of sweet.

Both my mother and I laughed heartily at the sight of Dougie rolling his wheelie bag out to the dugout and then back again before the game. This ridiculously square-shaped man, stumping along with his catcher's gear on, jauntily toting this ridiculous black wheelie bag... ah, it is one of the most consistently funny sights in baseball.

I cheered very loudly for Tony G(not -iarratano) when he came up, and my mother chastened me for it, prompting the following exchange.

Me: "But no one else is cheering for him!"
My mom: "Because he hasn't done anything for the Sox yet! (he grounded out to short his first time up) When he does something, then you can cheer for him."

He hit a towering wallball RBI double in the fifth, one of those balls that looked like it was heading out of the park but died just at the Monster (there were at least three for the Sox yesterday-- must've been the wind), and then I was allowed to cheer for him. Not Hyzdu, though. He had a shitty day.

I was scoring the game and I was absolutely terrified that the Sox might bat around in the first inning. The first six guys to get on base scored, which was a beautiful thing to put down (all those nice little completed diamonds!), but, you know, scary. Then they switched pitchers and Dewon "I ain't goin' to no AAA, I ain't afraid of no Restricted List" Brazelton struck out the bottom of the order, and my scorecard narrowly escaped disaster.

Chad Bradford looked pretty good, but John Halama did not. We kept standing up to cheer for the last out, and he kept tormenting us. It was very unpleasant to see that homerun go out over the Monster, since everything we'd hit there that day had died at the wall (Johnny's homer went out into the seats down the first baseline). Eduardo Perez had grounded out to short three times before he came up and whacked that, which just made it more painful. No damage done in the end, unless it was to the chances we have to see the Eyebrows of Doom remain in a Red Sox uniform.

Jonny Gomes and Aubrey Huff were the only DRays to look really good at the plate, and at least one of them could be said to be counterbalanced by the sheer awfulness of Alex Gonzalez in the field. Three errors on the night, two of them in the 6th... that is bad. None of them resulted in runs, but if he could have found a way to make them do so, he probably would have.




You guys ever see a player for another team, and you covet him so much that it makes you breathless just to think about it? Because I sure do. And HOLY FREAKING CATS do I covet Zach Duke. Oh man. Oh man, I covet him so hard.

You guys, he struck out 5 tonight. Oh man, he dropped his ERA to under 1.00. He's 22. I know the league's still figuring him out, I know that. Right now I do not care, I am just filled with covetousness. I want him on my teeeeeeaaaammmmm.

The White and Red Sox are playing as we speak, prompting the usual grumbling about how we actually wear, you know, RED SOCKS, while they, confusingly, wear black socks. I dearly hope little Alex Cora gets into at least one of these games and hits some kind of massive towering homerun. His older brother is the ChiSux third base coach, and it would be completely sweet to see Alex thumb his nose at him as he rounded third in a sedate homerun trot.

No matter what happens tonight, though, I think we all (fans and players both) need to remember this:




Please, everyone. Think of the kittens.

edit: Oh my god, I can't believe I nearly forgot this. Yesterday, Doug Mirabelli's at-bat music WAS BRONSON ARROYO SINGING 'DESTINY'. He doesn't even catch Bronson! I died like 5 times over in my seat.

Haiku because I feel like it:

A lot of errors;
I am still glad that Edgar
Now wears his socks up.
8:28 PM

Wednesday, July 20, 2005



We seem to have picked up The Other Tony G (by which I mean Tony Graffanino, formerly of the Royals and currently of the Red Sox, as opposed to Tony Giarratano, formerly of the Tigers and currently of the Erie Seawolves). TO Tony G can play most any position in the infield, which is useful, and if we're going to compare him to The Bell (and if, just for shits and giggles, we decided to throw Little Alex Cora [trying it out to see how it looks] in there too)...

Career (through 2004)
Tony G: .259/.330/.388
Cora: .246/.314/.351
Bellhorn: .242/.354/.412

Last Year
Tony G: .263/.332/.335
Cora: .264/.364/.380
Bellhorn: .264/.373/.444

This Year
Tony G: .298/.377/.393
Cora: .202/.243/.276
Bellhorn: .216/.328/.360

They're not dissimilar batters, over all. The Bell hits for more power, but over his career Tony G hits for better average. Tony G is two years older, but can more readily play a greater variety of positions. But perhaps most importantly, to annoyed Boston fans, is this:

Career High in Strikesouts
Tony G: 68, in 1998. Next highest, 46.
Cora: 59, in 2003. Next highest, 58.
Bellhorn: 177, in 2004. Next highest, 144.

Number of Strikeouts So Far This Year
Tony G: 28
Cora: 22
Bellhorn: 109

That's not quite as bad as it looks, obviously, since The Bell has had more at-bats than Tony G and Cora. But correcting for that still leaves you with Tony G striking out 14.66% of the time, Cora striking out 13.50% of the time, and The Bell striking out 38.52% of the time. So there's your marked improvement, and I guess we have that to look forward to.

Adam Hyzdu is also back, but don't think it means anything. Kapler is, by all accounts, on his way, and as soon as he gets here, either Hyzdu or, I guess, Stern is set to go. Although it was a bit funny how they kept Trotter away from the field tonight, even after using him as a batter... if he's hurt himself somehow, I take it back, and Hyzdu could very well mean something.

As for the rumors of Millar or Mueller to Minnesota for JC Romero, I have to say that, much as it pains me (MUCH), it would make more sense for the Twinkies to go for Mueller. They need corner assistance, but they've already got a plethora of first-base-types, including Matt LeCroy, who is basically Kevin Millar with more power this year. It just seems like the Twinks would be after Mueller, if they were after anyone at all. JC Romero is good, and lord knows we need the arm help.

I'll be at the game tomorrow, assuming I don't collapse dead from heat somewhere in the interim, so if you're going to be there and if you're going to be somewhere around the third base side, give me a holler.

Haiku for today's game (I've been in the mood for easy cop-out closing lines recently, and these are easy, so sue me):

What did I tell you
'Bout my boy Alex Cora?
Sit on down, bitches.
2:20 AM

Tuesday, July 19, 2005
Wade Miller was bouncing a lot of pitches tonight. Not just wild bounces past Varitek, but he was throwing balls that were bouncing in front of 'Tek. More than once. I hesitate to say anything, because maybe his curveball was just breaking funny tonight for whatever reason, but regularly bouncing balls in the dirt in front of the plate... are we sure he's not hurting? Because that kind of pitching looks like something that someone with a very sore arm would be resorting to.

If you can't bring your arm around strongly enough to get the ball all the way to the catcher's mitt...

Well, one more thing to worry about, eh?

Priceless moment of the game: Manny seeing people come out to talk to Wade on the mound, and, assuming it's a pitching change, heading inside the Monster to hang with the guys who work in there. Only it wasn't a pitching change, and Manny came popping back out of the Monster only just in time for the next pitch.

I also notice that he's got the front half of his hair braided down, with the back half still loose dreads. To better keep it out of his face, maybe?

Johnny Damon in the postgame interview? Sucks about his streak being snapped, and he's been annoying lately in the media, but watching him hold forth in the lockerroom tonight was more than fine. If he's talking to the presshounds, it means that everyone else doesn't have to. I'm not sure people realize how truly valuable that is.

From the department of guys who just never know when to shut up already, I bring you the latest verbal droppings of our old buddy Paul Quantrill:

I enjoyed my time [in New York]. New York fans are Met fans or Yankee fans. It's one or the other. They take it seriously and know the game. They really do stay with their ballclub. I found them to be generally pretty positive. I felt I got treated very fairly there.

"I began my career in Boston, and I found those fans to be edgy. I expected New York to be abrasive, but there's some bitterness in Boston. Maybe it's better now, after they won it. I hope so. They could throw some daggers at you in Boston."
MLB.com article

Oh I'll bet the New York fans are positive and warm and fuzzy and happy compared to Boston fans. Right on, Pauly Q. You always know how to say the nicest things.

With Bellhorn on the DL, and Alex Cora not exactly the heaviest of hitters, how long d'you reckon it'll take before the cries for the Advancement of Dustin Pedroia to His Rightful Spot at the Major League Level begin?

Oh yes, and in case you missed it, there was a fantastic brawl the other night in the Tigers/Royals game. The Farns went insane, charged a Royal, and bodyslammed him into the ground-- seriously one of the best things I've seen all year, even though it will most certainly mean a suspension of some length for Kyle. It's been recapped here, complete with screencaps and quotes from those involved, so if you didn't see it you should probably go share in the joy.

Rod Allen: Oh you don't mess with Farnsworth, he ain't no joke!
Mario Impemba: Watch this takedown, down goes Affeldt!

Heh.

Jody Gerut was traded to the Cubs today, from the Indians. I am probably the only reader of this blog who cares about that, but it's my bloody blog, so in it goes. Jody Gerut is one of those guys who aren't on any of my teams, who have never been on any of my teams, but who are one of my favorite players anyways. I assume we all have a set of them. Gerut is one for me, Jason Marquis is another... Mike Matheny, Huston Street, Tike Redman, Xavier Nady, Lew Ford, John Grabow. There are a few more. If you really wanted to know, I could give you compelling reasons for each, except for Xavier Nady-- I've no idea why I like him, I just know that I do.

Oh yes, and how could I forget, but we have now slipped down to second place, tied with the O's, below the (*gasp gasp*) Yankees. Granted, we're only half a game a back, and the AL East is by far the closest and most hotly contested division in baseball right now, but still. Still. How so very... ignominious.

Because it's 2:20 am and I feel like it, we shall close with a haiku of the day.

Everyone is mad
At little Alex Cora.
But today: two hits!
2:25 AM

Monday, July 18, 2005
OK, firstly, what kind of Al Leiter was that? That was not ANY kind of Al Leiter that I'd seen this season and I now feel uncomfortably duped by the whole thing. Al Leiter was supposed to be the washed-up pitcher that the Yankees picked up in a crazed move, desperate for arms. Al Leiter was not supposed to be the next ex-Yank to return home and be labelled a Good Old True Yankee upon his triumphant return.

Hrmph.

Apologies for the complete incoherence of that last post... my sleep schedule is all shot to hell, due to a combination of staying up late to talk to my friends who are studying abroad in various other timezones and the fact that the middle of the night is seemingly an excellent time to draw marsh vegetation. At a certain point, however, it seems that writing suffers, hence, well, that last post.

The upshot of it was just that I'm very glad we've got Jeremi back up at the major league level anyways.

I'm also very glad that Johnny extended his hitting streak to 29 games. That's no small matter-- it's the longest such streak in the majors this year, and better hitters than Johnny have failed to do it. I'd be remiss if I didn't give it at least a small laudatory mention.

Manny's shot over the Monster tonight was impressive as well, clearing the wall and ending up the street. Most unfortunately, two of the three Yankee homeruns flew at least that far as well, so it's probably safe to assume that the warm and humid conditions had a bit to do with the way the ball was flying out of Fenway.

Wake threw a complete game, that was nice too.

Everything else? COMPLETE CRAP.

No, really, complete crap. But it's OK. Really, OK. Bear with me.

It seems absurd now that only a couple of nights ago I was at the Sports Depot with the SG crew, Sox fans all and Sox bloggers most, watching the Yankees get pounded most riteously, taking their desperately assembled pitching staff to task to the tune of 17 runs.

It was fun, a lot of fun, to watch the game in a place like that with a bunch of people like that. Beth was there, accusing me of 'knowing about stuff' when I made comments about the Royals lineup (the Royals/Tigers game was on another TV, and yes, I kept an eyeball or two on it all night) despite the fact that I am a completely amateurish baseball fan, and stealing my camera to take photos with it while completely disregarding the fact that my camera is not as good as hers and therefore takes crappy fuzzy photos in low light with the flash off.

Kristen was there, trying to convince her new roommate Colleen that we were all completely normal, honest (she probably failed in this endeavor-- I, at least, did not act completely normal. I distinctly remember banging riotously on the table and hooting about Pudge while everyone else was trying to watch the Sox game at least twice), and orchestrating secret evil plans to bring good luck to Bill Mueller at the next day's game.

Steve was there, putting up with horrifying feminine assault from all sides with moderate good grace, up to and including the handling of a sparkly handbag. There was also a round of intensely hopeful group hand-holding during a Mark Bellhorn at-bat which, naturally, ended in an out, and rather a lot of dispirited groaning.

Mer was there, albeit briefly, because she had come with her own crew and therefore only came in to experience our magical ways for a sadly shortened period of time. We spent the rest of the night spreading malicious gossip about her. Seriously, Mer. The rest of the night.

Amy was there, all the way from the strangely pale blue land of the Carolinas, alternating between molesting some member of our party and deciding that now was a perfect time to demonstrate the 'Trot Nixon Dance' or the 'John Halama Voice', neither of which I can do justice to in a print form, although there is an animated gif of the Trot Nixon Dance floating around the internet. Not that I had anything to do with that, or, er, anything.

Jen was there, seemingly geniunely amused by things like the story of Steve blushing violently when presented with an unusually shaped birthday cake (amusing), or my reaction to a Dmitri Young homerun (in retrospect, probably embarassing). She also has glasses that, in an art school situation, could be called 'painfully artsy', which is obviously a big plus with me.

Paul was there, holding forth at the opposite end of the table from me, and he seemed to quietly enjoy the madness, except when Amy would feel the need to momentarily molest him and explain the aforementioned nefarious Bill Mueller mojo plot to him, at which time he looked mildly horrified. As, I assure you, any self-respecting heterosexual male would.

Annette was there, more hung over than a noose on a gallows, but not once asking people to quiet down and maybe spare her head some blinding pain (this may have been a recognition of futility), and still finding it in herself to scream like a maniac with the rest of us when Papi hit his grand slam.

Maura was there, taking Beth's pronouncements about Keith Foulke and Curt Schilling in easy stride despite the fact that some of us were absolutely horrified that people we think are quite clever think these things about Curt Schilling who is basically an oval on spindly chicken legs and, well, basically I was impressed by her forbearance, is what I'm saying.

She also left early, after PICKING UP THE TAB AND NOT TELLING ANYONE, and indeed we did not find out until we accosted the waitress and asked for the check, only to be informed that it had been taken care of. Which was a bit shocking, considering the great quantities of alcohol that had been consumed (not by this particular underaged blogger, mind you), and according to her she did this basically just because we are Red Sox fans and we hang out on a message board and share sarcastic little zingers when the Red Sox lose in spectacular fashion as they are sometimes, even in defending championship form, wont to do.

Which brings us back to the point.

Because that jolly good time, with those jolly good people, and that jolly good score, why, that was only on Friday, and here we are at Monday. That's only a few days ago, when we were watching Trotter hit an in-the-park homerun, giggling helplessly at the way he stumped around the bases, laughing at the absurdity of Jerry Remy in a black 'do rag, glorying in the mere fact that we were in a Red Sox bar, in a Red Sox city, sitting at a table with a bunch of fellow Red Sox fans who knew exactly how we felt about every pitch.

There was a close-up shot of Mueller's face, grimacing in slow motion, and the entire table made a sort of overjoyed strangled gasp, followed by a collective short moan when the shot ended. Even Steve and Paul knew what had happened, although their reaction was probably more one of slightly removed horror.

The array of Yankee pitching trundled out of the bullpen was hilarious, and at that point the series was tied at 1. They had the Wizened Unit going tomorrow, but that was OK, he'd been off all year. They had some nameless entity going on Sunday, rumors of them picking up Al Leiter, but that was OK too, Leiter had more to offer baseball as an analyst at this point than as someone on the mound.

Funny how that stuff works out, huh? Har de freaking har har.

Now, scant few days later, we find ourselves only half a game ahead of the Yankees... only half a game! It's ridiculous, it's painful, it's absurd. Wake didn't pitch poorly tonight, but the bats simply could not get moving until it was too little, too late (I missed the Cora maybe-maybe-not-GIDP, because my friends and I went out to see Charlie and the Chocolate Factory). The night before, Jeremi's solid pitching wasn't enough to stop the mess from developing.

We're barely hanging on to first place, and it seems like all the team does is lose lose lose. A few nights ago we were winning 17-1, but no one ever said Red Sox fans were rational, cool-headed beings, and if we feel like plunging into despair after going 1-for-4 against the Yankees, we bloody well will do just that.

But there's something else going on here. Something that makes a couple of very discouraging losses a little bit easier to take. And it's not the fact that The Fruitbat is already well on his way to being overworked again this year, tantalizing as that may be.

Amy flew in all the way from North fucking Carolina to hang around with crazy Red Sox fans and watch her team.

Mer flew all the way in from Texas.

Steve allowed photos to be taken of him holding a sparkly purse.

I braved the Mass Pike.

Maura picked up the fucking tab.

Just because we're all Red Sox fans, and the team can plunge us into a deep, dark dungeon with only a couple of games. And we know we can all be in the highest state of optimism two days from now, if they play just right, but it doesn't stop us from writing haikus about Mark Bellhorn striking out or how much we hate the Yankees*, and it doesn't stop us from moaning that there's no way we can carry on with our pitching like this, and it doesn't stop us from worrying ourselves sick over this latest trade rumor involving Bronson.

We all feel it.

I'm not sure what the point of all that was, other than to say that there's something going on here. And win or lose, we're still Red Sox fans. And, come Hell or High Water or A-Rod Homerun, we're in this together.





*The pitch elevates;
A mighty swing with strong breeze;
Mark Bellhorn strikes out.

You can take your smug
Fist-pump and your 26
Rings and go home. Ass.
5:09 AM

Sunday, July 17, 2005



I would like to say, before anything else, that I am so very glad we brought Jeremi back up. I was opposed to sending him down in the first place, especially since we did so right when he was getting into a pitching groove and was starting to look comfortable, and especially because I thought we would need reliable long relief that could even spot start if necessary at some point down the line. Myers and ChadBrad aren't bad at all, but in the end they're just trick ponies.

Not that I've anything against trick ponies, they sure make things entertaining sometimes, and they definitely have their uses in the trick pony arena, you can't have the regular horses even competing there, what they do is so different, but sometimes you just want the solid, steady, Thorouhbred.

Sot's good to see Jeremi back from AAA, even if I grumble about how we never should've had to lose sight of him to begin with.

As for this photo, well, you remember that 17-1 drubbing of the Yankees a couple days ago? I was watching it at the Sports Depot in Allston, with a collection of Scary Internet Red Sox Blogging Folk. It was the most fantastic time. This image seems to sum up a lot of the night pretty neatly.... me and Steve hammering on the table (something must have been gong on in the Tigers game), Kristen talking to Amy, who appears to be in romantic throes, Paul chillin' down the other end.

Details to come when it's not nearly 5 am and I'm two taps away from drooling on the keyboard.
4:56 AM

Friday, July 15, 2005
Curt, buddy, was that really necessary? I mean, heck, Foulke coulda done all that and it would've been a lot less suspenseful.

Anyways, I don't want to dwell on it. That was an ass game. Trotter had a three-run homer early, we got to see ChadBrad in his first outing as a member of the Sox (hi Chad! We know you sometimes freak out under pressure, but no worries, we'll just throw you right out there in a Red Sox/Yankees game), Sturtze got moonblasted by the Big Papi, and that was probably the grand sum of good things to come out of tonight.

Oh, and Bronson managed to whack the piggy-eyed Giambi in the leg (unintentionally, it being Bronson and his wobbly breaking ball and all), which brought me a grim sort of satisfaction. No brawl or anything, since everyone could see it was unintentional, and it wasn't Gary Sheffield's precious delicate jewel that got plonked, so no big deal.

Since tonight was such an ass game and I really don't feel like reliving it again, I will instead blatantly rip off a Bat Girl event, and tonight you kids will be tested on your Red Sox knowledge. You think you know your Sox? Think you could recognize them in the dead of night with sunglasses on? Then you'll be all set for this.

Name That Butt, Red Sox edition

The bums here are in the order that I approximately see as ease of identification. The easiest ones should be first, the hardest ones last, although I admit that this is kind of subjective, and what seems easy to me may be entirely unidentifiable to you. Still, pretty much everyone should be able to get the first two, at the very least.

Give it a guess, see how many you know or think you know. I'll put up the answers when I feel like enough of you lot have given it a decent shot, or when it becomes apparent that no one is going to try. Whichever comes first.

1.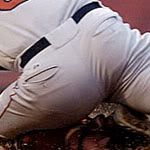 2.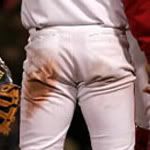 3.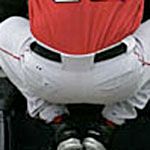 4.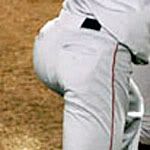 5.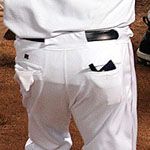 6.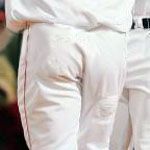 7.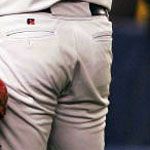 8.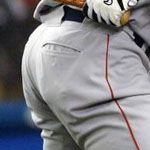 9.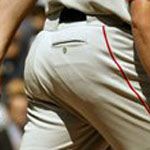 10.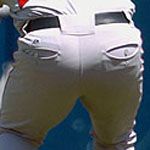 11.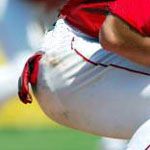 Have fun!

To get the ANSWERS TO THE QUIZ, click on the bum to see who it is attached to.

edit: Ah ha ha ha, ow. Irony! (check the pitching, mes amis)

edit II: Holy mother of cats, look at Rich Harden's line for the night. So... so pretty... mummy, I wants it...

edit III: I noticed that Mussina was throwing his knuckle curve around quite a bit tonight. I had my friend Jen bugging me about this, because she wasn't sure what it was or how it was different from a knuckleball. Moose's knuckle curve is basically a curveball... there's another kind of pitch under the 'knuckle curve umbrella' that's different, but what he throws is essentially a curveball with a couple fingers bent knuckleball-style. It's very very similar to a curveball in behavior, but with slightly more unpredictability. Not a Wakefield knuckleball.

You may ask why I know this. It's because Tigers pitching prospect Joel Zumaya has been working on developing a knuckle curve to go along with his great fastball and impressive changeup. And, er. I follow Tigers pitching prospects.

*hangs head in shame*
12:01 AM

Thursday, July 14, 2005



Submarining from both sides on the Sox these days, it looks like. Kids, everyone say hi to Chad Bradford. No, not Chad Cordero, that's the other Chad, don't get too excited. This is the Chad you might remember from things like "the book Moneyball" and "the articles of every sports writer who's ever referenced the aforementioned book a billion times since it was written".

He throws from down low, like Mike Myers, but Myers is a lefty while ChadBrad here is a righty, so now we're going to be scraping the dirt on both sides of the mound. Although I think Myers throws mostly sidearm, while ChadBrad actually throws a true submariner. Eh, I could be full of shit on that one, too lazy to look it up.

Our new relief pitcher friend comes to us with a wonky back acquired by the stressful nature of his low-down pitch. Hopefully it's been treated with this surgery he's coming off of and it will cease to be a problem, although, really, I fail to see how his pitching could possibly be any worse than the fireworks shows a weak-kneed Keith Foulke had been kindly treating us to.

In return for this recently-injured commodity the A's get Jay Payton and whatever baggage he may or may not be toting along with him. They also dealt The Hated Eric Byrnes to the Rockies, by the by, where his Hated Floppy Hairdo and his Hated Batting Average will probably blossom, but where there will at least be a small consolation for Red Sox fans who hate the dude. Remember, kids: it doesn't matter how good your BA is if you're stuck on a team that sucks harder than something Denny Neagle would pay.

Fun fact from my friend who just got to Australia for his study abroad program! Apparently "to barrack" for a team means that you root for them; for instance, "I barrack for two teams: the Red Sox and the Tigers, or whoever's playing the Yankees, so I suppose I barrack for three teams really." If you say that you "root" for a team, it means that you're having sex with all of them. I had no idea, but I love it. The best bit is picturing my friend Dave telling someone that he 'roots for the Boston Red Sox' and being confused by their reaction, but perhaps you have to know Dave to be amused by this.

In any event, if any of you lot ever get out to Australia, bear these things in mind. Don't pet the platypuses (the males have poisonous spurs on their hind feet), football is that silly sport where you kick the round dalmatian ball, and you barrack for the Sox. Unless, of course, you actually are sleeping with them. In which case, you lucky dog, you're rooting for them.
12:43 AM

Wednesday, July 13, 2005


Most every park you go to, there's a photo that has to be taken. If you're at Fenway you really need a shot of the Citgo Sign, or maybe the Green Monster. If you're at Wrigley, you need a shot of the ivy wall. If you're at The Toilet Yankee Stadium you need a shot of that fence-like thing. If you're at The Metrodome you need a shot of the roof. If you're at Dolphins Stadium you need a shot of empty seats*. And so on.

This is the Comerica Park photo. I can almost guarantee you that every single person who passed through Detroit these past few days will leave the city with a shot similar to this one languishing on their camera memory sticks (film? who uses film? pfft). There are other shots, of course, namely the statues in the outfield, but this is the big one. I mean, heck, me and my buddy Nate couldn't even get the damn tiger to ourselves for a 2-second shot, and this was back in April.**

So if you were at the All Star game, or any of the attendant festivities, I hope you got your photo taken with the big tiger out front. Otherwise, you clearly did not have the Comerica Park Experience.

As for the actual All Star game, well, it's getting on towards 3 am here, and I'm in no state to write anything particularly coherent. So you'll just get the notes I was writing during the game instead. Enjoy!

-------

Intros

Woah Jeannie Zelasko is SO MASSIVELY PREGNANT. Also: wearing salmon.

What's an All Star game without a little whining about Pedro's absence, eh? Plus ça change…

OH OH OH ERNIE HARWELL.

FSN Detroit has been doing this spot all season, where they just sit Ernie Harwell down and ask him to talk for 5 or 10 minutes. And he does. He just sits down and tells a story about the Tigers, or about baseball, just off the top of his head. And that's just Ernie Harwell. It sounds like he's narrating, all the time, but he's not, he's just talking. No script. Ernie Harwell in a black velvet chauffeur-style hat! OH MY GOD YOU DO NOT CUT OFF ERNIE HARWELL YOU HORRIBLE WHORISH WOMAN. OH MY GOD. OH HOW DARE SHE! YOU ARE NOT FIT TO LICK THE SOLES OF ERNIE HARWELL'S SHOES YOU CHARLATAN!

Is Ned Yost (Brewers) related to Fielding Yost?

I didn't know John Smoltz was from Michigan! Although, urgh, he went to high school in Lansing. We're not down with Lansing 'round these parts.

Oh my god, you know how the players, if they don't actually remove their hat to acknowledge the crowd, do that little gesture where they grab the brim and sort of mime tipping it? Brad Lidge just did that. Then he just did the exact same gesture, but with his goatee instead of his hat brim. More awesome than words can describe.

TRAAAAAAAAAAMMMMMMMM!

Pudge gets introduced (to immense cheers) and Mike Sweeney, who's on Pudge's right, reaches over and pats him on the back. Pudge is grinning. AL Central is representin'. I repeat: Pudge is grinning. I am in a Happy Place.

Boos for both Sheffield and the Fruitbat. And Kenny Rogers. More unanimous boos for Kenny Rogers than for the Yankees, which I think is bullshit, but, eh. Some light boos for the White Sox, but not for Mark Buehrle.

When the AL starters are announced and run out of the tunnel, Manny slaps Vlad's ass as he goes by. I note that A-Rod gets Teixeira's ass as he goes by. Perhaps he didn't want to feel left out. I also note that A-Rod is wearing his jersey tonight, as opposed to last night at the Home Run Derby, when everyone else on the field was wearing their All Star jerseys and A-Rod showed up in a blue dress shirt. Obviously no one told him it was a casual event. Oh, how I laughed.

Various advertisements

OH MY GOD A-ROD WITH LASER EYES AAAAHHHHHHHHHHHHHHHHHHH FOX IS SCARIER THAN ANYTHING IN THE WORLD.

TRUCKS. THEY'RE FOR MEN, YO. Big. Bad. Real trucks! For big, bad, real men! And all I can think about through the entire ad is little boys playing with their toy trucks. That, and Curt Schilling's high, whiny voice endorsing them. Hee hee. Chevrolet, you fail at commercials.

I grieve that people all over the country are not getting to experience the pathos of a moderately animated poker chip, sailing around the casino on a harrowing adventure, ending the Foxwoods thrill ride nestled comfortably in the bosom of its lady owner. Ah. For sure, a pity it's a local ad.

Oh my GAWD. They have an ad with the discus player sculpture falling apart, while a voiceover talks about the dangers of steroids. WOW. Just… wow.

Game

OH DEAR GOD NOT SCOOTER FLASHBACKS FLASHBACKS FLASHBACKS FLASHBACKS ASDFLKJASDFKLDSDFLDKasdfkljjasdf23l4@#WERTGsdfgjk *thunk* (that was me falling over dead from sheer horror)

Pujols swings so hard at a Buehrle pitch that he loses his footing and falls over. My mother is saying 'Pujols, Pujols' over and over again. The joke. Has been old. For years now.

Diamond Cam is the worst thing to ever be invented. No, I take it back. Scooter is the worst thing to ever be invented. Diamond Cam is perhaps number two. Either way, FOX owns rights to both. FOX must die.

Wow, watching Ortiz and Arod put on a hit-and-run is just plain old weird. And wrong. And yet, if you think about it, we were so close to seeing that very thing last year. Only then we probably wouldn't be seeing what we're seeing right now, which is Manny in an ill-fitting Red Sox uniform.

"Aramis Ramirez has filled a hole. A great, big hole. A long-time hole."

"At third base." Heh, I love how Joe Buck just kind of left that hole stuff hanging for a bit before finishing the thought.

MIGGY. Yard. Pretty much to center, too. Big hug from Papi in the dugout, and a pat on the ass from Pudge. Doesn't get much better than that, now does it?

Mark Buehrle describes how he used a changeup to get Piazza out. My mother turns to me and says, sarcastically, "Well, OK, Scooter explained the changeup to us." My cat Miranda comes up to say hello, and my mother adds, "Miranda could eat Scooter." Miranda once caught a mouse (although she did not kill or consume it). She could totally take Scooter.

You know, I kind of wish we had Vlad Guerrero on our team just so we could watch him make throws from the outfield. I mean, I love Trotter. But. Well. There's Trotter. And then there's Vlad. You know?

Joe Buck jokingly says that the Red Sox don't have any signs, since they never run on the basepaths or do other such 'smallball'ish things that require signs. Tito's response: "Oh, we have signs. They just don't know 'em."

You know, David Eckstein is showing some pretty strong arm so far this game. Huh. I'd been led to expect less power in the field from him.

Wow, barbed wire tattoo, very creative Andruw Jones. Buck the trend, man. Make your mark. Barbed wire tattoo. Word.

Tim McCarver says that Pudge is the best to ever play the position of catcher in history, which I tend to agree with, because defensively there's Johnny Bench, but overall there's basically just Pudge. I'll bet McCarver felt very big for saying that, though, what with his catching career and all. He's probably giving himself a smug pat on the back as he speaks. [ed note: Check out who's sponsoring McCarver's baseball-reference page. Hee hee]

Ooo, way to go Matty! Way to make this pitchin' business look easy. Diamond Cam makes him look like Doug Mirabelli: short and squarish. For Matt Clement, this is quite a feat, since the second word I think of when I see him is 'lanky', closely followed by 'gawky' and only just behind 'awkward'. Must be nice to pitch to your own catcher in the All Star Game.

"Uncoiling like a cobra." --McCarver on Andruw Jones' homerun (I think, or else it was the hitter after Jones doing something to get on base). In any event, the closest thing we've seen on the field tonight to 'uncoiling like a cobra' was probably Dontrelle Willis' high kick, not anyone's swing at the plate. If you're swinging at the ball like a cobra uncoiling, you're probably having some serious mechanical issues and are, in fact, probably hitting worse than Vance Wilson.

"The next thing we might do is pitch Mariano [Rivera] for the 6th, 7th, 8th, 9th. Joe [Torre] won't mind that." --Terry Francona. Best manager interview in baseball this side of Ozzie Guillen, now that Tony Pena is no more.

According to our esteemed announcers, Felipe Lopez is currently wearing a Napoleon Dynamite 'Vote for Pedro' tshirt under his jersey. Dear lord. Let it be true. Of all the things that Joe Buck and Tim McCarver come out with over the course of a game, please, in the name of our Lord Johnny Damon, please let this one be true.

Kenny Rogers gets knocked around quite a bit. Someone remind me again why Jeremy Bonderman isn't here.*** Whine whine grouse grouse it's in detroit and there's only one bloody tiger there and he's not even a starter and bondo coulda gone and the farns coulda gone and if bloody a rod wasn't a third baseman brandon inge coulda maybe just maybe gone and whine whine whine etc.

Apparently Chad Cordero keeps a note from his grandfather in his pocket when he's on the mound. This revelation has all the makings of an 'aaaww cute!' moment until Buck goes ahead and says, "I know it's in those pants somewhere." Now I'm just disturbed.

The Fruitbat is up to close the game out for the AL, and I have to say, I have very little fear that he will screw this up. What a novel sensation. The closer comes in, and the game is basically over. Of course we'll always have the 2004 ALCS, but on the whole the Fruitbat is a pitchin' force to be reckoned with.

And there it is. Pudge gets up to congratulate him, which is just so weird that I can't even contemplate it and have to fiddle with some cat hair stuck in my keyboard until it's over and done with and I can safely look up at the TV again.

Postgame

THE LOOK ON MIGGY'S FACE WHEN HE REALIZES THE CORVETTE IS HIS. OMG. HE'S MORE SPEECHLESS ABOUT GETTING THE CAR THAN THE MVP TROPHY. OMG he keeps looking at the car. Ha ha ha ha! Oh, here come the children. I swear that Miguel Tejada has more immediate family at this event than I see in a year.

And those kids are magnetically attached to his jersey or something... they've been with him at all times these few days. I was almost a little surpised to see them not step up while he was trying to take a cut in the batter's box.

And now, wouldn't you know, it's nealry 3:40. I must sleep like woah, but I will leave with a wonderful image to send you on your way. Homeruns, strikeouts, whatever. This is what the All Star Game is all about.


*Q: If the park is empty, who takes the photo of all the empty seats?
A: Luis Castillo's mom.

**We're the ones without a small child. For the record, I'm wearing a Red Sox hat (it was a Tigers/Indians game) and Nate is wearing a Michigan Wolverines hat. Curiously, no one mentioned the Sox hat, but we both got shit for being U of M students.

***Oh, shut up, I know very bloody well why, and the answer is 'Arizona'. To which I say: Arizona never happened. So there's really no reason at all for him to not be here.
3:44 AM

Saturday, July 09, 2005



We've probably all heard by now that Gabe Kapler is supposed to clear waivers on July 15 with the Yomiuri Giants and be eligible for negotiations with all Major League clubs, and that, with the irritated departure of Jay Payton, the Red Sox are looking to bring the World's Sexiest Jew back. Sorry, Youks.

What I haven't seen reported anywhere else is what the Japan Times is saying:

"Last month, Kapler was taken off the roster and was treated for lower back problems that began in May. He asked the club to terminate his contract citing a failure to fully recover and dim prospects of a return to the first team."

Hmm. Is this the 'convenient injury to make roster moves easier' sort of thing, or an actual injury? Because so far as I can tell, no American papers (online or otherwise) have mentioned this. Interesting.

Blez of Athletics Nation got himself another interview with Billy Beane, and at this point I've given up on wondering how he does it and have just decided to declare him some sort of blogging god and have done with it. Part I, Part II, Part III. Interesting bits:

Beane: Power is the great separator.  You can manufacture your butt to one run, but after a while, luck is going to hurt you.  

Blez:  Moving forward then, you'd say power is one area where you'd like to upgrade?

Beane:  Yeah, but it's not easy to find and it's expensive.  That's why we no longer have it.  Because when we develop it, we lose it through free agency.  We lost Jason (Giambi), a 35-40 home run guy and Miguel (Tejada), the same thing.  Now, there's going to be power developed from some of the guys within, like from Crosby.  But he's a second-year player.  You don't expect him to go out and hit 30 homers.  It's going to come over time, but in the short term, waiting for it is going to be difficult.  You go to the team stats of every team and the teams that hit home runs are going to score runs.  The one consistent thing for scoring a lot of runs is getting on base and slugging.  You can have 1,000 stolen bases, but if you don't have power to go along with it you're not going to be bringing those guys home.  And that's why Boston is so deadly.  You look at those two games there.  Home run.  Boom, boom, game over, see you later.  You're never out of a game if you have the ability to hit one over the fence.
....

Blez:  Speaking of durability, does the Harden oblique concern you at all?

Beane:  No, no.  You know, oblique has kind of become a synonymous word around here with the A's because it was something that Timmy [Hudson] battled.  Tim and Rich are such powerful athletes, and they're both not very big and they're strong, wiry, explosive athletes.  Something gives at some point....  What we're concerned with Rich is that he's such an intense guy we needed to make sure that he was completely healthy.  He's such a competitor and to be completely honest, the night he pulled it, he wanted to keep going.  He said he'd just throw sidearm.  That's the type of mentality of this kid.  He's a little like Huddy in that sense.  I mean Huddy is not unlike the black knight in the forest in Monty Python.  He will stay out there kicking and screaming.  Rich is kind of the same way.
....

Beane: I've said this many times, economically, we're in a position that sometimes keeps us from making bad baseball decisions.  If we signed everyone's favorite player here, every year they came up, we'd be in big trouble right now.

Smart dude, that Billy Beane. He also talks about how now that the market is starting to put high values on OBP, the A's are looking for some new undervalued thing to start picking up. They really are a market-based team, and as always it's terribly fascinating to hear what Beane has to say about it. Now, if only Theo would sit down for a nice long chat with some Boston bloggers...

Have we all seen the All Star game ads that FOX has been running? You know, the ones with all the ballplayers in the pinball machine. It's kind of cool, good on the advertising agency, etc. But the original ad was obviously made before the rosters were out, or even before voting began, and one bit had a salmon-clad Roger Clemens throwing a giant silver pinball (and grinning maniacally-- watch it next time, his smile is quite scary) at a placidly smiling Derek Jeter, who smashed it out of the pinball machine.

I just saw a new, slightly shorter version. The green-screened Clemens is still chucking that silver sphere, but the slugging Jeter has been replaced by Pudge Rodriguez.

Heh.

Also around the internet in recent days, some stuff you should be checking out:

Idiots Write about Sports discovers that the Angels show commercials on the Jumbotron between innings. As a Fenway creature, I can't even begin to really describe the deeply-rooted disgust this inspires in my soul. Jesus Johnny Damon, I am never going to California.

Bat Girl notes that Torii Hunter tried to take naked batting practice, but was thwarted by the coaches. Amateurs. No one does naked like the Boston Red Sox clubhouse.

Tribe Report weighs in on the Alex Cora deal. By the way, does the Cleveland blogosphere (minus these guys) really suck ass, or am I just not finding the sites?

Mike's Baseball Rants has constructed the worst lineups, by league. As he says, it's unscientific, but it warms my heart to see Keith Foulke properly represented there at the bottom, along with three (yes, three) Tigers... although to be fair, Ledezma is no longer on the major league squad, Infante is recovering from a serious case of deadbat, and Nook's got Curtis Granderson creeping up behind him even as we speak.

Cubs fans-- they're pretty upset. Niiiice. Yeah, upon further perusal... pretty damn pissed. Thankfully for the blogosphere, Chicagoans, like Bostonians, are inclined to be horrifically sarcastic when faced with a tanking team, although in the end I doubt they could find it in their midwestern hearts to summon up quite the rancor that WEEI can deal out on a daily basis.

Gaslamp Ball has written something that is absolutely, completely retarded, yet also awesome beyond compare. Pure, undiluted genius. And I don't even care about the Padres beyond Dave Roberts, Xavier Nady, Jake Peavy, and Ryan Klesko's bulldog, Butter.

It's a bit old, as you'll obviously see in the last paragraph, but it's still worthwhile to see what McSweeney's has to say about adding a zombie to your fantasy baseball team.

I'm not sure why I haven't linked to the GYS Network before, but it's probably because I'm a lazy person who is slow about these things. Red Sox blogger #800,567,021. Go check him (them?) out, kids, you can never have too many quality Red Sox blogs.

And, finally, hooray. Can we all stop whining now?
9:11 PM

Friday, July 08, 2005
Top 10 Sports Memories You Saw in Person or on TV

OK, I was going to do this when I saw it on MgoBlue, then I wasn't, but then I saw it on Cursed to First and I figured, ah heck, I'm getting hit with it from all sides, I may as well.

10. David Ortiz's walk-off homerun June 2, 2005 against the Orioles (in person)
It's probably a little early to declare this truly memorable, since it only happened a little over a month ago. But it was the first walk-off I'd ever seen live, and it was beautiful. So I think it's fair to say I won't be forgetting this one anytime soon.

9. Senior year Powderpuff football game, first Swampscott possession (in person)
Obviously in person, since I was our starting right offensive guard and was, you know, on the field. Having talked to some people at Michigan, it sounds like a lot of towns play their Powderpuff games within the high school, seniors vs. juniors. We didn't do that. We played against our big football rival, the town next door, Marblehead, and it's our seniors vs. their seniors. It's a big deal and can get kind of bloody at times.

Anyways, the very first time Swampscott touched the ball we ran it all the way back down the field for a touchdown. Set the tone for the whole game (which we won 29-21) and, as part of the offense, was something I'll probably never get over.

8. The Steal, Dave Roberts, Game 4 of the 2004 ALCS (on TV)
In retrospect, of course, it seems like this should be much higher. But at the time it was just a really, really good stolen base. It didn't gain the immense significance it has now until the Sox went on to actually win it all. I was watching this game in my friend's dorm room at Tufts (Michigan had a short break and I'd flown home for a few days), and I did scream with absurd glee and frighten all her friends at the time, but I didn't remember it so intensely until after the World Series. After all, this isn't a list of the best sports events I've seen, just the most memorable.

We didn't know it at the time, but this is an image that will never, ever die.

7. The Kick, Adam Vinatieri, Superbowl XXXVI, 2002 (on TV)
With the Patriots as heavy underdogs to the St. Louis Rams, the game was tied at 17 going into the final minutes. The Pats drove down the field and then, with the clock expiring, Adam Vinatieri kicked a 48-yard field goal to win the game. This was the game that ushered the world of football into the Tom Brady Era and the attendant Patriot Reign of Utter Domination except for the '02-'03 season which didn't happen.

6. Thanksgiving Day game, Lions/Patriots, 2002 (in person)
This game was memorable for a number of reasons, and the score wasn't one of them (I know the Lions lost, I can't remember by how much). It was my first game at Ford Field, since it was the first Thanksgiving Day game after the team moved from the old Silverdome. I remember being amazed by how natural the turf looked, after the neon glory of the Silverdome surface, but I sorely missed the Flyin' Lion... still do, actually.

Off the field this one was notable for the large women sitting directly behind us screaming, "Char-lie Batch! Char-lie Batch! We want Batch!" for half the game to express their displeasure with Joey Harrington, an occurrence that both terrified me and made me even more determined to root for Joey. This was also the game where a gentleman several rows back from us had a bit too much to drink and leaned out over the stairs and began vomiting... and vomiting... and vomiting. The result was a literal cascade of vomit, pouring down the stairs for at least 10 rows. A truly majestic and vile sight.

This was also the game where Jason Hanson became the Lions' all-time leading scorer, and where Tedy Bruschi intercepted a pass and ran it in for a touchdown.

Yes, my jersey was like 5 sizes too big, and yes, it's a John Jett jersey. He was the punter back then. Don't ask.

5. Game 6 of the 2004 ALCS (on TV)
Curt Schilling pitching on a bloody sock. Police getting called onto the field to control the irate Yankee fans. A-Rod girly-slapping Bronson Arroyo. The Red Sox becoming the first team to force a game 7 in the ALCS after being down 3-0 in the series. Need I say more?

4. Michigan/Ohio St., 2003 (in person)
My freshman year, so I was still relatively new to the whole 'actually getting to go to Michigan games' thing. We won, 35-21, but what was most memorable was the crowd. The Big House had 112,118 people in it that day, which set the record for the most people to watch a football game (pro or college) in one place, ever, and let me assure you that it certainly looked like it from inside the stadium. It was a Wolverine offensive showcase, as Braylon Edwards caught two TD passes and Chris Perry ran for two TDs.

Oh yeah, and after we won, this happened. Kind of hard to forget a game where you win against one of your biggest rivals, break the record for the most people at any kind of comparable event ever, and afterwards rush the field so thoroughly that you can't tell where the stands end and the field begins.

3. The Muffed Snap, Lions/Vikings, 2004 (on TV)
I did say this was a list of the most memorable stuff, not the best. This was the game where Joey was playing through the flu, and playing brilliantly. The Lions got a touchdown late in the 4th quarter and only needed to complete the routine extra point to send it into overtime against their hated rivals. The game was in Detroit, so the domed field meant there was no inclement weather to contend with. Routine, routine kick.

Only Muhlbach muffed the snap, the ball never got to the holder or the kicker, and that was the game, a one-point loss. We'd been riding high from the unexpected quality play of the Lions, the last-minute touchdown, and to have the game taken away so abruptly was one of the most painful losses I've ever experienced. It was really a time when all Lions fans just sort of sat back and thought to themselves, "Wow, they went and found a whole new way to lose a game."

It also scarred me for life, which is why it's so high on this list.

2. Michigan/Michigan State, 2004, triple overtime (in person)
We sucked in the first half of this game. We sucked hard. In the fourth quarter we were down by 17. By the end of the fourth quarter, the game was tied and heading into overtime, thanks in large part to the steady arm of Chad Henne and the velcro hands (and acrobatic leaps) of Braylon Edwards. Michigan Stadium had gone from disgruntled to ecstatic in under 8 minutes.

Tied after one overtime.

Tied after two overtimes.

In the third overtime, Braylon caught another touchdown pass and Tim Massaquoi caught the 2-point conversion. Michigan State couldn't respond, and some 5 hours after the game began, we had a Wolverine victory. The Spartans, who had played so well for much of regulation, were absolutely crushed.

The only game I've ever seen at the Big House that went into the night, and let me assure you kids, it got cold. It was worth every second, though.

1. Game 4 of the 2004 World Series (on TV)
"Back to Foulke! Red Sox fans have longed to hear it... the Boston Red Sox are World Champions!" --Joe Buck, FOX TV announcer.

"Swing and a ground ball, stabbed by Foulke. He has it. He underhands to first. And the Boston Red Sox are World Champions! For the first time in 86 years, the Red Sox have won baseball's World Championship! Can you believe it?" --Joe Castiglione, WEEI radio announcer.

"You're shaking... you're actually shaking." --my friend Brad, who was watching the game with me and whom I attacked in a complete mess of insanity at the very end.

Memorable in the best way.
9:27 PM