Saturday, November 18, 2006
Hour and a half 'til we get going. Damn. What do you even say? The entire state's kind of stunned right now; the campus is simultaneously boisterous and subdued. There were loud drunken choruses of Hail to the Victors all up and down my street around 2 am last night, but it's silent right now.

Someone put some yellow flowers on top of the little University sign in front of Schembechler Hall.

You want to say that if we lose now it doesn't matter any more than if we had lost before this happened, but of course that's not true. We'll feel worse. Because it's already hard to feel great going into a game when something like this has just happened. There's a reason Ohio State is ranked number 1 and we're ranked number 2. The game's in Columbus. I don't feel great about it. I was OK with that, was just hoping we could keep it close enough to make a case for getting another shot at them in the BCS title game. Now? It's going to be hard to take any kind of loss with such equanimity.

I don't know. Heading over to my tailgate soon. It's at the same house we've been going to all season.... right across from the Stadium. I wonder if they have something up on the big signs. Probably do. If there's some kind of memorium, we can probably see it from the back porch.

I'm sure there'll be more to say after the game.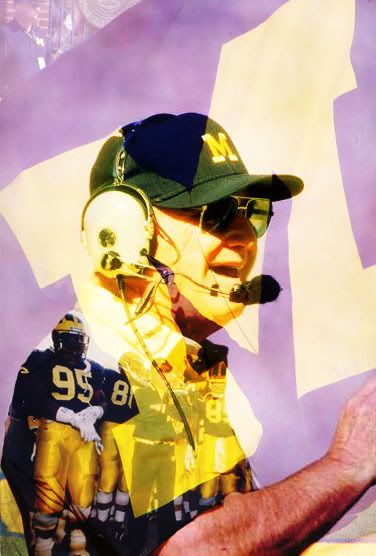 Go Maize. Go Blue. Win.

Labels: Bo Schembechler, Buckeyes, football, in memory, Michigan, NCAA, OSU, rivalry, Wolverines


2:02 PM