Tuesday, May 10, 2005
Do we all remember the Blue Cats and Red Sox corner system? If not, maybe you ought to refresh your memory. Today we check up and see the new inductees to each corner.

Current residents of the Red Sox Corner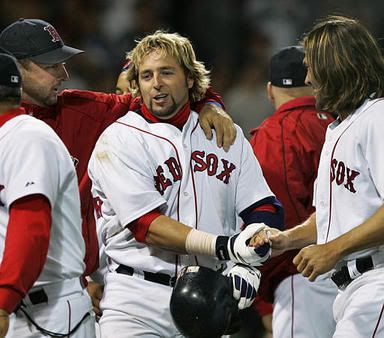 1. Kevin Millar. Two homeruns in two nights, one of them the walk-off homer to win a strange, shoddily played game against Oakland? Wearing an inexplicable little red neck band instead of a regular turtleneck like the rest of humanity? Switching to stirruped socks? Allowing Dale Sveum and Youks to molest his hair at the same time? Inspiring Manny to give out shoulder massages on the field? Kevin Millar most assuredly belongs in the Red Sox corner.

2. Everyone on the Detroit Tigers pitching staff, except for Ledezma. Bondy's been absolutely amazing, Maroth had a solid inning-eating run his last time out, Nate pitched 8 innings of scoreless ball, and JJ lost today despite going 8 innings and pitching, if not great, at least not atrociously, which is kind of a big step for him. They're all sent to the Red Sox corner. L'dezzie... well, we're not here to talk about that sort of thing. And by 'that sort of thing' I mean 'a 6.59 ERA', but la la la la not talking about it. Everyone else to the Red Sox corner.

3. Jorge Cantu. For this. Thanks, Cantu. The AL Central gives you hugs and cuddles you right into the Red Sox corner.

4. Jeremi Gonzalez. I said it before and I'll say it again-- we had absolutely no right to expect anything at all from him, and he's been an actual pitcher. A pretty good one. It makes no sense, it may very well prove later in the year to have been nothing but a small-sample-size fluke, but for right now JeremI belongs in the Red Sox corner.

5.

Brown thrasher, Toxostoma rufum, with a very distinct "Let the fuck go of my fuckin' legs" expression on his face. Click for big. Awesome bird in every way, he gets the Red Sox corner.

Current residents of the Blue Cats Corner




1. Troy Percival's flexor pronator muscle mass. Ha ha ha, did the Tigers sign any big free agents this offseason? I DON'T KNOW, SINCE THERE SURE AREN'T ANY ON THE FIELD THESE DAYS. It would be abso-fucking-lutely hilarious if it wasn't so, well, not. This is funny in the 'laugh hysterically until you begin sobbing uncontrollably' kind of way. Random bundle of flayed muscles in Percy's forearm, you're in the Blue Cats corner.

1a. To this section of the Blue Cats corner we can also add Magglio Fucking Ordonez's mystery hernia, Omar Infante's is-it-hurt-or-is-it-not-hurt shoulder, Bobby Higginson's inflamed elbow, Kyle Farnsworth's tendinitis, and Carlos Guillen's Surgically Repaired (and now apparently fluid-fiiled) knee.

2. Mark Bellhorn. For god's sake, man, get a haircut. It doesn't make you look cool and hot, it makes you look like a homeless person who's been smoking up with Danny Haren. And you know what, ditch the socks. Get some of those stirrup socks that Millar and Trotter started wearing. Anything to get you hitting actual, you know, balls in play that also aren't outs. Blue Cats corner for you until you do these things.

3. Alex Rodriguez. Look, A-Rod, Jeter obviously is not enjoying himself in that image of much wrongness. Leave the poor guy alone. Also, stop with the hitting already. It's getting annoying.

4.

Weasel, not sure exactly what kind. He got into the bird banding station today and caused all kinds of havoc, killing a bird and spraying the place with foul-smelling weasel musk before fleeing out an open window. Personally I thought he was awesomeness times 10, but then again I've always been a bit of a mammologist. The other birders acted like he was the Child of Satan incarnate, so he gets the Blue Cats corner.

5. Being told by two separate people whose taste I usually trust that Ichiro is not hot. Ladies! I hold you in such high esteem! How can you deny the hotness of Ichiro? Um, hello? And, oh, uh, yeah, also, hello??? I don't understand, I really just don't.

And to make matters worse, not only did they both go on to deny the hotness of Pudge Rodriguez (um, hello, are you people on crack?) Amy claimed that not only was Ichiro not hot, he was less hot than this man. Someone's crazy here, folks, that's all I've got to say about that.
11:10 PM