Monday, July 16, 2007
I'm a baseball card fiend. That's the first thing you should know.

Topps, in addition to the usual player cards, does these little whole team class-photo-esque cards every year. They're not too thrilling, but what can you do.

Here's the Astros team card from 2006: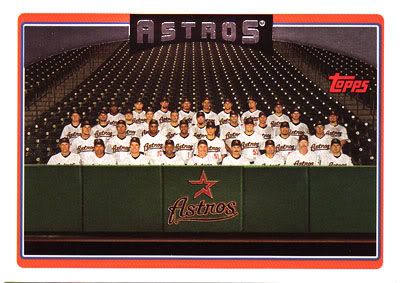 Aside from the fact that it's not at all clear whether the 'stros really were in the stands, or if they were Photoshopped in, a wholly unremarkable card.

I got my hands on a bunch of '07 Topps card a couple weeks ago, and was sorting them out so I could file them away in my overly obsessive baseball card arrangement system. Team cards go at the back of each team section in my system (which is alphabetized by team, then by player within team, by year if there's more than one card for a player, then alphabetized by card company for multiple cards of the same guy in the same year...). This means that they're very easy to file in, so I was flipping through them with no more than a cursory glance.

Ho hum, Orioles...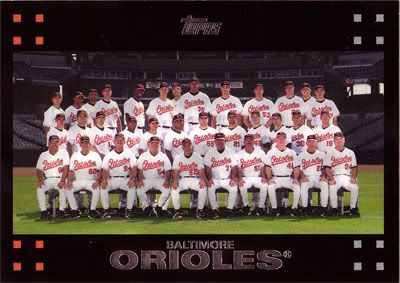 La di da, Red Sox...




Dum te dum, Royals...




....

... waaaaait a second...

.... that can't be right...

My eyes must be playing tricks on me. Surely they wouldn't... I mean, these are team cards, so... there has to be... a team...

... let me look at that again...




Yup. The Royals team card has no Royals on it.

Lest you think this is some strange ballpark card, as opposed to a team card, I can assure you that the information on the back of it is exactly the same as on the other team cards, and I have a good number of Topps '07 cards by now... and I have not seen another "ballpark" card. I'm fairly certain this is a team card. Just... without the team.

I wonder if this is a deliberate message about the state of the team by a really, really disgruntled Royals fan somewhere in the depths of the Topps company.

Labels: baseball, baseball cards, MLB, Royals


4:22 PM