Thursday, May 03, 2007

Ahhhhh! I'm BACK!

I know, I know, I haven't posted in forever and a half years, but I am now DONE with school for the summer and I am HOME in Massachusetts, where there are CATS and RED SOX and.... MORE CATS. And JONATHAN PAPELBON. And DAISUKE MATSUZAKA. And HIDEKI OKAJIMA (whom I secretly love more than Matsuzaka, mainly because of that "I am willing to be a hero in the dark," quote, which is so Cyrano de Bergerac [if Cyrano was, you know, Japanese] that I can't STAND it).

In fact, here is an example of how good it is to be home.

I am watching the local news right now, and there is a WHOLE SEGMENT where they took a photo of Tom Brady wearing a Yankee hat around to various people around Fenway and filmed their reactions.... which ranged from confusion, to disbelief, to disgust, to horror. This is NEWS. PRIME TIME NIGHTLY NEWS. Massachusetts is completely insane, and I love it.

I must admit that I have been a bit baseball-distracted lately. The new baseball overlord over at MVN likes us to write every day, so I've been posting a lot at Roar of the Tigers. I also went to a bunch of Michigan baseball games, because that's probably the best time it is possible to have.

College baseball games.... ah, you can get so close to the action, get all kinds of fun photos, and when the ballpark is within easy walking distance of your apartment, it's even better. In fact, that was one of the few things that saddened me about leaving Ann Arbor for the summer: missing out on the rest of the Michigan baseball season. (I don't have the same reaction about moving away from Detroit Tigers on TV, because we have a dish at home and were thus "allowed" to purchase the Extra Innings package. So now it's just a matter of flipping back and forth on days when the Tigs and Sox play at the same time. Which I will cheerfully do.)

It was a very baseball-ish year art-wise too. My huge year-long project had to do with baseball, and you'll be hearing more about that near the end of this month. I also did some paintings; that's what the photo heading this post is of. 'Tis Fenway. It's a pretty small painting, only about 5x7", maybe a little larger, and an inch and a half or two inches thick. I just wanted to mess around with rendering a ballpark in black and white like this.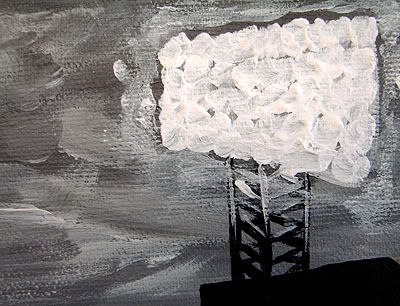 Here's a detail shot.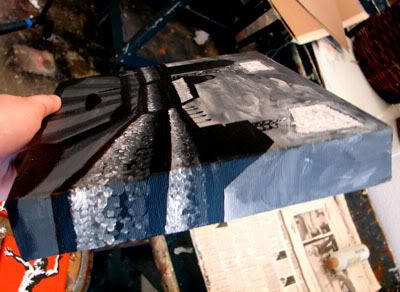 And here you see the 3D nature of the canvas.

Not the only baseball painting I did this year, but the only one of Fenway, so.

Anyways. Although I probably won't be able to post every day over here (it's more than enough 'work' keeping RotT going on a daily basis), I will be posting much more often. There are things to be said about the Lions' draft, posts to be made about Michigan baseball, and of course the Red Sox. There are roster photos to be made fun of. If anyone is still reading this old thing ('tho I'll be writing even if you aren't, o invisible readers), it's good to be back with you guys.
5:59 PM