Tuesday, March 21, 2006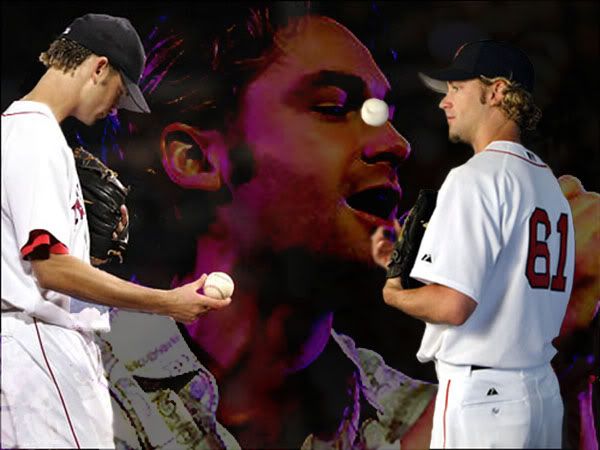 I think it's fair to say that Arroyo got kind of screwed here. Now, on the bald and shiny face of it, the Tito face of it if you will, this deal makes sense. It's not like Arroyo was Wicked Vitally Instrumental to our pitching staff... let's admit it, no starter with an ERA over 4.00 and an age over 25 is going to be WVI*. We do have some pitching depth, 'though after last season I'm of the opinion that we can never have too many potential starters lined up, especially when 3 of our starters right now are old (Wake), older (Schill), and so old that they're liable to start eroding like a sand dune in a high wind at any moment (Wells). Arroyo was moveable.

And it's not unexpected. I hate to say it, but I had that goodbye image photoshopped up already... it had been sitting on my harddrive for months. And don't get on me for jinxing him, I had one made for Varitek too. I just like to be prepared. I'm a pre-emptive photoshopper, yo. Anyways, clearly the idea of trading away the cornrows had been floating around in varying stages of likelihood for quite some time now.

Wily Mo, even besides being named Wily Mo (pronounced 'Willie', but still awesome), is a worthwhile player. He doesn't grade out great according to the Sporting News Baseball Register (only a 6.3... yeesh, Carlos Pena even grades out to a 7.1), and he has trouble with pitches up in the zone. He's shown respectable power in the years he's played a respectable number of games, slugging .527 the year he played 110 games and slugging .492 last year when he played in 99. He hit .291/.345/.536 against lefties last season. Combine that with Trotter's .288/.364/.489 against righties, and you've got a .290/.355/.513 composite right fielder, which ain't bad, and is marginally less likely to injure its collective self, having two sets of knees to properly blow out.

And I guess I'd trust him at the plate against lefties more than I'd trust Dustan Mohr. So it's not a horrible trade, not in a pure, hard, baseball vacuum sense.

But (and here is where I take off my Rational Human Being Red Sox Hat and replace it with my battered, paint-smeared, Pry It Off My Cold Dead Skull Insane Fan Red Sox hat) what this trade, did, basically, and I don't like to be crude about this, but what it did was lay a big steaming egg on Bronson Arroyo. And I don't mean a nice pretty light blue speckled egg either. I mean an egg in form alone, an egg with the composition of a pre-fossilized coprolite if y'know what I mean, and I think you do.

Against the advice of everyone from his agent to his mom to the dust mites that live in his eyebrows (as they do in all of ours) Arroyo resigned with Boston for stonkerloads less than he could have made had he chosen to push the matter. Why? Because he loved the city and the Red Sox and recognized that it was somewhere he would be appreciated for his horrible hair and his loopy leg kick and where he could totally get, like, gigs in local bars, man.

He had been stuck bouncing between a big crumbly rock (the Pirates' minor league system) and a dry icky hard place (the Pirates) when Boston swooped in like Batman, rubber Clooney nipples and all, and plucked him out of the clutches of the cocaine-smuggling parrot. He had been stuck on waivers, for Pesky's sake. In Boston he was someone. I'm sure there were a lot of reasons behind Arroyo giving such a huge discount to the home team this offseason, but gratitude for the team that 'saved' him may well have been one of them.

And now this. The dude shows his faith in the team and his love of the city and he gets shipped out of town to Ohio, of all godforsaken cabbage-smelling crap-university-having places. It's just a slap in the face, is what it is, not to mix that metaphor with the odiferous egg or anything. It's cold, man. And it wasn't unexpected in a general sense, but the timing of this caught me completely by surprise. Why now?

I am bloody exhausted and had about the worst day possible today, so you'll have to pardon any spelling/grammar mistakes or out-of-place references to penguins**. This and Joey being ridden out of town are, surprisingly, the least of my concerns today, although they CERTAINLY DID NOT HELP THANK YOU SPORTS.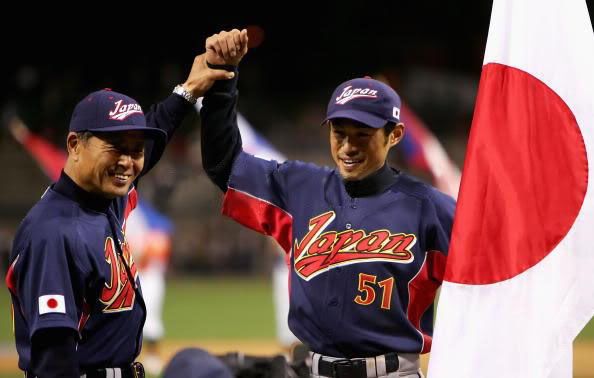 A nice surprise came with the WBC final today, though. I don't get out of my prison workshop until 8:30 pm, and that's in Jackson, and I have to be escorted across the yard and let out the gate (sometimes a lengthy process), and then I have to drive all the way back to Ann Arbor (up to an hour, depending on how slow I'm driving), and then I have to return the van to the art school and return the supplies and wait for the bus to take me back to my dorm (anywhere from half an hour to a full hour, depending on how many supplies I bring out and have to slot back into the closet, and how long the bus takes to show up). Long story short, I figured to get back around 10, 10:30, and so expected to miss a good-sized chunk of the game, since it started at 9.

Imagine then my surprise when I staggered into my room, turned on the TV, and saw that they were just wrapping up the first inning.

Bless you, Japan, for beating the cigars out of Cuba for that first inning, and thereby taking up enough time to allow me to watch almost the entire game. For reals, yo. Thanks.

It was a good game, too, with Japan dominating for much of it, and then Cuba staging a rousing comeback to bring it to within one run, only to see Japan pull ahead again and ultimately win, 10-6. The Japnese players hugged each other with the enthusiasm of Big Papi after the game, and they laid a flag down flat across the pitching rubber, a rather obvious but still vaguely touching snub of the nose at Korea. The enthusiasm of some of the Japanese players when a few of their teammates came running onto the field with a giant Japanese flag was something to see: one guy smacked the player nearest to him on the shoulder and they started excitedly pointing at the flag as it was being run out. Too cute.

Oh, and they did the traditional Japanese baseball manager throw too, where the championship team lifts the venerable old manager onto their shoulders and proceeds to hurl him several times into the air, usually with his arms and legs held awkwardly up and out like an upturned, but very very sincerely happy, beetle. It always reminded me of people getting lifted in chairs at Jewish weddings and Bat/Bar Mitzvahs... the kids have a ton of fun with it, but the older ladies so treated just grin nervously and grip the edges of the chair really hard, and hope like hell that Uncle Dave doesn't lose his grip. But they're really happy!

In other words, it was hilarious seeing Sadaharu Oh get moshed.

The Cuban team, after a moment, filed out of their dugout and into the midst of the Japanese celebration to shake their hands and say congrats in a language their opponents did not speak. It was a very classy move of them and the Japanese players seemed as mildly but pleasantly surprised as the announcers were. I also noticed a few of the Cuban players getting people to take photos of them with their arms around Ichiro, which is so what I would do if I was there, (seriously, be still my heart, and shut up ladies, I know what you're going to say already) so thumbs up to them for seizing the opportunity.

I still can't get over how great it was that he broke out high socks for the event, thereby combining two of my favorite things: amazing fielders who hit for average, and high socks.

One final WBC question, that may only make sense to those who insomniatically stayed up to watch some (or, er, most) of the late-night reruns of the games. The ones where 'due to time constraints, [they] now jump ahead in the action'. The guy who pops up on the screen and tells us that we're leaping forward in time: isn't he extremely creepy-looking? Is it just me? Or are other people as completely freaked the hell out by him as I am? I think his name is Ron Flores***, but isn't that a pitcher for the A's? It's possible I'm hallucinating the entire thing; after all, I am watching these games at 3 in the morning. But the dude just terrifies me. He has these creeptastic mismatched wandering eyes.

I'm not sure that's the right note to end my WBC chatter on, but perhaps it's as good as any other.

*Jeremy Bonderman, you will note, is a perfectly valid WVI pitcher under these constraints. Jus' sayin'. Blue Cats and Red Sox: we like Science, especially the kind we make up ourselves. And by 'we' I mean me and the Manny-on-a-stick that sits above my desk. No word of a lie. I used it to point at the screen during a presentation last year.

**Tends to happen when I reach a certain critical level of exhaustion. There comes a point where I'm so tired that I literally do not know where I am anymore and am actually asleep in my mind, but I'm still sitting at the computer typing. This happened once in high school while I was writing a history paper. I jerked awake after about 3 and a half pages and reread them, only to find a comprehensive study of 19th century utopianism to be filled with phrases like, "The commune lasted for another 12 years in this fashion penguin on the ice fish before finally dwindling down to nothing ice floe penguin." Three pages of that. I was terrified and confused and I only wish I was making that up.

***I just flipped on ESPN2, realizing I might catch him rebroadcasting tonight's game. It's Robert Flores and he has something to do with ESPN Radio, 'tho I rather like the idea of a relief pitcher prospect for the A's somehow getting shanghaied into saying "due to time constraints we now move forward in the action" at 3 am every night, because it's exactly the sort of deranged thing that seems to follow around the A's. Anyways, this is the only photos of him I can find on short notice, and it definitely does not showcase the full terror, so you'll either know what I'm talking about or you'll just have to trust me on this one.

Labels: baseball, Bronson Arroyo, goodbye, Ichiro, Japan, MLB, Red Sox, trade, World Baseball Classic


3:45 AM