Thursday, February 09, 2006
I'm sure we all remember the excitement of spring training last season. I don't mean the return of baseball after a long and happy (for Boston) offseason. I don't mean the thrill of watching the most storied players in the game today share the field with kids who may not ever get above the AA level.

No, I mean the joy of Barry Zito sharing his spring training photographic exploits with Sports Illustrated, and the aforementioned photos getting posted online in a photo album of supreme gloriousness. According to SI, Zito is an 'aspiring photographer', and I am currently in a class with a whole load of aspiring photographers. A very big part of the photographic process, for those learning, is getting critiqued by other artists and/or photographers. The crits are occasionally harsh, occasionally pointless, but ideally they're constructive and useful and helpful in teaching you how to take better photos (or paint better paintings, or draw better dead sea lampreys, whatever).

Poor Barry Zito, I found myself thinking. The boy's got all these photographic aspirations, but he's probably not getting any critiques at all from artists or photographers, and if he is they're probably his friends and tell him he's doing great even if he isn't. How will he ever learn? That isn't at all the way to go about it.

It is in this charitably concerned frame of mind that I decided to revisit the images of yesteryear, and give Zito a proper photographic critique, in the voices of various kids I have had critiques with over the years here at Michigan. I won't use their names, because there is no need, but you can get a sense for how in every class there's always at least one person who finds something wrong with every photo, one person who sees something good in every photo, someone making the most unconstructive pointless comments ever, and so on.

Oh, and I think I'm breaking this up into two parts, because it's pretty long.

Click on the images to see them larger.




ZITO SAYS: I took this at about 7 a.m. heading to work, to the field. I was driving south and getting sunlight on my face. I try to do self-portraits in creative ways. Here I held the lens up to the mirror while I was driving.
CLASS SAYS: --I really appreciate the depth of field (hereafter referred to as DoF) here, how your face is the only thing in focus. I think it really works with your intentions for the photo.
--That's a lot of overexposed crap at the top of the image. You couldn't have cropped it down some? It really detracts from the rest of the photo.
--But the blown-out palm trees are cool, they pull that whole 'California' vibe into the image. And the reflection in your sunglasses does the same, it adds a lot.
--Does the 'California' vibe involve endangering other motorists by paying attention to your camera as opposed to the road?
--I think you could've cropped the left side of the image too. Crop it down at the top and in at the left, you have a lot of useless space there. It's good to keep some of it, to keep from centering your main subject (law of thirds!), but there's just too much here.
--The quality of light is really nice!




ZITO SAYS: This is [outfielder] Eric Byrnes in the training room. That's an everyday ritual for a lot of players. I'm not one to use powder. I like the moist sensation.
CLASS SAYS: --Not one part of this shot is in focus. The whole thing is slightly blurry.
--I think part of the problem is that all your highlights are way blown out and overexposed. What's up with that huge white space over the All Sport bins on the right? You should've darkened that in postproduction.
--The whole thing is cheaply composed. The figures are central, there's no attention paid to surroundings… why didn't that hint of garbage bin or whatever get cropped out of the left? That's just lazy. And your central figure is very close to being cropped at the knees, which is a huge no-no. You just barely missed doing it, but I don't think it was on purpose, you probably weren't paying attention at all and just got lucky.
--It's a great spontaneous gesture! C'mon guys! The bent-back pose of your friend there creates a great line along his back, and the tension in his jaw really draws your eye up.
--Or it would if the highlights weren't so goddamn blown.
--Points for capturing an intimate moment of, uh, baby powder being poured into undershorts, but technically this is a very shoddy photograph.
--The moist sensation??




ZITO SAYS: We're at Sugar Daddy's, a club in Scottsdale. Guys on the team go there, and I go once a week. I did a time exposure because there wasn't much light.
CLASS SAYS: --This is making me seasick.
--Are we supposed to be impressed that you noted the low light and thought to do a time exposure? This to me looks like you're saying, "I know enough about photography to know that low light requires a longer exposure, but not enough about photography to know that long exposures require a goddamn tripod."
--I appreciate the spontaneity of the shot, and I guess it's not likely you would have brought a tripod with you if you were out clubbing. But you couldn't have braced the camera on a table or something? There's more than one way to make a tripod, you know.
--And you really fucking need one here.
--The colors are intriguing, but there's nothing in the composition or (lack of) focus to draw my attention to any one part of the photo over another.
--Aspiring photographer my ass. You've got enough money, buy a freaking tripod.



ZITO SAYS: We're in [manager] Ken Macha's orientation meeting. He tells us about the new guys on the team. And we give props to guys who won awards last year.
CLASS SAYS: --It's sort of in focus? Your highlights are blown again, though.
--Maybe it's the lighting of the clubhouse. But just like there are ways to compensate for low light, there are ways to compensate for bright light. You might want to look into that. A quicker shutter speed may give you sharper focus, too.
--The low perspective is interesting and the splayed posture of the guy right across from you draws your eye up and across the shot horizontally. But I wish you'd curled up and removed your own feet from the shot, or cropped it to get rid of them. They add an unnecessary visual element and just distract the viewer.
--What's going on at the edges here? Are you using a fisheye lens or something? I'm not sure this is the best composition for whatever it is… it's distorting the guys at the edges something fierce. I'd like to see them all straightened out and interest generated with a cleverly applied DoF instead.




ZITO SAYS: Fox was shooting promos for the All-Star Game. They always do that in spring training. That's Jason Kendall on the right, Eric Chavez on the left.
CLASS SAYS: --Snapshot. Throw it out.
--The grain in the background is really annoying. Maybe it's only because these are compressed images on the internet? If it isn't, I'd tell you to up your contrast, but if you did you'd only get worse glare on those already glarey lights and you'd probably lose Chavez's face entirely.
--There's nothing in the composition here. Their feet are randomly cut off at the bottom, and pretty much everything has equal focus and visual weight, including the guy with the tape measure, who should presumably have less of both.
--It's just not very interesting. The image doesn't speak to me. Probably because your lighting is uninspiring to the point where nothing of particular interest comes across in the expressions of either one of the main subjects, where I think the focus is supposed to be (not that I can tell, because you haven't specified a focus). A zoom on their heads would have been better. Maybe.




ZITO SAYS: That's Z-Man, [A's team photographer] Michael Zagaris, on the ground. We were doing a shoot for A's Magazine, and I always bring my camera with me. Z's always behind the camera. I wanted him on the other side.
CLASS SAYS: --OK, where's the focus here? The photographer on the ground, or the long shadow? Cause those are two objects of interest, and you've given them equal weight, but little or no interaction.
--Again with the fisheye-esque distortion.
--The half circle of the mound at the bottom of the picture is an interesting visual element. But the haphazard arrangement of the equipment on the infield, the casual placement of the figures, the whole composition just looks, well, snap shottish. Again.
--It's an admirable aim you have here, and it has potential to be a really good photo, you know, taking the photographer and making him the photographed. But you've done it in such a pedestrian fashion here. All you have is the concept. Give us some content.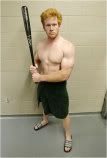 ZITO SAYS: Outfielder Bobby Kielty, the funny guy on the team, can get super serious. You'd think he's an ax murderer.
CLASS SAYS: --Basic centralized composition. Should have cropped or cloned out that bit of metal or whatever it is on the right. This is starting to sound like a broken record.
--The subdued color palette here is really nice. The pale walls, pale floor, and pale skin really make the bat, towel, and hair pop. It's good how you have the main components all of differing textures, too... the velvety look of the towel at this focus, the shiny bat, and the soft-looking hair.
--It's a very, um, confrontational image.
--For once you actually seem to have some vague grasp of the focus, i.e. his head and upper body are in focus, and his feet are lightly blurred. The lack of any dark shadows is a little disconcerting, but I think that's more the fault of the clubhouse lighting.
--The verticality of the main subject and the bat makes for a nice contrast with all the horizontals in the wall.




ZITO SAYS: People stopped me for autographs, and I took this while I signed. Being surrounded by fans you get a feeling of "Oh my God." You can get overwhelmed sometimes. You put your game face on.
CLASS SAYS: --Again with the distortion at the edges! I really wish you didn't have it here, as it's throwing the people out of whack, and it's really the people and their expressions that make this shot.
--The role reversal is sufficiently noteworthy to make the photo at least a little bit interesting. Usually it's the fans taking photos of you.
--Signing with your right hand?
--Are you trying to make the overexposed sky a signature part of your photos? Congratulations. You're succeeding.
--The expression on the face of the kid in the front is priceless. It's like he both idolizes you and thinks you're a huge dork. Lucky capture.




ZITO SAYS: I'm a big breakfast guy. I'm having ham and eggs Benedict, and cottage cheese with tomato. I drink tons of decaf. I end up getting the caffeine equivalent of one cup of regular coffee.
CLASS SAYS: --It really doesn't matter what the lighting is, does it? You always find ways to blow out the highlights.
--The "I'm holding the camera up so you can see my entire arm in perspective to take a photo of myself" crap is overdone and, quite frankly, amateurish. They make cameras with self timers now, you know. If you're going to hold it down at table level anyways, you may as well set the timer, put it down on the table, and shoot it that way.
--Your colors are really working well… the warm shade of your hat is reflected in the breakfast foods in front, and your sweater is the biggest dark form in the shot, really grounding it nicely.
--That out of focus coffee cup in the front left corner is incredibly distracting. I wish you'd moved it, because it really breaks up the symmetry of the shot and adds... uh, exactly nothing.
--Are you stoned here?




ZITO SAYS: For this, I was thinking the red hair was really standing out. Kielty's growing out his hair. We both have a thing about growing our hair out.
CLASS SAYS: --Oh my god! Sharp focus! I never would have thought it possible! There's a workable DoF here. Applause.
--Could've used a tighter crop. The fluorescent light up there is unnecessary and intrusive. I don't know why this concept is so difficult for people.
--For once your stated purpose tallies with the actual photo. The pale, cool, desaturated colors make that red hair stand way out. The staggered barriers going back in space and the lines of the bricks in the walls direct the eye towards him too. Probably your most successful photo in this group.
--Please tell me this is not actually a shot of your teammate at a urinal.


Next time, the rest of the shots. Vast excitement, I know.
1:41 AM