Sunday, January 15, 2006

Kevin Millar is an Oriole, and BCRS is sidling in through the door to the Millariole party fashionably late, as is my wont.

Yeah, it's a small party, because let us be frank here: it's not exactly news that the Red Sox were going to be Millarless in the upcoming year. Everyone knew Millar was gone as soon as the season ended, everyone from the guys in the front office to Millar himself to that girl in the pink Damon tshirt with the giant Gucci sunglasses who you kind of want to hit with a recently-deceased cod when she sits down next to you on the T and sends you into a violent coughing fit with her pungent perfume. We all knew Bill Mueller was gone too, but we knew Millar wasn't coming back in much the same way that we know that gravity gives us that nice directional thingy we like to call 'down'.

So, expected. And we won't miss the streakiness with which Millar approached the plate. It was fun watching him when he was going hot, but when he got cold... oy. It's easy to get annoyed with Millar ("Cowboy Up" was funny for about a fourth as long as you hawked it around, Kevin) but it's awfully hard to hate the dude, and watching him stand at the plate, bat cradled awkwardly in his palms, uneasily pigeontoed, only to strike or fly frustratingly out and march, hangdog, back to the dugout... well, it wasn't a particularly amusing thing to watch. And I fully realize that sentence was more poorly constructed than the Big Dig, but you're clever folks, I'm sure you can wade through it.

We won't miss the puzzling and painfully powerless season Millar suffered through last year. For a guy who hasn't had fewer than 14 homeruns a year since 2000, a sudden dip to 9 is worrisome. Millar's 34, not in what I would call spectacular shape, and has never really been that far removed from a marginal type of player. Thirty-four isn't usually quite the death-knell age for any position other than catcher, but it's not crazy to imagine Millar suffering a little from natural aging and slowing of the ol' bat.

Millar the baseball player, at the plate, rolling around like a misweighted weeble at first base or, may the good lord above protect me from the memory of it, stumping enthusiastically but ineptly in the outfield: this Millar will not be particularly missed. But Kevin Millar the guy, Millar the clubhouse presence, he will be missed, make no mistake about that.

Like I said, he could get annoying at times. Perhaps you had to be southern in origin to truly appreciate the comedic genius behind Cowboy Up, and I am rather pointedly not southern. Maybe the Idiots thing would have been funnier if it wasn't so tragically true (minus Kapler, Schilling, Myers, Varitek, and possibly a couple other guys). But for every loud interview Millar gave the media, there was a quiet Red Sox player who was spared the rigors of media interaction. For every stupid thing he said, there were five instances where he was almost ridiculously key in keeping the clubhouse happy and loose.

Groan all you like about the Queer Eye thing and the enthusiasm with which Millar embraced it, but how many other ballplayers would be so comfortable with themselves that they would be willing to acknowledge the gay community (and gay baseball fans) loudly and, dare I say it, proudly? How many other players, without any incentive other than general friendliness, would so determinedly befriend their teammates regardless of country of origin that a team historically known for racism in varying degrees would have a truly integrated clubhouse?

Without Millar, Manny Ramirez as Boston knows him does not exist. I'm not talking about the offseason Manny of right now, I mean the Manny we love to watch play ball, the Manny who pals around with everyone in the dugout and teases the media, the Manny everyone loved to laugh with. No Red Sox fan will forget how quiet and surly-seeming he was before a goofy-looking guy with a ridiculous accent slung an arm across his shoulders and pretended to translate a press conference for him.

(And, indeed, without Millar, it's vaguely troublesome to think about who is going to be Manny's binky next year, assuming of course that Manny sticks around. Manny and Millar are good friends, such good friends that the word on the street/internet is that when Manny was recently auctioning off a shitload of his baseball stuff, one of the few things he refused to part with was his favorite glove... one of Millar's [via this article]. If we keep Manny, I'm really going to concerned about how he's going to handle a sudden lack of Millar.)

I don't think there's another guy on the planet who could have gotten Curt Schilling to bleach his hair.

I don't think the Red Sox have ever had a player who was so free with a smile or so indiscriminate with a hug.

Completely removed from whatever he was doing on the field, slugging or struggling or whatever, Kevin Millar made baseball fun to watch. I know a lot of people didn't like him for being loud, or brash, or not terribly good at baseball, but he made the game fun. And a lot of baseball now is about stats, yeah. I've turned into a big believer in the numerical fuckers myself. And although Millar did have pretty damn good numbers in the past, most everyone will agree that last season was not all that pretty from a stat-sheet's point of view.

But I'm pretty glad that there was still a place in the game for Kevin Millar, even if it was only for a few years here.

SC over at Camden Chat is not unhappy about the signing, and indeed seems to think that it could be a pretty good thing. I wish him nothing but the best of luck over there in smelly old Baltimore, excepting of course games played against the Red Sox.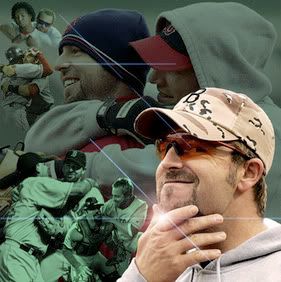 See you next season, Kevin. Feel free to suck ass against the Sox, but we'll cheer you in Fenway.
3:38 AM