Thursday, December 15, 2005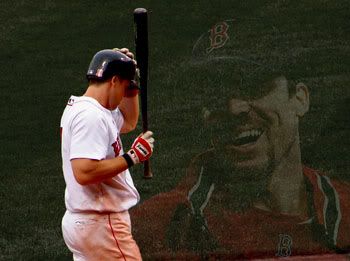 Oh, Billy.

Honestly now. I trot off to wrap up finals (final critiques, actually... I still have two final tests next week) and when I come back I find that we've traded Dougie and his Rolly Bag, we've sent Edgar packing and gotten one of the best prospects in baseball as a result, we're making eyes at the Rocket, and somehow the thing that makes me say "Oh frell" loudest is the fact that Bill Mueller is a Dodger.

The stupid thing, of course, is that I've assumed Mueller was gone pretty much since his free agency took hold. To be quite honest, I was surprised at how well his knee held up last year, and I think the Sox were too, to some extent. And, of course, the dorktastic majesty that is Kevin Youkilis can only be held back for so long now, right?

I don't think I wanted to believe it, though. Every logical part of my brain knew that Mueller was gone, had him written off the team, but as long as he wasn't signed with anyone... well, he wasn't gone just yet, you know? Call it selective denial if you like.

I'm going to miss him, of course, for every possible reason. In a town where the media can drive you insane or highlight preexisting insanity, he was calm and level and just about as Professional as it's possible to be, Billy Ballgame in name and attitude indeed. Those dives at third, maybe not the most elegant or athletic in the league but surely up there in sheer lack of fear... the way he always seemed to smack the Yankees around when it mattered most... his propensity for hitting with the bases loaded (batting .526 with the bases loaded in '05, OK, yeah, I love that a bit)... the high socks and the bubble gum and the inside jokes some of us share about him that can't be addressed here due to the fact that they would disturb, well, all the rest of you...

The way you could love him equally for his switch-hitting ease of bat handling and the way he made you* thank the heavens for tight baseball pants at the very same time...

He's not even leaving Boston with the usual accompaniment of bitterness, because if there's a Boston sportswriter out there that can find something to be bitter about with Mueller, we may just have to raise them up as the pinnacle of insane Boston sportswriting. If that sentence doesn't make sense, it's because it's 4 am and I've been using some very pungent Prismacolors on my lithography prints.

Of course he'll remain one of my favorite players, because how could he not? I'm crazy like that, admittedly... if I still have a Dave Roberts alert on my Gmail account, what's it to you, eh?

As I've probably mentioned before, I've got a bunch of baseball cards of players I particularly like tacked up along the top shelf of my desk. Bill Mueller's shiny red Upper Deck card is resting between two older, matte Score cards... Terry Francona in early-90s Brewer pinstripes and a bat-wielding Barry Larkin. I suppose it can now join them in a line of cards depicting things that will never again come to be.**

Le sigh.

Oh, and for the record, about the Manny rumors? As with anything involving Manny and trades these days, they are all fruitless until proven otherwise so far as I'm concerned. He's just been the subject of so many of them, for so long, that I take note of them and then let them wash over my brain and out.... um, the back of my brain. The occipital lobe, if you will.

And um, yeah, Edgar? Right then. We've got who playing shortstop now, exactly? Because Hanley, er, Marlins? Yes, Marlins. Right then. Tell me how this one is going to go, o glorious Jed and Ben, two-headed Managing Beast. I'm fascinated, really.

Also, Loretta for Mirabelli strikes me as a good move on the face of it, but I fear for Wake, I really do. I don't trust him one whit with 'Tek anymore as anything other than an emergency stopgap, nor do I think that 'Tek should have to deal with catching a knuckelballer on top of all the other things he's got to worry about. Not to mention the fact that 'Tek is getting older and a scheduled, assured rest every 5 days would probably go down a storm. I just, I don't know, I'm sure Loretta will be about 5,000 times more valuable offensively than Dougie ever was, but for the love of butterfly balls, it's not everyone who can successfully, or mostly successfully, handle a knuckler. Bleargh. I guess we'll see. I don't want to think about it too much, because that's the fast-track to madness.

In case you can't tell, I don't really want to talk about the Lions right now, except to say that at least we took the broken-down trainwreck that is Brett Favre to overtime on national television. Where we promptly lost, because that's how we do, but hey, the nation didn't have to see another Thanksgiving, am I right? Right?

THEN WHY DOES IT FEEL SO WRONG?

That's rhetorical, by the way. Rhetorical, and probably the markers talking. I'd open a window, but it's bloody cold out. Thusly, it is now time for some random stuff I've been meaning to bring up.

I would like to bring your attention to what is possibly one of the best Tigers threads I have read in a long, long time, containing everything you ever needed to know about The Man, The Legend, Mr. Kenny Rogers himself. It's all true. Honest.

For absolutely no good reason, other than a general liking for the Mariners (I think they're my AL West team. Can I do that? It's only a half-assed kind of interest, I promise), I'm going to be watching this pretty closely next season. First catcher out of Japan. It should be interesting to see how well he translates into the MLB; he was quite good overseas.

I can't be the only one completely nauseated by this:

Torre doesn't phone every free agent the Yankees engage. His firm but soothing voice is saved for the players the Yankees want and who might require prodding. more such joys from the article here

I mean, blimey, I know it's the Post, but surely that's crossing some journalisitic line or other. It reads like a blogger making sarcastic fun of the Yankees . Firm but soothing? Laying it on a bit thick there, aren't you, kiddo?

In case you missed it, and you shouldn't, because it's truly a thing of beauty, Beth has some fun with the RoethlisBurger and his crazed internet-savvy*** fan base. Steelers fans are bloody whacked, my friends. Also, the Burger loves his dog. His name is Zeus.

Mer just recently mailed me a torn-out article from a local magazine (local for her, anyhow). Just a short little blurb, but it had a photo of Dhani Jones, whom I love to an absurd degree, sporting one of his natty bowties and talking about lingerie. This is so awesome that it deserves its own mention in the blog.

Ann Arbor is Overrated mentions a class with a shit ton of my friends in it. The best bit is, I really like the professor, and had wanted to take this class (we all have to take these abominations called outreach classes, and there are a small number of outreach classes you can choose from each semester), but it didn't fit into my schedule and I was thus saved from the experience of performing puppetry on public buses, something which I would have detested with the fire of a thousand suns. Instead, I got to spend the semester agitating for clemency for female prisoners in Michigan-- this was the project that culminated in us having a rally on the steps of the State House in Lansing.

The moral of the story is that I just want to take a fucking drawing class for once, you know? I've about had it up to my painfully artsy glasses with concept, especially when at least half the art school has only the most rudimentary grasp of things like 'human anatomy' and 'ability to draw a fucking piece of fruit'. I DON'T CARE IF YOU'RE A PHOTOGRAPHY MAJOR-- YOU SHOULDN'T BE IN AN ART SCHOOL IF YOU DON'T HAVE THE MOST BASIC OF BASIC DRAWING SKILLS. THAT IS THE POINT, YOU KNOW HOW TO DO ALL THE BASIC STUFF, AND THEN YOU SPECIALIZE. YOU DON'T COME IN AND SAY YOU'RE A PHOTOGRAPHY STUDENT BECAUSE YOU DON'T EVEN KNOW WHICH END OF THE PENCIL TO HOLD. I understand that not everyone is an illustrator. But the basics, OK, everyone should know the basics first, and then decide that drawing is not for them, or painting is not for them, or clay is not for them, or aaarrgh.

I'm too old-school for this curriculum, which is sad in a demented number of ways, not least of which being the fact that we barely had an art program in my high school, so I never got the constant access to supplies and models and instruction and things that many of my peers did.... some of them had AP Art! AP Art! I can't even wrap my mind around a serious art program like that in a high school. Maybe this is why I place a much higher value on ACTUAL ART SKILLZ YO instead of wonky concepts, having only been exposed to them because I sought them out in local college classes over the summers, but then again perhaps it's a sign of something else and dear god I went into the Curriculum Rant. I'm sorry. I could go on about this forever. Didn't mean to get into that, won't happen again, etc.

Back to the important bits.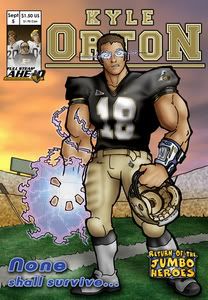 I HAVE NEVER BEEN MORE TERRIFIED OF KYLE ORTON IN MY WHOLE LIFE. And, I mean, seriously, terrified. Why is Brian Hickman Nightcrawler from X-Men? What is going on here, people? I just don't understand!

All of them here. If you have the courage.





*If you= "female or so-inclined male"

**Also in this line is a card of Brandon Inge in his catcher's gear. Chalk that one up as 'Things we Hope Will Never Again Come to Be'.

***A relative term.
4:47 AM