Saturday, December 03, 2005


Jeez, what is this? I turn around for a minute to cook up some final projects and papers, and when I turn back the stove's flared up and my Manny's gone and gotten all crispy underneath.

Seriously, I know I've been remiss, and now the hot stove's, well, hot. I could describe what final projects and papers have been doing to me, but probably none of you want to hear about it. Suffice it to say that video takes a really really long time to do well (even if going through reams of footage about the Detroit Tigers is REALLY fun), and it is not fun writing papers in a language with which you are only verbally comfortable.

So I will momentarily disengage my brain from the inner workings of Final Cut Pro to have a look at what's been going on in the glorious world of baseball wheeling and dealing and DEAR GOD IS IT SPRING TRAINING ALREADY I CAN'T TAKE MUCH MORE OF THIS.

Ahem.

Red Sox acquire Josh Beckett, Mike 'The Albatross' Lowell, and Guillermo Mota from the Marlins for Hanley Ramirez, Anibal Sanchez, Jesus Delgado, and Harvey Garcia.

I've had a lot of time to digest this one, and like a termite with a mandible full of cellulose, I have taken that which was at first unpalatable and found it to be mildly nutritious. I will admit that my initial reaction to the trade was along the lines of "What Hanley what what what Anibal Sanchez not the farm no it's the dreaded gutting noooooooOOOOOooo!" But the stathead sorts were so happy about it, and, well... unless they were really going to move Hanley to center, which seemed sort of unlikely from what I had heard, he was blocked by Poor Edgar Renteria anyways. Sanchez I still think has the potential to be pretty effective, but I don't know how soon he'll show it. The other two guys... I could pretend to know anything about that, but that would be a filthy stinking lie.

So here are my concerns with this one:

--Beckett's ability to remain healthy. Blisters, yes, but wasn't he also out for a good chunk of time with tendinitis in his shoulder? That worries me, as it's a chronic sort of thing. And on a completely illogical note, it seems that if a pitcher is prone to some sort of injury, they'll get it with us. We just don't get lucky, lately.
--I don't care what any of you say to me, Mike Lowell is a big fat feathered sea-faring bird, and I don't mean a penguin.
--Hanley turns out to be just as good as management had billed him, and we regret selling him off for the rest of history.

I don't really have anything to say about Mota... good or not, at the rate we're going, we just need warm bodies in the bullpen. So far as I know, Mota fulfills that requirement.

Red Sox get Jermaine Van Buren from the Cubs for cash or a PTBNL.

Color me pleasantly surprised, at least for now. If the Cubs do end up taking a player, my reaction to this move will depend on who they take. But on the face of it, I think it's a good pickup. Van Buren was killer as a reliever in AAA last season, and he didn't have a nervous breakdown or anything when they brought him up to the majors for a few games. The Cub Reporter says he's got a low-90s fastball, a passable slider, and a jerky drop-down motion... that last does concern me a little bit, I don't like kids with jerky motions in the minors, it just makes me too nervous about potential injury risks, but overall I think we've got a pretty good pitcher here.

My hometown gets like 2% more famous.

Peter Woodfork is hired as assistant GM of the Arizona Diamondbacks.

Dick Jauron is made interim head coach of the Detroit Lions following the (rightful) firing of Steve Mariucci.

Go Big Blue!

Kyle Farnsworth signs a contract for 3 years, $17 million with the New York Yankees.

GodDAMMIT, Kyle. Didn't you want to be a closer? Didn't you get harassed by the Chicago media back in the day? Didn't you have a really good chance to, even if you didn't want to go back to Detroit, stay with your home team, the team you grew up rooting for? This is a stupid move on his part. He'll be 30 in April, if he wants to close he should be closing NOW, in his prime, not down the line. And he's a tempermental dude (to put it mildly), the first bad outing he has, the media is going to tear into him, and he is probably not going to deal with it gracefully.

Randy Johnson shoved a camera man. Farnsworth would probably rip his camera out of his hands and beat him over the head with it until the camera broke, or the offending head. Whichever came first.

White Sox acquire Jim Thome and cash (towards his contract) from the Phillies for Aaron Rowand, Gio Gonzalez, and Daniel Haigwood; White Sox resign Paul Konerko to a big fat contract.

It sounds like Rowand was upset to be leaving Chicago ("This is a tough time for not only me, but my family -- to leave a place that we've grown to know as home and where my heart is...To leave somewhere where you are so happy being is a very tough situation. Ultimately, baseball becomes a business, and this just serves as a friendly reminder." article), and it sounds like the ChiSux are aiming to go ahead with Brian Anderson as their center fielder. He hit OK in AAA last year, and I guess they've been touting him around as the center fielder of the future anyways.

Thome... well, it'll depend on whether or not he can get healthy, which is a pretty big question, if you ask me, which you didn't, but I say it anyways. He'll have to DH anyways, so good ol' Frankie Thomas is pretty much cut loose, and Jurassic Carl may be on his way out as well.

If Thome is healthy and slugging like he generally does, if Brian Anderson works out, if Rowand continues to show that 2004 was a fluke and continues regressing back to his career average, then this will have been a pretty good move.

Signing Paul Konerko was smart, the lucky bastards.

New York Mets trade Mike Cameron to the Padres for Xavier Nady; Mets trade Mike Jacobs, Yusmeiro Petit, and Grant Psomas to the Marlins for Carlos Delgado; Mets acquire Tike Redman from the Pirates for cash (no news on whether or not a bucket of balls was involved in the trade); Mets sign Billy Wagner to a 4-year, $43 million contract.

Christ, did I miss anything?

I only have this to say. I honestly thought the Mets were going to be contenders last season. Now, maybe these moves are the ones they need to put them over that hump (Nady and Redman are both very smart and underrated signings so far as I'm concerned. I would've liked to get Nady, and I've always been irrationally high on Tike Redman), but until they prove otherwise the Mets may have slid themselves into Blue Cats territory last season.

By which I mean that, like the Lions, it doesn't really matter who they have on the team, because they're still the Mets (or Lions), and magical new ways will be found to lose games regardless of personnel.

Also, I think we can start looking for the implosion of Pedro's shoulder either late next season or the season after it.

Blue Jays acquire Red Sox Killer John McDonald from the Tigers for cash; Blue Jays sign BJ Ryan to a 5-year, $47 million contract.

They had sent McDonald to the Tigers last year for cash because they needed roster space. I liked the dude, as he seemed genial enough, and I was torn about seeing him play at Fenway... he had a lot of family and friends there, and he also for some obscure reason seemed to hit really well against the Sox. Possibly because he had a crowd there.

All I have to say about the BJ Ryan deal is that it is what they had to do in order to sign him in this market, but it is also batshit insane. Mariano Rivera is the freak, not the norm. There's just no way that, in the ideal baseball world of my brain, relievers of any sort should be signing for more than two or at most 3 years. Is it possible that Ryan will remain healthy and good over 5 years? Yes. Is it likely? Very shaky and tentatively hesitant yes.

That said, if Halladay is healthy for all of next year, I aim to worry my pants off every time we play the Jays. I got to see him pitch in Fenway before he got hurt last season. Sometimes I still wake up in a cold sweat at night, the image of his curiously ruddy facial hair dancing before my terrified eyes. He was scarygood on the mound.

Phillies sign Tom Gordon to a 3-year, $18 million contract; pick up schlubs Julio Santana and Sal Fasano from the Brewers and Orioles respectively.

Alright then.

I think 3 years is too long for someone as old as Flash is, but that's just what they had to do in this retarded free agency market. I guess you can't fault them for that, unless of course you're a Phillies fan, in which case I'm sure you've already thrown a battery or two at your computer screen.

Marlins trade Luis Castillo to the Twins for Travis Bowyer and Scott Tyler; as mentioned above, also lose Beckett, Lowell, Mota, Delgado; loss of AJ Burnett imminent.

I would really, really hate to be a Marlins fan right now. I can only think of two Marlins fans I know personally, and that's my grandfather and my uncle Richard, so Grandpa, Uncle Richard, I'm real sorry.

Seriously. There's nothing else anyone can say about this stuff, except to seek out Marlins fans they may know and apologize to them. Um. You guys got Hanley? He's flashy and fun? Yusmeiro Petit's gonna be kickass, so you've got that going for you.

Um.

Poor bastards.

Chipper Jones restructures contract, gives up millions of dollars (potential savings for the Braves of $15 million over 3 years) because he is just that fucking awesome.

Also because he wants to stay in Atlanta and at the same time make it more possible for the team to make good signings.

Allegedly the restructuring was at his suggestion, not the team's request.

There's not much else you can say to that, except that it makes The Farns look even worse... he was one of the players (the other being Furcal) that the Braves would have hoped to resign using the money freed up from Chipper's restructred contract.

Rumors: Manny-for-Bobby Abreu; Pudge-for-Kris Benson.

I don't like either one of them. In brief:

Manny for Abreu just doesn't sit right with me. Obviously there's no comparison to Manny as a hitter, but Abreu is still handy with a bat in his own right (even if he did have a bit of an off-year last season in average). That I acknowledge. But with Ortiz sticking around, I don't know why we'd want another power lefty to hit in front of or behind him.

I understand that there have been massive issues with Pudge in the clubhouse. I understand that we need pitching. However, I do not think that Kris Benson is the answer. If people rag on poor Joey Harrington for not being man enough to play in Detroit, imagine what they'd do to a mediocre pitcher named Kristin. More importantly, however, getting rid of Pudge would mean that the Tigers would need a catcher. And unless they can pick up a Molina (something about which I am not at all sanguine), that would mean something I fear and despise would come to pass.

Click for big.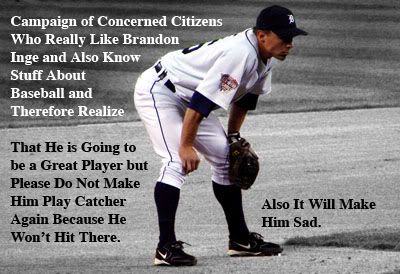 Please, everyone, have a heart. Join the Concerned Citizens. Feel free to take and spread the banner, by the by. We must do all we can to stand in solidarity for the continued presence of Mr. Inge at the hot corner.

If I've missed something major, feel free to poke my brain about it, as I'm sure I've got a baseless opinion on it that the internet is just bursting to know. Oh, and I've been planning to restructure the links and such along the sidebar for ages now... they're hopelessly outdated, and there are tons of new sites I've been meaning to put up and feel horrible that I haven't linked to yet. For instance, fans of the RantBlog will be pleased and excited to note that supergenius Billfer of the Detroit Tigers Weblog has started a new site specifically for tracking and discussing the goings-on of the sports blogging world. It's called BaseBlogging and it's very shiny and lovely and he used one of my photos for the banner, so it's got that going for it.

See, there's loads more sites I need to tell you lot about as well, and I've got new icons set to go for the new sections and everything, but due to the evils of higher education I probably won't be able to get any of it up until winter break. So I ask you, reader, to suggest sites. Red Sox sites you like that I haven't got linked already? Tigers sites? Michigan sites, Lions sites? I'm also putting up a random teams section, since lord knows I've got a bunch of other team sites I read anyways, so suggestions on any sports blogs (especially baseball blogs, though) that you think I ought to know about would be most welcome. Comment or email, you know how it goes.
4:37 AM