Monday, June 13, 2005
Wrigley Field, the park most often offered up as an answer in the same breath as Fenway in response to the question, "Where would the most crazy baseball fans want to have their ashes scattered after they die?" Green ivy, and red brick, and people watching from rooftops all around the place... the only remaining ballpark that can look at Fenway and say, "Creaky joints actin' up again? I hear ya, buddy."*

I'll admit I was looking forward to this series, because it was Wrigley, and because Todd Walker would be playing, and because Nomar would at least be there, and because we would be throwing to a lineup with both a pitcher and Neifi Perez in it, and that seemed too good to be true.

Most unfortunately, it turns out that Neifi Perez is only half-sarcastically referred to as Neifi! by Cubs bloggers these days, and Greg Maddux can hit homeruns. It also turns out that Bronson has yet to get back in his groove (or get his groove back... we need a Stella here, maybe), and that ivy out there in centerfield? It eats things. Balls, mostly, but possibly also Red Sox batting ability, leading to perplexing situations like this one: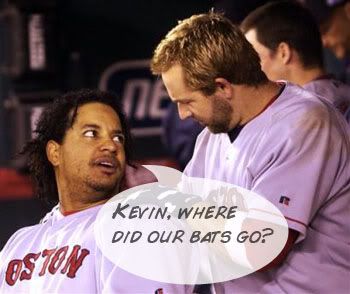 I'm not even sure what to say about this. Yesterday, especially, Manny was nothing short of painful to watch. 1-for-5, with 2 strikeouts and no walks, but that hardly gives you the whole picture. Those 2 strikeouts felt like, and looked like, 10. Some of it was Zambrano, who had one of his inexplicable 'walk two guys and looks wild, strike out two guys and look dominant, give up a towering homerun' nights, and Manny just kept coming up when Zambrano felt like being unhittable for a couple batters. Part of it, though, was that he was swinging at balls that were far too high in the zone for him to hit, and that he was swinging early or late and whiffing badly.

Tigers fans are saying that sometimes Tony Giarratano looks completely lost at the plate, just totally overwhelmed by major league pitching (I note he had an RBI today, though), and it makes sense. You see this kid who's 22 years old but maybe 5 times less mature than a 22-year-old Jeremy Bonderman, this skinny little kid from Queens, NY who went to Tulane and got called up right out of AA ball, and when he swings at a ball with all his mass behind him but misses completely, it just. makes. sense. Not saying it's fun to watch, but you can hardly fault the guy.

The point is that when you see Manny Ramirez (Manny! freaking! Ramirez!) taking cuts that look pretty much the same as the ones Tony G is taking, you can't help but be disturbed.

Now, yes, tonight he had a homerun of obscene proportions, and I dearly hope that this, combined with a return home to good ol' Fenway (finally), will jumpstart Manny's bat and bring him back up to snuff. It was nice, very nice, to see Manny look like, well, Manny tonight... the towering homer, the way he was actually paying attention in the outfield (always a big day, when Manny doesn't space out on defense), the headbutting Mark Bellhorn on the shoulder, the getting groped by Ortiz in the dugout, the schmoozing with Youks... but I just can't forget about how lost he's looked lately. I wish I could, but I really just can't.

Also, speakin' of the Tiger rook, there was a batboy in the Red Sox dugout yesterday who looked exactly like Tony G. I couldn't decide if this was cute or unbearably pathetic (the Tigs' infield is in such a state that they have to call up guys who look as old as the batboys...). I mean, hello:




I'll bet he gets carded in bars all the time, poor bugger.

Bartender: How old did you say you were again?
Tony G: I'm 22! I play for the Detroit Tigers!
Bartender: Uh huh, right kid, like I'm gonna believe that...
Tony G: No, really! I play for the Tigers! Dmitri, come over here and tell the man I'm a major leaguer!
Dmitri Young: THIS HERE IS MY BOY TONY G ARE YOU DOUBTIN' ON HIS AGE? BECAUSE I AM DMITRI YOUNG AND I DON'T LIKE WHEN PEOPLE ARE DOUBTIN' ON MY BOY TONY G.
Bartender: Here sir have a drink on the house.

Carlos Zambrano, as I said before, had one of those weird nights where he looked like Pedro Martinez for one batter and like Alan Embree for the next (only, you know, a whole heck of a lot heavier than both combined). I had definitely heard that he was an emotional pitcher, but jeez... after something bad happened he would go through a series of facial contortions so violent and exaggerated that they would make The Derek Lowe Face look downright calming. We were also treated to the story of how he was suffering from forearm tightness earlier in the season and it turned out that this was related to the fact that he was spending 4-5 hours a day IMing with his brother in Venezuela.** Carlos Zambrano: HE IS ONE OF US.

Anyways, tonight was good, I guess... Wake was on fire. We all know that the knuckleball is a 'live today, die tomorrow' kind of pitch, but in his last three outings Wake has had the following performances:

1. Jason Varitek catching. Weather relatively cool. Knuckleball flatter than Mike Ditka's singing voice. Ball hit a bajillion times. Wake shelled.

2. Jason Varitek catching. Weather relatively cool. Knuckleball dancing up a storm. A bajillion errors. Wake shelled.

3. Doug Mirabelli catching. Weather relatively warm. Knuckleball dancing up a storm. No errors. Wake dominates.

Now, he had two outings with Varitek, one in which the knuckleball just wasn't knuckling at all and one in which it was knuckling all over the damn place. So we lost one of those because of Wake, and one because Tek was catching Wake. Tonight he had that same nasty knuckleball but he also had his buddy, his pal, his bestest personal batterymate Mirabelli catching, and yes, I think it made a difference. I love Tek, naturally. But there's a reason why we have a separate catcher for the days Wake pitches, it's not just for show.

There was finally some offense tonight, Johnny being a single away from hitting for the cycle and Youks being a triple away from hitting for the cycle. The ESPN guys commented, after Johnny's homerun, that it was only his second on the year and they really would have expected him to hit more homeruns, it seemed silly that he wasn't, and I will freely admit that I went into a fit of rage, along the lines of "WOW OK I GUESS HE SUCKS, HE DOESN'T HIT HOMERUNS. THAT .343 BA IS JUST KILLING US UP THERE IN THE LEADOFF SLOT. YOU KNOW I THINK ICHIRO ONLY HAS 3 HOMERUNS ON THE SEASON SO FAR TOO, WOW HE SUCKS. IT'S NOT LIKE THESE GUYS ARE HITTING FOR AVERAGE OR ANYTHING, THEY'RE JUST WEAK HITTERS WHO AREN'T HELPING THEIR TEAMS AT ALL BECAUSE THEY'RE NOT HITTING HOMERUNS."

I mean, honestly. I'm a college art student who's getting 'paid'*** to draw botanical specimens all summer. These are sports broadcasters who have been in the business for however many years and are getting paid to follow, and talk about, baseball. And yet I seem to have a better understanding of things like 'hitting for average' and 'what is valuable in a leadoff hitter' than they do. There's something seriously wrong there. Maybe I should quit it with this art business and work for ESPN.

Whoops, I forgot, they'd never have a woman doing play-by-play commentary on nationally broadcast baseball. Silly me. They'd prefer to have Jon Miller dolorously singing 'Duke of Earl' in the middle of an at-bat, calling the Red Sox 'the Fenways' for no readily apparent reason, and mixing up Aramis and Manny Ramirez several times over the course of the game. ESPN: we prefer senility to actual broadcast ability.

So. Er. Sorry. Wasn't meaning to go off on a rant there. Anyways. David Ortiz sat the night out, but it ended up working out OK, offensively. Leaving the Big Papi on the bench doesn't mean he won't contribute, though. Johnny's homerun earned him a vigorous headrub from Ortiz, Manny's homerun earned him a vigorous headrub and a grope on the bench, Jay Payton's homerun earned him a lingering hug in the dugout, and Wake's haul-ass run scored all the way from first base (culminating in a charge down the third baseline that showed such poor running form I was lying on my side giggling hysterically and a frantic, feet-first slide into home plate) earned him a David Ortiz personal towel rubdown.

Basically, tonight's game was good, much like the David Wells game of the Cardinals series was good. It's not enough anymore. The Orioles are stumbling and the Yankees are more impotent than... well, OK, I was trying to think of some way to not make that a Rafael Palmeiro joke but nope, we're goin' with Rafael Palmeiro, anywho, we need to gain ground. It just isn't enough to win the last game of these series anymore. We need to start winning whole series, or god forbid even sweeping series.

It's bad and frustrating when the Tigers take 1 out of 3 in a series. But really, at the end of the day, I'll be pretty damn happy if the Tigers end the season at or over .500. The Red Sox, however, will be a huge disappointment if they don't make the playoffs. And if they continue to take 1 out of 3, they will not make the playoffs. And I will be hugely disappointed.

But, man, let's not end this on a depressing note! Have some fun things to check out! Inexplicable Korean cartoon about how Jason Varitek can't catch the knuckleball! Click the image to see it.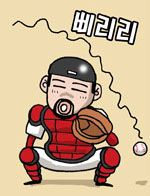 If you want to read about this all from the Cubs perspective, there are about 8 billion and a half blogs to look at, but I'm gonna go ahead and recommend Bleed Cubbie Blue's recap. The guy knows what he's on about, and he actually doesn't hate the Red Sox fans who invaded Wrigley.

Good-natured blog battle alert! Jere says this. Cardinals blog CardNilly says this as a semi-blanket response. Jere responds. CardNilly responds. Jere fires back. Bystanders win!

And, perhaps most importantly of all, Detroit Tigers centerfielder of the FUTURE, Curtis Granderson, lets us know that his favorite color is 'definitely blue!', and that committing 6 errors in one game is 'the worst'.

On that note, I bid you all goodnight.


edit: Or not. The Canton Rep has a nice interview with Braylon Edwards. You have to register to read it, so in case you're too lazy to do so I've pulled some of the highlights.

Braylon in response to being told someone had predicted a 2-14 season for the Browns: I'm not making predictions, but I guarantee we will win more than four games. I guarantee that.

Braylon on whether he can produce right out of the gate or not: I think the rookie thing is overrated.

Braylon on QB Trent Dilfer: He's not a 'freakish talent' quarterback. A Daunte Culpepper, Donovan McNabb, Peyton Manning ... a Tom Brady with his relentless accuracy. The thing about Dilfer is he has been there, although defense carried the load for him that year he won the Super Bowl. He's a veteran. He understands where the ball must go. He gets the ball there. He doesn't have the strongest arm, but he doesn't have to, because he knows the game so well. You hear him break down different schemes and scenarios. I hear these things and ... I'm a 22-year-old person just out of college, and I'm amazed. A lot of times quarterbacks try to outdo themselves. They take the wrong chances. Trent will never beat us...

Trent Dilfer is not 25 any more. He has some miles.

Heh. Not the most inspired recommendation for a quarterback I've ever heard.

Braylon almost always is a good interview. Thanks to mgoblog for the heads up on that one.



*Jeff Bagwell can also say this, but you don't get people travelling hundreds of miles just to sit on him, so he doesn't count.

**I have to say, I've spent lots of time on the computer, both out of necessity (you'd be shocked at how much art school stuff is computer-based these days [or maybe not]) and out of regular dorkiness, and sometimes my hands will hurt, especially if I've been using the trackpad a ton (which is why I now have a pen tablet which I love like woah), but I've never experienced 'forearm tightness'. So, uh, yeah, take that how you will.

***They're paying for my art supplies and gas, which is good, because it's about an hour each way from my house to Joppa Flats. But I'm not actually, you know, getting paid.
2:42 AM