Friday, June 17, 2005
Wow, kids, I am sorry. I have been dropping the ball. I am Chris Shelton at first base, I am Kevin Millar in left field. I check the scores, I see the ball coming at me from the sky on a great big pop fly, but then I remember that I am Chris Shelton and I fall down, or I remember that I am Kevin Millar and I get distracted by the Fenway Frank someone in the stands is holding. They're holding it right there over the wall! A Fenway Frank with all the fixin's! And I am Kevin Millar! God, what do they expect? I let the ball drop and, somewhere, Torii Hunter falls to the ground in exquisite fielding agony.

Basically I have not been seeing the games. On Wednesday night I naturally had to go see Batman Begins with the local crew, and naturally we had to truck all the way out to Reading so that we could see it in IMAX, and naturally this meant missing both the Tigers and Red Sox games. For the record, I liked Liam Neeson, and Christian Bale made a great Bruce Wayne but a lousy Batman. Scarecrow was awesome. It was good if you completely ignored all the ones that came before it and just took it as a completely new and different movie. No one cares about this, just thought I'd lay it out there.

And then the Audobon people were all like, 'Hey, we have these people coming in on Saturday for a garden tour, could you maybe get us some interpretive materials by then?' and I was all, "um but i have been working on the marsh not the wildflowers' and they were all, "Yeah, maybe you could do the wildflowers for a little bit just so we can get this done,' and I was all, 'um ok but 2 days?' and they were all, "Thanks, you are a good intern, here are some books to help, we are going to go get some sandwiches in Newburyport, don't OD on coffee."

I did get the thing done, and gave it to them today, and they all ooohed and aaahed over it like John Audobon himself had come down from on high and guided my pen because I guess they don't get too many illustrators coming through there so they don't recognize subpar talent when they see it, the poor dears, but the point is that I have not seen the games, nor have I been able to follow them all that closely, nor have I actually been, y'know, sleeping (hence: run-on sentence). And I think I may have, in point of fact, ODed on coffee.

And now my friend Leslie is in town, and she lives in New York and goes to school at Georgetown, so I see her basically never, so I must spend as much time as possible hanging out with her for the few days she is here, which probably also means no baseball.

And yet!

I note that both (both!) the Sox and the Tigers swept in their respective series, which is all kinds of good. It is more good than I can even contemplate. Yes, the Reds are not exactly the best team in the NL right now, but the Padres had been on a bit of a hot bend and the Tigers, well, you know. I also notice, in passing, that the Royals swept the Dodgers, and what? the hell? is up with them?

The latest rumor out of the Tigers camp dealing with the Urbina plane brawl is that Ugie did/said something nasty to/about Rondell White, which caused Brandon Inge to attack Ugie. I know nothing, I merely share the baseless rumor. I like the idea of Inge being a scrappy little fightin' dude, though.

With his latest victory Jeremy Bonderman became the fastest Tiger pitcher to 8 wins since 1993. Guess who did it back then? Yeah. I was surprised too. Look at how (comparatively) svelte he was back then!

Also, I got new shoes.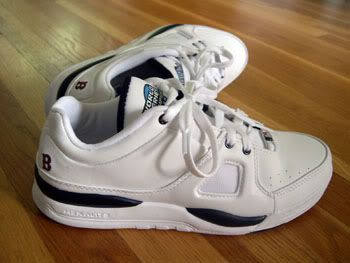 Look closely!

I am not a 'shoe girl', not in the least (I have one pair of sneakers, one pair of slip-on type things, and a pair of sandals. That's it), but I had absolutely lusted after and madly coveted these shoes since I had first seen them. The problem? They came in men's and women's sizes, and the smallest men's size available was still too large for my weeny little feet. Gosh, why would I want to wear men's shoes anyways?

Probably because the women's version ONLY CAME IN PINK.

I'll leave the attendant rant about that to your imaginations. You all know my feelings on the subject, suffice it to say that I was a mite annoyed.

It turns out that I can fit into the boy's sizes, however, and I was thusly able to attain shoe happiness with only a minimum amount of 'Rargh I hate the world!'ing.

New internet toy! I have drawn a picture of how tired I am. This thing is too much fun and, therefore, dangerous. Um, I'm relatively sure you need Macromedia Flash and a good connection to see it, but I don't know, it loaded kind of automatically and instantly on my computer.

I must now run, because my friends want me to 'come into the city tonight to have fun' and to 'have a life' and to 'probably not watch baseball' and, as a side bonus, 'drop dead of exhaustion'. Let me just drop a hint that there may be some changes around here very soon... I have a sneaking suspicion that the Sox fans who read this really don't enjoy slogging through all the Tigers drivel, and the Tigers fans don't really enjoy all the Sox talk. This may be rectified in the near future. I'm talking it over with some folks and we shall see. Just wanted to give you lot an advance warning, as it were, to be on the lookout for some big changes soon. Ish.
5:54 PM