Tuesday, June 14, 2005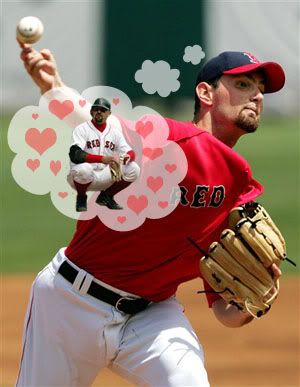 Tim Wakefield needs Doug Mirabelli behind the plate, Matt Clement needs Jason Varitek behind the plate. Part of it is actual performance (with Mirabelli back there, Wake can throw the knuckler with a little more aplomb, since he knows his catcher has at least a middlingly fair chance of coralling it properly) and part of it is mental (Clement is just more confident with 'Tek feeding him signs). Either way it's starting to become more and more evident, Wake for the year and Clement in comparison to his past seasons with the Cubs (and their various, forgettable catchers).

'Tek was playing today despite the fact that his wife gave birth to a baby girl (their third) at around 4 am. I doubt Mrs. Varitek was best pleased at being left to her own devices so her husband could play a baseball game the very same night, but 'Tek probably had a good idea that Clement, known for skittishness and fussy mound behavior, would be reduced to a shivering wreck of a pitcher if he wasn't there to guide him through the game (ambiguous pronoun usage ahoy!).

So we, as Red Sox fans, owe 'Tek some very sincere thanks. Because his wife may or may not be furious with him, but in any event Clement today pitched like a man who had got his special catching friend behind the plate, and the Reds responded by hitting like they had never seen such a happy marriage of veteran catcher and starry-eyed pitcher before.

Also, Manny, better. I don't mean the homerun, that was nice, but tenuous; if Wily Mo makes that catch, it's just a really spectacular Web Gem. What was good to see was that tonight Manny was hitting towering fly balls for outs instead of striking out looking or (wince-inducingly) swinging. That means that for whatever reason he was seeing the ball better all night, and so long as Manny is seeing the ball well I am not as concerned. The power will come back, and eventually those fly popouts will drop where they are no fielders.

It was the idea of Manny not seeing the ball that caused me to become nervous. If he's making any kind of quality contact at all it means that his mechanics themselves are the problem now, not his ability to see the pitches. Which is not to say that I'm not concerned about Manny, still, but it sure is heartening. He's on his home turf, the weather is turning warm just like he likes it, and the Reds pitching staff is not the most formidable in the majors. This would be a good time for him to start turning it around. If he's still battling to eke out a meager run here and there at the end of this homestand, I'll be seriously uneasy.

I expect every blogger out there will be talking about Don and Remy's foray into the world of manhugs today, but let me recap it swiftly for those of you who will have already read about it 5,000 times. Manny gets back to the dugout after hitting one of those long flyball outs. Kevin Millar, who is apparently very big on positive reinforcement, gives Manny a great big Red Sox hug. Don and Remy are sent into a tizzy over this, replaying it several times and talking about how this is not a 'baseball hug' (the awkward, manly, one-armed affair), but is instead a 'full-on manhug' (both arms, all-out).

They then go on to discuss how the Red Sox team in its current incarnation is 'very huggy' and all about the full-on manhug, as opposed to the baseball hug. They trace the roots of the phenomenon back to Carlos Baerga, seemingly the original manhugging member of the Sox, and Remy relives a little tale about how he approached Nomar for a handshake only to be enveloped in a hug, in which he (Remy) had no idea what to do with himself.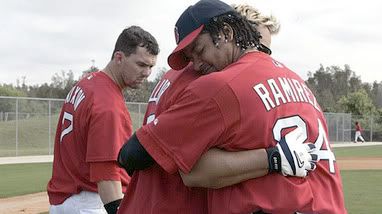 That is not a 'baseball hug'.*

Don and Remy are gleefully crowing about this for the remainder of the half-inning (as they do), and you can almost literally see male viewers all around the Boston area shifting awkwardly in their seats, while female viewers all around the Boston area squeal for unadulterated joy. As if we needed to be reminded why, in part, we love this team so much.

It's easy to feel better after today and yesterday, but two wins does not a winning streak make, and the Sox today capitalized heavily on a great many Reds defensive miscues, which probably will not be repeated. Wait and see.

Interesting little article on Carlos Pena that I pulled out of the San Jose Mercury News, of all random places. He's working hard down there in AAA, as he bloody well should be.

"Life is not over," Pena said. "It's not the end of the world. God blessed me with some talent. I know this."

Sigh. You all know I'm a Carlos Pena fan. I dearly hope he manages to put that shattered swing back together.

The Brewers, faced with a series of interleague play, are taking the opportunity to showcase some of their rookie talent while they have the use of the DH. Yup. They called up Prince Fielder. He went 0-for-4 today while Lyle Overbay, perhaps sensing competition, went 2-for-4 with a homerun. Of course all Tigers fans know the sad tale of Cecil Fielder, recapped here. Oy. What a mess.

I feel like I'm writing an awful lot about the Brewers lately. Honestly, I do not care a whit about this team. National league. Milwaukee. Their team symbol is a big gold M with a stalk of wheat under it. I do not care about the Milwaukee Brewers.

Detroit: get ready for The Return of Robert Fick!

Anywho, some dude named Hudson is pitching for the Reds tomorrow. All I know is that he's most definitely not Tim Hudson. He's about 12 times less hot, judging from his roster photo, and, more importantly, his 7.50 ERA is much less attractive than the 3.78 that Timmy's boasting. Y'hear that, Sox bats? 7.50! Go git 'em!

A plea to those who have not used up all their All Star votes yet! This is how the AL All Star team is shaping up so far.

Please, for the love baseball, vote Mark Teixeira for first base. Millar hasn't got a whelk's chance in a supernova** to get there (and, much as I love the guy, doesn't deserve it), and Teixeira is the only one who's poised to knock Tino Martinez out of the first place slot, and we must knock Tino out.

You should also all vote heavily for Dmitri Young at DH. Yes, even you Red Sox fans. No one is overtaking Ortiz, he's already got plenty of votes, but it's a close race for backup, and I think we would all rather see Dmitri there than Palmeiro or, god forbid, Giambi. A chance to see David Ortiz and Dmitri Young on the same team! You know you want it.

Manny, Ichiro, and Vlad look pretty locked in for the outfield, but you should probably bump some votes to Trot Nixon and/or Torii Hunter, both because they deserve it and because we need to knock Matsui and Sheffield down a few pegs.

I'm voting Bellhorn, but you can't really argue with Brian Roberts at second base.

It looks like no one is going to catch A-Rod at third base, so vote for whoever you want. Personally speakin' I'm stuffing the ballot box for Brandon Inge, although if you vote for Bill Mueller I can't really fault you.

I love Jason Varitek but I still think Pudge deserves it. Everyone needs to go vote for Pudge, now, and often. I know the all-Boston folk are going to beat me up for that one.

The relatively small number of votes that Carlos Guillen has amassed so far is a travesty. Everyone's saying how his selection as an All Star last year was 'shocking', but you know what? Ahead of him in the voting this year are Miguel Tejada, Derek Jeter, and Edgar Renteria.

You know who has the highest batting average of all these guys? Carlos Guillen.

You know who has the highest on-base percentage? Carlos Guillen.

You know who has the highest slugging percentage? OK, it's Tejada, but there's still no fucking way that Guillen should be behind those guys in the voting, wonky knee or not. Seriously. This one pisses me off. Now I'm mad.

Dammit. Really mad. I'm never getting to sleep tonight.

*And yes, I know I've used both these images before. They both stand reuse, I think. The manhug picture especially will never go out of style.

**You get so many points here at Blue Cats and Red Sox if you immediately recognize where this is from.
1:39 AM