Wednesday, June 15, 2005
Just some quick hits for tonight, since I have vastly important things to do tomorrow. Like, uh, driving up to Joppa Flats, mucking about in the marsh getting specimens, and drawing plants. You know. Vital stuff. I missed the first few innings of tonight's game anyways, as I was in Boston (ironic, no?). There were 6 seals in the Aquarium outdoor tank instead of the usual 2, which was like all kinds of bonus. Three of them were much smaller and sort of fuzzy, I think they were juveniles. Anyways.

--Always good when both teams win on the same night, and both win comfortably. 7-0 for the Sox, 8-4 for the Tigs. Looks like everyone is happy to be home again (and using the DH again).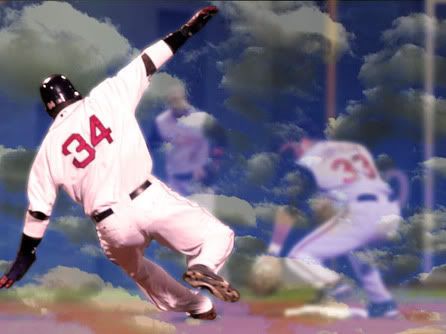 --I can't be the only one who sees David Ortiz sliding into bases and is immediately and forcibly reminded of a jumbo jet coming in for a ponderous landing.

--Wells threw, uh, well, from what I saw, but I noticed something worrying in the 5th and 6th innings. He was panting. Hard enough so that you could see his shoulders sharply rising and falling in the panned-out shots, 'though it was most obvious in the close-ups. It wasn't just normal heavy breathing, either, it was most definitely dog-on-a-hot-day panting. Those two consecutive walks in the 7th were another sign that he was tiring, but actual panting disturbs me. I realize that pitchers don't need to be in the same kind of shape that position players generally are, but it may be time for Boomer to cut back on the sticks of butter he eats before bed.

--I just realized this... the Sox had 3 guys in their starting lineup tonight hitting over .300, and one of those is Olerud who doesn't really count due to the small sample size (the other two are Damon and Varitek). The Tigs had 4 guys hitting over .300 (Inge, Polanco, Rondell, and Nook... although I guess you could argue small sample size for Nook as well). The average ERA of the Sox starters is 4.53; the average ERA of the Tigers starters is 3.96 (although again, a little skewed, since the Tigs are currently running on 4 starters). Both teams have been plagued by injuries-- Schilling the big one for the Sox, Guillen for the Tigs.

And yet Boston is 35-29 while Detroit is 29-32. What can you say? Just more proof of how inexplicably frustrating the Tigers have been at points this year.

--Brandon Inge hit a homerun 428 feet to dead center field in Comerica, which I saw, thanks to the magic of the internet and Major League Baseball's fantastic policy of putting up video of this stuff as quickly as possible. Kids, let me tell you, this was a heckuva homerun. Comerica's so big that it landed in the foliage inside the park, behind the fences (right under the GM fountain)... in Fenway or, say, Wrigley, it would've been bouncing into traffic and cracking someones windows.

There's nothing quite like the joy of watching Inge go yard. Seeing David Ortiz or Dmitri Young crank it over the wall is practically a seismological event, but there's a simple happiness to be found in seeing a short little guy with high navy socks and some of the goofiest facial hair in baseball absolutely demolishing the ball in one of the biggest parks in the league. Take that, steroids!

--Inge also had a lovely dive into the crowd to catch a foul popup and make an out. That's a neat photo for a few reasons. One, Brandon Inge. If you don't know of my love for him, you haven't been hanging around here long enough. Two, the way the crowd is sort of cradling him as he bursts into their midst. The gentleman in the yellow shirt is holding him about the middle, and if you look at his right arm you can see someone else has their hand on him there. How fantastic would it be to be in those seats? Hmm.

Anyways, shades of Derek Jeter's Heroic Catch from Last Year, no? No. Because Inge is actually a third baseman and is therefore entitled to cover that part of the field, unlike Jeter, who came charging over from shortstop (dude, you're paying A-Rod to play third base! I'd understand if you don't trust him farther than you can throw him, but let him cover his own ground). Jeter also hurled himself into the crowd with reckless and unnecessary abandon, while Inge kept his wits about him and I think had one hand on the railing at all times, so that he tipped right back out of the crowd after making the play. Now, I'm not saying that Brandon Inge is a better baseball player than Derek Jeter, but thems the facts, kids.

--Three homeruns in three games, one questionable, two beyond all shred of doubt. Manny! You are our sunshine, our crazy Dominican sunshine, you make us HAPPY, when skies are gray! If only you knew, how much we love you! Please don't take, our Manny, away! And with that albatross of a contract, it's not bloody likely he will be taken away. If his bat really is warming up again, though, that's a plenty good thing for now.

--Anyone else see Kevin Millar on the postgame show? First off, he had absolutely no right to be making fun of Jim Rice for the royal blue suit (which was, in all fairness, hideous), because he (Millar) was wearing some sort of tan fitted tshirt with an eye-rendingly complex print on it.

Also, I think it's possible that the Queer Eye stuff actually took. Because, and it pains me to have noticed this as I find Millar not attractive in the least, he looked pretty damn well groomed tonight. The beard, while eccentric, was trimmed very nicely, and the hair was styled nicely. Judging from how most of the NESN personalities look on camera I'm going to go ahead and guess that they don't have any stylists on board, or at least not very good ones, so Millar must've done all that himself. Good job, Kevin. It didn't look like you'd skinned an albino hedgehog and grafted the resulting pelt to your scalp tonight.

TC naturally inquired about the well-being of the new twins, and Millar said that they were doing great, keeping him up at all hours, the usual. Jim Rice looks over and chuckles, "They're cowboying it up at 3 am, eh?" and Millar started giggling. Just wanted to share that, in case you missed it.

--Carlos Guillen finally got put on the DL, albeit retroactively, so he can be activated again soon if need and hamstring be. May as well. His hamstring was sore, his knee is more delicate than the hollow bones of a hummingbird, it's just a good idea to solidly rest him for a bit. Tony G hasn't been the most productive of fellows lately, but he's being asked to do a bang-up job of it anyways, and Tram has said that he might give Omar Infante a game or two at shortstop, now that Polanco has got second base locked up. Next Saturday will either see Sean Douglass called up to pitch, JJ asked to pitch on short rest, or some other mystery pitching event. It's all very experimental in Detroit these days, but we shall see what we shall see.

--Stuff you should be reading:

-Good post about watching the Mets from Mike over at ECA.

-Mer was at two out of the three Cubs/Sox games and wrote about it.

-Tigers fans may want to get stories from the other side for this series with the Padres (and Red Sox fans may want to keep track of Dave Roberts). I recommend Friar Faithful and, of course, Ducksnorts.

-Bat-Girl is always good, but the commune of Bat-Girl writers has been nothing short of amazing lately. First a Dune parody with Minnesotans as the natives of the Atreides homeland Caledon (nice to see I'm not alone in my dorkitude, I guess), then a truly fantastic Back to the Future parody involving the kidnap of Sandy Koufax, then something incredibly disturbing involving the Twins coaching staff.

-Tommy Lasorda is trying to convince Dodgers fans to vote Cesar Izturis in at shortstop for the NL All Star team. He lists many reasons why Izturis is an awesome human being and baseball player, including the following:

Cesar is like a breath of fresh air.  He plays baseball like my wife shops…all day long.

Hee hee hee.

-Are you reading Witch City Sox Girl? Why the hell not? She's on livejournal, but not the scary kind, and she's practically my neighbor, in the town-sense. I'll stick her over on the sidebar as soon as I feel like not being lazy again.

-The Dugout takes on the UM softball championship, complete with The Farns cameo. Can't go wrong, really. Also, this. Basically, if you are not as completely obsessed with the Dugout as I am, I am not sure we can be friends.

-Oh hey, and don't forget about your All Star voting, as we discussed yesterday. Remember, kids: Teixeira at 1st, whoever you like at 2nd, Guillen for short, whoever you like for 3rd (*cough*Inge*cough*), either Pudge or 'Tek for catcher, DaMeat for DH, Damon/Hunter/Trotter for outfield. We can make a difference! Especially you should vote for Guillen, to Right a Terrible and Immense Wrong.

Vote, you lazy sods.
1:04 AM