Friday, June 10, 2005

Got those pesky Cardinals by the throat! For one game, at least.

I'm behind. I know, I know, bad blogger, bad! I am chastened. I am shamed. Etc.

In the interest of streamlining things somewhat, if you want to read about Boston's draft you should just hop on over to Firebrand, and if you want to read about Detroit's draft you should hop on over to the Detroit Tigers Weblog. If you want to read about the Michigan softball championship game you should check out Mgoblog's liveblog of the event. Actually, even if you don't care a whit about softball you should probably read that, I was giggling out loud at points.

There's not much I can say about the draft (because I'm not one of you crazy people who follow every college and high school baseball player in the entire universe), except for the following points:

--I turned on the draft internet radio broadcast right around 12:30, because I wanted to listen to the first round. The draft was not actually happening, they were just talking about various players and speculating and whatnot. Turns out the whole thing was delayed because they did a roll call, and one team was missing, so they couldn't start the draft. What team?

The Yankees.

I kid you not.

--All the chatter on Red Sox draft pick relief pitcher Chris Hansen is about how he could be up with the big club as early as September of this year. Woah now. I know our bullpen has been, ah, less than stellar in recent games, but this strikes me as crazytalk. I don't care if the kid's as polished as the crown of David Wells' head, college is still quite different from the majors and I wouldn't expect him to be able to transition that quickly. Maybe he can. Huston Street jumped up pretty quickly. But I wouldn't count on it.

--Cameron Maybin is, by all accounts, a stud draft pick. He may even have taken the coveted (*cough*) 'Most Exciting Position Player in the Detroit Minor League System' title away from Curtis Granderson. He's also kind of cute, in a 'holy crap baseball players are now officially starting to be younger than me OMG I'M OLD' kind of way.

That said, I'm about 8 times more excited that the Tigers have drafted catcher Jeff Kunkel, because, well. He may not have the most majestic stats (he's batting .289 lifetime for Michigan, and it's not like the Big 10 is the most dominant baseball conference out there), but he's a Wolverine and I'll get excited about it if I damn well want to.

--Other Wolverines taken in this year's draft include second baseman Chris Getz (ChiSux), LHP Clayton Richard (ChiSux), RHP Derek Feldcamp (DRays), RHP Jim Brauer (Marlins), RHP Michael Penn (Royals), and first baseman Kyle Bohm (Blue Jays).

The ChiSux took Getz in the 5th round, and I tend to think that's a bargain. Every year he's played at the college level he's taken more walks than he's had strikeouts and has batted above .300. Perhaps he has signability issues, though... I believe he was originally drafted in 2002, out of high school, and opted for college.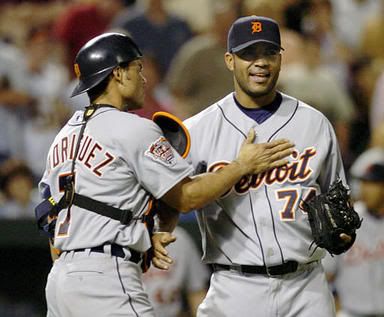 OK, now that that's out of the way, we can move on to more important matters, like the question of who Pudge will kiss now that Ugie has been shipped off and fitted for red pinstripes. I kid, I kid. Obviously I mean more important matters like who was it that Ugie was brawling with after getting smashed on the team plane.

We were discussing prime candidates over on the Tigers 'board, and here are the possibilities as I see them:

-Kyle Farnsworth. Great big dude, and we certainly know he has a temper on him (clubhouse equipment in Chicago says 'hi'). Also, he's in the bullpen, so he's all close-quarters with Ugie and whatnot.

-Dmitri Young. He speaks his mind and pretty much takes crap from no one, so if Ugie got really drunk and said something that DaMeat did not like, I have no doubt that DaMeat would have let him know. Possibly by rising out of his seat on the plane like the riteous hand of a wrathful god to smite him, but if you figure that the rest of the team was there to keep him from actually killing Ugie, he becomes a definite candidate here.

He's also very, very big on sticking up for other guys, so if Ugie started railing on one of the Tigers, I wouldn't be shocked if DaMeat leapt to that guy's defense. "Raggin' on Percival? Oh you wanna do that where I can hear you? GET BACK HERE BITCH, I'MA CRUSH YOU LIKE A CRUNCHY BEETLE."

-Kirk Gibson. Bench coach for the Tigs, and as someone on the messageboard pointed out, he 'lives for shit like this'. I just wouldn't be surprised, ever, if someone said that a brawl started up in some way and Gibby was right in the thick of things.

-Brandon Inge. A scrappy little guy who wears his socks up and has been a lifetime Tiger... I could see him taking offense to something spouted by a drunk Ugie and scrambling over some seatbacks to get to him, tiny scrap of goatee bristling menacingly. OK, well, maybe not menacingly, per se, but a wee little amount of bristling for sure.

-Pudge Rodriguez. I know. I know. Pudge and Ugie are best friends 4-eva! But best friends fight, and Pudge doesn't strike me as someone who would be particularly amused by teammates getting drunk and raucous on flights. Plus there's that whole 'he has an injured hand all of a sudden?' saga, although the timing doesn't match up (flight was Sunday, Pudge didn't sit out until Wednesday). It's still hilarious to contemplate.

So, beyond all that, and the fact that the trade was perhaps rushed a bit because Ugie was suddenly not getting along very well in the clubhouse, what of it? Obviously it caught everyone off guard-- Ugie was expected to get traded, but we were all thinking later (closer to the trade deadline, anyhow) rather than sooner, and we were all thinking prospects, or at least prospects-in-addition-to-[insert random name here]. To trade him now, for Placido Polanco and, uh, Placido Polanco's immense jaw, well, that's just not what anyone was expecting.

Straight-up trading Ugie for Polanco (we're ignoring Ramon Martinez, can you tell?) means two things, namely that a) the Tigers have a lot of confidence in their bullpen sans Ugie, which means that they think Percy can stay healthy*, they think The Farns will continue to be a dominant strikeout reliever even with more pressure on him, and they think that everyone else in the bullpen (Walker, Spurling, Ginter, German) will continue to produce like they have been doing; and b) the Tigers are not giving up on this season just yet and are willing to take a quick fix of offense over developmental prospects.

I also think that Omar Infante is young enough that the Tigers can send him down to AAA to get his at-bats and let Polanco take secondbase this year. Polanco's only on a one-year deal, and Omar's perplexing issues at the plate don't have the death-knell look to them that Pena's did. He's young, he's probably still got some residual soreness in his shoulder. Let him be a 'prospect' for the rest of this year, and hope he produces more next season... maybe not the ideal policy, but not one I have a huge problem with.

As for the Sox.... well, who among us did not tremble in abject fear when Keith Foulke came out and allowed two men to reach? Who among us did not see David Wells in the dugout, nervously leaning on the railing, and who among us did not feel a great sympathy for him and the possible fate of his shut-out? I think we all felt that one.

Which of course just served to remind me how even the best closers can very suddenly and very prominently go bad, which was perhaps another reason for dealing Ugie so early... he's been hot now, and that might not last to the deadline.

Anyways, it was nice to see Wells go out there and look like he knew what he was doing, on the mound at least. At the plate, there are three kinds of batting pitchers: the guys who can't hit at all and look lost in a batting helmet, the guys who treat the whole thing like a huge joke, and the guys who can actually hit. Wells belongs, very firmly, to the first category.**

How scary is it that I saw a little guy come up to the plate with 'Schumaker' on the back of his jersey and shouted out, "Skip! Skip Schumaker!", mere moments before Don and Remy told us that this was Schumaker's first major league at-bat and his first name was indeed Skip? He's a minor leaguer in the Cardinals system, why in the hell did I immediately recognize him? I think it had something to do with the fact that I saw him at some point in spring training this year wearing high socks, which is very unusual for a Cardinal (they have stripes on them, and look old-school), so it must have made an impression on me. Still, scary.

I also just want to point out that there has never been a more overhyped fanbase in this league. 'The Best Fans in Baseball' my coccyx, those people were booing Edgah like he had a giant neon sign saying 'Boo at me!' pointing to his head by the third game. I'm not saying booing someone who leaves your team for a more glamorous club with more money is necessarily a sign of bad fans, but for a fanbase that's said to be one of the classiest and nicest in baseball, it's absurd.

You can't have it both ways, St. Louis. Either you recognize what the guy did for you in 6 years and ignore his departure, or you rag on him and become exactly like all those other 'mean' fanbases you pretend to be superior to.

Yes, I did see the Red Sox Queer Eye episode. Naturally. I have say, it was pretty funny, but not nearly as wonderful as it could have been. There was an awful lot of hanging out with the wives, which I guess makes sense-- the guys were probably all rather busy, and they probably only agreed to this in the first place if their wives would be prominently featured (look at me! So not gay! Look at my wife!)-- but it wasn't as funny as it therefore might otherwise have been.

There were still undeniable highlights, like the fact that there's a wrestling-champion-style belt that goes around the Sox lockerroom and is given to whichever guy happens to be the funniest at that time (at the time of the filming, the belt was in the posession of Doug Mirabelli), or the fact that Millar and Mirabelli torment each other, or the fact that Johnny Damon was clearly the least bothered by the idea of a very gay man rubbing his chest, out of all the guys involved, or the fact that Wake appeared to be about 8 times more level-headed and mature than anyone else there.

Jason Varitek was also magnificent, from his dramatic arrival in terrycloth (the very first things Carson went for when he saw 'Tek were the thighs... I swear, before he even saw 'Tek's face he was calling him 'Quadzilla' and attempting to lift the robe up. Nice to know the ladies are not alone in noticing this) to his stoic reception of the back-waxing, which was made more impressive by the squealing of Millar and Wake when submitted to similar treatment.

There was the tedious business with the small, heart-warming children, and as usual they went a little heavy with the product placement ("Let's go to DUNKIN' DONUTS, where we can drink DELICIOUS DUNKIN' DONUTS BEVERAGES, and also have donuts! Let us display this BOX O' JOE prominently so that all may see how we are consuming DUNKIN' DONUTS products while sitting inside a fine DUNKIN' DONUTS establishment!"), but it was all worth it.

The only part of the show that I was actually offended by was the pink Sox gear the Queer Eye guys were sporting at times. I don't care if you're a sorority girl or a gay TV personality, no one should ever be wearing pink Sox gear. It is an abomination, and yeah you all know my thoughts on this, I'm not going into the rant again. Anyways. You have to gain a lot of respect for these guys, for doing the show, and anyone who has a problem with it can blow it out their ass***.

As usual, I have no good way to close this out, so have some random observations that have been on my mind lately.

--Colorado's pitching staff in stuck in an interesting conundrum. No good pitchers want to go there, because they know that having all their home games at the steady launching pad of Coors Field will kill their stats. So the Rockies are stuck with guys who aren't all that good, but they also get stuck with guys who were good or should be good and are trying to jump-start their pitching careers again. These guys can't get a job anywhere else, so they have to come to Colorado. The problem, of course, is that Colorado is the worst place in the majors to try to jump-start your pitching career, due to the aforementioned launching pad nature of the park.

The upshot of all this, of course, is that it all goes 'round in a vicious little circle of pitching suckitude that ends in no one on the starting pitching staff being able to boast an ERA under 5.00, and Byung-Hyun Kim being called a starter again, while the bullpen boasts such luminaries as Matt 'burn out faster than a match in a highly oxygenated environment' Anderson and the infamous Blaine 'sign of surrender' Neal.

--Adam Hyzdu, former Sox minor league dude we all kind of liked, was designate for assignment by the Padres sometime around May 4, and hasn't been heard from since. I don't think anyone's picked him up, so we're left with the mental image of him wandering around from team to team, nomad-like, wrapping himself in a sackcloth robe, looking for a city to call home.

--Gabe Kapler has apparently been doing not so hot out in Japan, to the point where he had been hitting .153 in 38 games and has, the last I heard, been 'deactivated' by the Yomiuri Giants. Ouch. You pack up your family and your things, you fly halfway around the world to play baseball, you don't really speak the language or know anyone there, and you end up riding the pine because you're not hitting your weight. There are many reasons to like Kapler (one of The 25, beat the snot out of Tanyon Sturtze in The Brawl, very smart guy, used to sometimes bring 'socks up' mojo to the Tigers, Jewish, abso-fucking-lutely gorgeous, etc.), so this news is distressing.

--I saw a little of the first (or second?) game in this most recent series between the Yankees and Brewers. Not only did I learn that A-Rod and Jeter together make more than the entire Brewers roster (due to a clever sign in the crowd), I also discovered a marvelous thing that the Milwaukee fans do when first baseman Lyle Overbay comes up to bat. The entire crowd raises their arms and makes giant YMCA-style 'O's, while chanting, "Oooohhhhhhhhhhh..." It is impressive and I was unspeakably delighted to see them do that. To see the fans showing that level of enthusiasm, creativity, and initiative... it gives one hope for the fate of baseball in Milwaukee.

--Bill Mueller had a fantastic day at third on Wednesday. It was so defensively awesome that I found myself completely ignoring the fact that he inadvisedly shaved his goatee off. He is still hot. Women (and perhaps some men with good taste) everywhere heave a sigh of relief.

--The Tigers scored only 1 run on Wednesday night, and that was a single-run homer. Hit by Jason Johnson. Yes, the pitcher. The American League pitcher. I watched the video of it up on the Tigers site, and Pudge (wearing his jacket, as he had the night off) was laughing loudly and clapping while JJ rounded the bases. And rounded the bases. And rounded the bases. It might have been the slowest trot around the basepaths I've ever seen, and David Ortiz doesn't like to hurry himself unduly.

--Much thanks to everyone who checked in and commented on the last post. It's awfully nice to see that other people enjoy my descents into madness and time-wasting. Seriously guys, I do appreciate it.

--For the sake of a little early nostalgia... one last time. *sniffle*


*I'm not wholly convinced. Flexor pronator muscle mass pain is sometimes an indicator of UCL problems, and with Percy's age and injury history... well. I'm just not convinced, is all.

**An example of the second category would be Pedro Martinez. An example of the third category would be Jason Marquis.

***It's my blog. If you come here and are the sort of person who thinks 'teh gayz are teh wrong and should be removed from the public eye before they corrupts our precious childrens!', seriously, you can blow it out your ass. Thanks for stopping by and reading!
12:34 AM