Tuesday, June 21, 2005
Ah, the times, they are a-changin'.

I hinted a couple of posts ago that things would be changing around here at Blue Cats and Red Sox, and so they have. I'd gotten the impression (possibly mistaken, but eh) that the Red Sox people could really do without the Tigers content, and the Tigers people could really do without the Red Sox content. There's also the fact that this is, after all, Blue Cats and Red Sox. Lions and Sox. The Tigers, originally, didn't exactly figure into the writing plan.

I'd been idly thinking about ways to streamline things for a while, so when Evan asked me if I'd like to get in on the Most Valuable Network Internet Empire, I figured it would probably be the best for everyone.

So! I hereby declare that Tigers content will now be posted over at Roar of the Tigers! Click the banner* to get there.




What does this mean? Both this site and RotT will be updated regularly (read: near-daily), but RotT will be all Tigers and AL Central stuff, while this site here will go back to Red Sox, AL East, other random baseball that catches my eye, and, in the fullness of time, football. The 'trademark' 'humor' that I deposit on the internet will continue to be in both blogs. All the features (like Fun with Roster Photos) will continue to be posted over here, but bad poetry may appear in both locations.

I realize that most of you kids will probably not add that link to your daily list of sites to check out, but I hope at least a couple of you will, because I plan to go all out for this thing. I've never worked with a blogging partner before, so I hope he's prepared to be freaked out.

With Tigers content cleared out, expect some Lions news to show up here relatively soon. And, for those of you who look forward to such things, the next Fun with Roster Photos will be coming up shortly, and we're going Orioles.

All that business done with, we can get onto the important things, namely, the fact that we have finally discovered why Alan Embree sucks so goddamn much.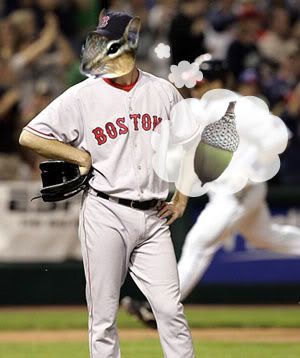 Yes, it is true. Not only does he look like a deranged chipmunk, especially with a cheekful of chaw, he actually is a chipmunk. He's been distracted by thoughts of acorns while on the mound recently, and this has made it nearly impossible for him to pitch well in relief.

Now, you can't make a leopard change his spots, and you can't make a chipmunk change his stripes. We can't make Embree's weak, brittle chipmunk forelegs throw any harder than they're already doing, and we can't make him into a creature who wants to eat opposing batters instead of acorns and other assorted nuts. These days it seems like the only option is to find a nice sandy burrow for Embree to live in, somewhere far away from Fenway, and somehow pick up a relief pitcher who is not a chipmunk, or any other sort of small rodent.

This game ended up being far closer than it should have been, although to their credit the Inbreeds played pretty solid ball for most of the time, as we've recently come to expect from their racistly-logoed club. Wells seemed to suffer standing blackouts when he had two outs, simple fielding plays were made much more difficult than they had to be, and of course THE FUCKING BULLPEN did its thing.

I'm calling the high point of this one the 3-run homer that Manny hit. There would be other homeruns in the game, but this was the most lovely. The ball was down and away, and Manny just reached out and grabbed it with the head of his bat. It didn't even look like he killed it, but it lofted majestically up and Manny dangled his bat for a second before letting it theatrically drop, a move that made me squeal with glee but probably made Inbreed fans want to kill him.

Jerry Remy was in top form tonight, giving us the following gems:

On how CC Sabathia fell off the mound sideways after a pitch, "It's because of his tilted hat, it unbalances him."

On the vast swarms of flying insects that inundated The Jake tonight, "I think those bugs'll look great in HD... you can really pick out the detail on those bugs, y'know?"

On the Cleveland writers, while the camera focused on them, apparently referencing this incident which involved a bit of an altercation between Boston and Cleveland media, "Look at them. A motley crew."

Oh, and you know what? If we have to listen to that assinine indian drumbeat thing that they play between pitches when Sox pitchers are on the mound for two more entire games, I might have to resort to breaking small pieces of crockery. Annoying, constant drumbeat, the invasion of the insects... I noticed they had one of those volume indicator things on a ribbon board at one point.

The Jake does not sound like a particularly fun park.

edit: Stuck up a slew of links to RotT on the side, so you can always reach it from this site. I also finally put up links to a few Sox sites I'd been meaning to link to whenever I decided to not be lazy: Witch City Sox Girl, Reb Sox, 12eight, and Red Sox! you are the only, only, only....

That last is the livejournal of commentor Cathryn... yes, livejournal, yes, occasionally the scary kind. But she seems like a relatively cool person, she also writes about the Tigers (and Astros, randomly. Also randomly, I think I'm going to be at a Nats/'Stros game in DC this July), and, well, yeah. If you're brave enough to handle the scary livejournal, this is a pretty good one to go for.

Witch City Sox Girl, while livejournal, is, as I've said before, not the scary kind. :)

*For the record, I had nothing to do with designing this banner, it was there long before I was. And yes, if I had my druthers, it would be quite different.
1:19 AM