Sunday, May 01, 2005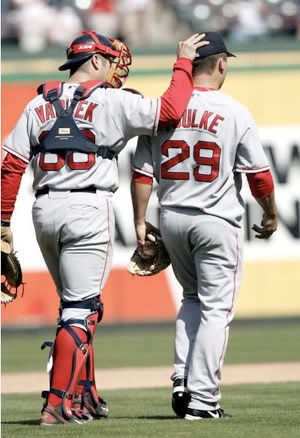 Just a few quick notes from over the weekend, since I figure tomorrow night will probably be a doozy of a post, what with the whole 'Tigers playing the Red Sox' thing and all. Sarah's gonna be there and a kid I know from th'University is working in Comerica that night. Mike, you lucky bastard.

In Friday's Tigers game Craig Monroe was hit by a pitch. In a very unfortunate location. I hadn't seen the game but Ian had been kind enough to give the following commentary:

OHMYGOD!! Craig Monroe just got hit in the cookies by a pitch. Bam-o! Right in the jewels. Of course he's down on his knees! No cup's gonna keep that from hurting. That's gonna leave a mark. Okay, his teammates are laughing, so Monroe must be okay. Watching someone get hit in the nuts usually is pretty funny, even if it makes a guy's stomach clench.

Naturally I was sad that I missed this, but I noticed that the official Tigers site had a video up that was cryptically named 'Monroe's HBP'. Gosh, now why would they put up video of that sort of thing? That can't be what I think it is. But lo and behold, I clicked, and it was. Bless you, Tigers website administrators, bless you.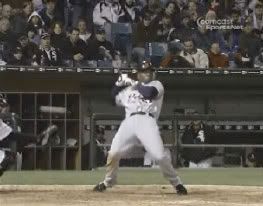 The ball has hit and ricochets off towards the catcher.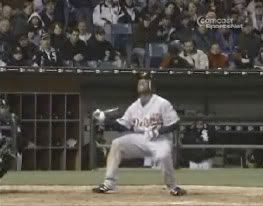 The pain hits poor Craigger.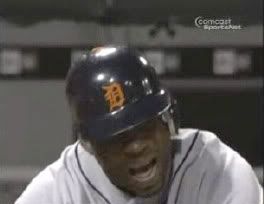 "YeeeeAAAaarrrgggh!"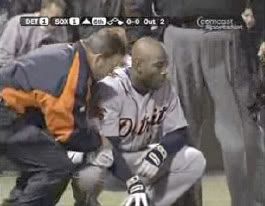 "Yes, it really fucking hurts."

edit: OK, Mike has given me a heads-up on the Craig Monroe thing. Apparently, and I'm still wrapping my mind around this, but HE WAS NOT WEARING A CUP at the time. Oh goodness. That powerful ricochet looks a lot worse now. Quoth Craigger: "I've never worn a cup," he said. "It's not comfortable, but I might have to now." Yeah, Craig. You may want to do that thing. /end edit

Today's Tigers game was just ugly, with Ledezma walking four, chucking a wild pitch, hitting Paul Konerko (which later prompted Jon Garland-of-daisies to throw behind Rondell White, an act to which Rondell mildly objected, leading to the interference of a concerned umpire and a casual emptying of the benches-- no brawl, though), and oh yeah, BALKING TWICE IN THE SAME GAME. I know he was on 11 days rest due to all those snow days. I know he's still young and developing as a pitcher. But a game where your pitcher does all that, while the other guy goes the complete 9 innings and throws a shutout, that's just plain old hideous.

The Tigers game before that had featured a relatively good outing from Jason Johnson that just got away. One run games. Urgh.

The Red Sox, on the other hand, have won their last two. This afternoon was a disgusting display of pitching issues on both sides. I think Ryan Drese had thrown something like 97 pitches in the 4th or 5th inning, and Clement, back to his usual wild self, didn't do much better. Still, the final score of 6-5 is deceiving, as Texas got two runs in a cheap-shot homer off of Keith Foulke at the very end of the game. I wouldn't have been surprised to see the Sox lose this one, though, their play was as dull as the dying gleam in Derek Jeter's eyes. We're just lucky that the Rangers were even more ineffective.

The game last night was similar and prompted me to write, in my notes, things like

"Through 7 innings, Bronson's line looks pretty good, but he doesn't. Every at-bat is something of a battle with him, with his control looking very iffy. It's like he's trying to nibble the outside corners and is instead taking huge, yawning bites of the area outside the outside corners. In normal-person-speak, he's getting behind on basically every batter, even though he's got a season high of 5 strikes. Settle, Bronson. Settle," and,

"Bronson needs to either cut the hair or let it go back to curling, because the voluminous-but-straight thing he has going on is simply retarded. OK, Bronson? That is awful hair. Like your hair is the fat kid with the tshirt a couple sizes too small and the tin Sailor Moon lunch box sitting on the back of the bus by himself because even the band geek who plays the flute doesn't want to be associated with him. That is what your hair is like, Bronson."

It is awfully good to see Bill Mueller back, and wearing the high socks too, even if he is playing second base. I suppose it's only right, as he's the one who got Bellhorn sick in the first place, but it's definitely disconcerting. Still, Bill Mueller. Back. Wearing messy eye black and high red socks and mmmmmmhmm.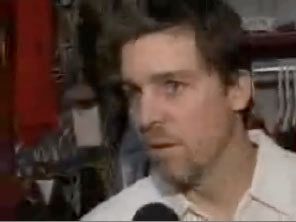 Mueller talking about how he needs to get back up to his playing weight after the flu.

That's about it, I don't want to get into this weekend's games too deeply, since you'll be hearing quite a bit from me on this upcoming series.

Oh, except I'd like to say something to you readerfolk. First off, thanks to everyone who's been stopping by recently, my hit count has gone up quite a bit and I do appreciate the fact that some of you take the time to write in comments or to email me with comments.

But the people who have been reaching this site via searches for "michael cuddyer naked" and "joe mauer twins photograph naked shirtless"? Despite the disturbing nature of your search terms I would welcome you as readers to my humble slice of internet, but how the hell are you getting here by searching for Twins in varying states of dishabille? Red Sox! Tigers! Football! Not Twinkies!

Although, upon reflection, I probably wouldn't object to a photo of shirtless Joe Mauer.
8:06 PM