Saturday, April 23, 2005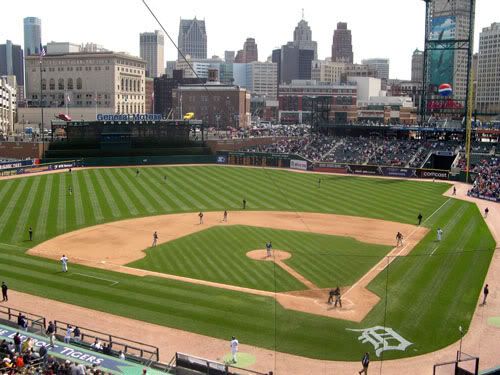 This is the view from the luxury box we were in at Comerica.

Well, I'm sitting in the car, driving back home… my iPod battery doesn't last longer than 8 hours, and as it's an 11-12 hour drive, I'm using the laptop iTunes for music until we get into range of WEEI and I can listen to crazy people for entertainment. We just drove over the Connecticut River, effectively taking us out of western Mass. I will post this when I get home.

The early morning Detroit sports radio was, of course, draft talk. Marc Spindler, former Detroit Lion, was on the show (for a segment called 'Spindler's list', which is its own special set of issues), and they were discussing how, when Joey Harrington was first drafted by the Lions Matt Millen declared that they'd have to start calling him 'Joe', because Detroit would not tolerate a guy named 'Joey' as their quarterback.

This created an outcry among Detroiters, presumably ones who had no problem with a guy named Joey or, perhaps, were named Joey themselves. Spindler declared that the issue here was that, "People just got upset at the implication that you couldn't have a quarterback named Joey because it meant he was a fag."

The other radio guy attempted to say that he didn't really think this was the problem, you know, maybe not quite in those words. But honestly, what can you expect when you put a former football player on the air? He'll always be Joey Harrington to me, anyways, and I will bloody well love him for it.

Oh, man, WEEI just came in, we're right near downtown… AAAAH I CAN SEE THE CITGO SIGN I CAN SEE THE CITGO SIGN YAAAAAYYYYYY. Anyways, they're playing clips from callers for the Big Show or whatever the hell it's called, and every other clip is some guy saying "Wells, shutaht, Clement, shutaht, what's the problem with the Sawx now, huh?" or "We destroyed thaht lineup, you guyz wannah complain about the Sawx now?"

What has happened to WEEI? Have they… have they mellowed?? Are people now content with the team? This is sheer madness. So much has changed since I have been away.

Oh, and if you haven't driven into Massachusetts from the New York throughway recently, the very first thing you see, right next to the 'Welcome to Massachusetts' sign, is a 'New England Patriots-2005 World Champions' sign. About a mile beyond that is a 'Boston Red Sox- 2004 World Champions' sign. Let me assure you, it is more than pleasant to come home and have those signs welcome me back into the state. I'd imagine it's a bit bittersweet (or just plain old bitter) for all the New Yorkers driving in, though.

The latest news on Magglio Ordonez, by the by, is that he definitely, conclusively… will not be playing for a bit. Seriously, we have no idea what the fuck is wrong with him. The hernia? He went to a hernia specialist in Montreal and it turns out that it might not actually be a hernia after all. He was supposed to be getting a bone scan yesterday to ascertain if there was a problem with his pelvis.

I don't even know what to say to this anymore. It would be comical if it wasn't so detrimental to the team. The knee will give him no problems, worry not! But, whoops, he's got the flu. Oh, sorry, it's diverticulitis. And now it's a hernia! And now it's… maybe not a hernia! Maybe he's got a fracture in his pelvis somehow. Maybe he has kidney stones! Maybe he has appendicitis! Maybe he has really bad, persistent gas! Maybe he's pregnant.

I think that Magglio Ordonez's Mystery Ailments are getting a space in the Blue Cats corner all their own.

I do rather like the latest Magglio Ordonez vs. Ozzie Guillen ranting that's been going on. Maggs apparently said, of Ozzie, "We never clicked, even when we played together. I don't consider him my friend. I have nothing to say. I don't want to see him. I don't want to talk to him. He's my enemy. Even if he talks to me and tries to apologize, I won't accept it." Which, OK, a bit harsh, but he didn't exactly go out of Chicago with sunshine and puppies.

Ozzie's responses, however, have been nothing short of hilarious. I quote, from the Chicago Sun-Times, with the bleeps replaced by the actual words because we're not exactly catering to a sensitive family audience here:

''He's a piece of shit. He's another Venezuelan shit. Fuck him. He thinks he's got an enemy? No, he's got a big one. He knows I can fuck him over in a lot of different ways.

''He better shut the fuck up and just play for the Detroit Tigers. Why do I have to go over and even apologize to him? Who the fuck is Magglio Ordonez? What did he ever do for me? He didn't do shit for me. But he said I'm his enemy -- he knows me. Tell him he knows me, and he can take it how he wants to take it.

''Did he play good for me? Yes, he did. Did he play hard for me? Yes, he did. He might like me. He might be sensitive of me. He might be jealous of me, I don't know why. But saying I'm his enemy, he hates me, I could care less what that fucker thinks. I don't give a shit what he does with the rest of his life. He fucked with the wrong guy, and he knows that, too. He knows for a fact that he fucked with the wrong people.''

Woooaaah now Ozzie. Dude, calm down. "He knows for a fact that he fucked with the wrong people"?? What are the White Sox, the Mafia all of a sudden? I mean, yes, that's hilarious, but someone needs to take a great big deep breath and maybe stop popping the greenies so often, OK?

Now, yes, we went to the Tigers/ChiSux game on Thursday. Only I'm not sure how much longer I can keep calling them the ChiSux, because recently they have most emphatically not sucked. I do believe they are currently leading the division. I may have to steal Bat Girl's nickname and start calling them the Bitch Sox.

The luxury boxes at Comerica are lovely. You get a great view of the park and the Detroit skyline, and ours was just on the third base side of home plate, so we could see the strike zone pretty well and could also see right into the ChiSux dugout. The seats are padded on the bottoms, and I don't think I realized what a huge difference this would make until I spent a game sitting in them. Blimey. Let me tell you kids, it makes rather a lot of difference.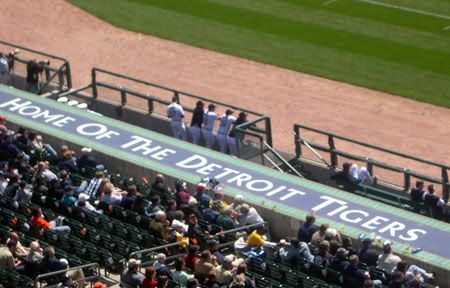 Tiger dugout. The uniformed guy all the way on the left is The Anonymous Jason Smith.

The indoors portion of the box was nice as well, although I didn't spend much time in there… none of us did. There was a computer, and I got all excited when we walked in and saw it, figuring I could go online between innings and do all manner of things. I ended up going in at one inning break to see what was going on in the Twins/Royals game (they kept flashing up the score in the outfield, it was a crazy one). I came back out right before Infante started off the inning, and reported, "Twins fans are pissed at Gassner," already snapping my eyes back to the field. I guess I'd much rather watch the actual game than hang out in a fancy box and be in the general vicinity of the game. The great thing is that there's no line for the bathroom, though. That alone is probably worth it.

We only had 5 people in the entire box—me, my dad, my dad's friend Mitch, his son Brad, and the guy who owned the box, Scott, who knows my grandmother and is a very nice guy (not least because he got us into a luxury box). We got there early enough to see the teams stretching on the field. I got terrifically excited when Brandon Inge started tossing a ball around with The Anonymous Jason Smith right in front of their dugout, where we had a really good view of them. Naturally I tried to take pictures, and just as naturally they won't come out, because I have a zoom that's less powerful than you would get by taking a picture through a cardboard tube.

Carlos Pena was not playing, leaving first base to Dmitri, which is never a really pleasant prospect. Boston fans can get a handle on the situation by picturing David Ortiz at first base, when you could have someone who's much closer to Doug Mientkiewicz than Kevin Millar out there. We came to rue this late in the game, when Jamie Walker gave up a hit that flew past Dmitri and scored the two runs that put the ChiSux up for the lead they would eventually win by.

Now, in Dmitri's defense, he was playing way in at the time, so it was a difficult play to make anyways. Millar wouldn't have made it either. But Carlos Pena probably would have, and that's always a painful thought to have.

The only homerun of the game came off the bat of Rondell White, and it was a lovely one. When Rondell rounded the bases, he got fist-bumps from the third base coach, and whoever was on deck, and everyone in the dugout. Except for Pudge. Pudge trotted up the steps and gave Rondell a great big hug. Then Rondell continued down and got fist-bumps from everyone else. I'm not sure if I've mentioned how much I love Pudge lately, but maybe by now it should just be generally understood.



Fuzzy Pudge in the on-deck circle.

Jeremy Bonderman looked much better than his numbers for the day will suggest. He had a rocky first inning, loading the bases and walking one run in, but then he settled down and was just as masterful as Buehrle for as long as he was in. The problem came when Trammell came out in the 7th inning to pull him in favor of the left-handed Walker, to face Scott Podsednik.

There were a few issues with this.

First of all, Bondy did not want to leave. At all. When he saw Tram coming out of the dugout he turned around and walked off the mound in the opposite direction, glaring at the outfield and stomping around a little to convey his extreme displeasure. When Tram did get up to him, he shook his head and stomped back to the dugout with his jaw set. I wanted to hug him. We love you Bondyyyyy!

There were, at this point, men on second and third, and I believe one out, and Bondy believed he was perfectly capable of cleaning up his own mess. He either didn't trust the bullpen to do so, or simply didn't believe that they should have to do so. As he said after the game, "It's the bullpen's job to come in and pick us up, but in that kind of situation, I want to stay in. It was a tough loss." The sad thing is that despite the lefty-lefty matchup that Walker-Podsednik would bring, Bondy had already been dominating Podsednik all game—something like a groundout, base reached on fielder's choice, pop flyout, or some other combination of general pwnage.

Secondly, Bondy didn't really look like he had to leave. He was not struggling to spot his pitches any more than he had been all game, his fastball was just as fast as it had been, and it sure didn't look like he was reaching back for that speed with any particular exhausted desperation. I guess I could understand taking him out for the 8th and 9th innings, maybe, but to take him out for the 7th was absurd.

Thirdly, Walker may be a crazy lovable joker in the clubhouse, and he may be the most hilarious interview on the Tigers, but he's not a strikeout pitcher. He'll get guys out, sure, but he'll do it because he'll get them to pop out. Bondy can strike you out. The Farns can strike you out. I realize that he's a righty, but there is such a thing as playing the lefty-righty matchup game to excess. Sometimes I rather think you should go for the guy who can get a K than the guy who happens to favor the same hand.

"Bonderman pitched his heart out," Walker said. "I messed it up for him."

I realize the rationale here—the Tigers have made no secret of the fact that they're going to be keeping Bondy on a relatively strict pitch count, because he's such a promising young pitcher, and they don't want to burn out his arm by the time he's 27 or something. Fine. He was barely at 100 pitches when they pulled him, 110 or 115 to close out the 7th would not have made that big of a difference, especially in a game where you had only a slender lead, the tying and leading runs on base, against a division rival in a game you probably kind of had to win.

The other big complaint on the Detroit talk radio waves was that Tram should have had Pudge bunt when, late in the game, we had two men on base and no one out, and needed a run to tie it back up. Pudge popped out, and Dmitri behind him promptly hit into a double play, and there went the rally.

I don't have a problem with Pudge swinging away here. Despite the beauty of the bunt that Pudge laid down a few games ago, he's not a bunter. He's our number 3 hitter for a reason, you know. He popped out here, which was just bad luck, but he had just as much a chance of ripping one of his favored doubles and tying up the game. I don't think you can really fault Tram here.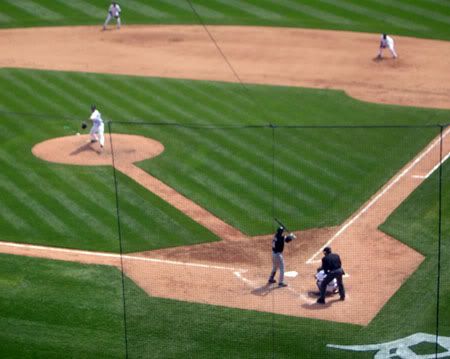 The Farns uncorking what the radar gun said was a 99 mph fastball.

I finally got to see The Farns live, and it was just as cool as I had thought it would be. As soon as he came out everyone's attention shifted to the board flashing up pitch speeds, and conversation shifted imperceptibly from pitch location and the strike zone to miles per hour. He came right out firing 96 and 97 mph, and got it up to 99 a few times, which made us all exclaim with excitement. He's just such a force on the mound, it's really something to see.

In person, you don't even have to see the pitch to know when he's throwing flameballs... with your eyes closed, you could actually hear the ball popping loudly into Pudge's glove when he really let loose with it. It was awesome.

After he retired the side, The Farns was waiting outside the dugout to thank the outfielder who had caught the last out of the inning (I forget if it was Craigger of The River Thames), and people were patting him as they walked by. At one point Dmitri paused to give The Farns a congratulatory pat on the butt, and I saw a startling thing. Dmitri, as we all know, is nothing at all like a little guy. Standing next to The Farns, however, he looked… well, much reduced. Not like David Eckstein or anything, I don't think Shaq could make Dmitri look David Eckstein-sized, but definitely kind of like a roly-poly little kid. I know the Tigers announcers are forever harping on it, but The Farns truly is a sizeable guy.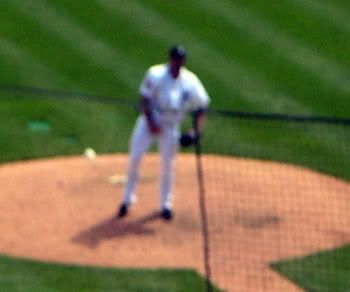 Fuzzy Farns 'adjusting' himself. God I need a camera with a good zoom so badly.

Ay, we're coming out of the tunnel and I can see Logan. Oh boy, oh boy, so close to being home! HELLO LOGAN IT IS NICE TO SEE YOU AGAIN YOU CRAZY ISLAND-BOUND AIRPORT YOU.

As should be obvious by the fact that I'm posting this online, I am indeed home, and there is ocean, and there are cats, and it is Good. Tonight I watched Michigan absolutely massacre Ohio State baseball on national television-- way to go, Wolverines. Jim Brauer went 7 innings with 10 K and 1 earned run. Outfielder Mike Schmidt had a pretty good day, and I mention him because he's a Red Sox fan and therefore awesome.

I also watched the Red Sox lose on a walk-off homerun in the bottom of the 9th inning to the Tampa Bay Devil Rays. To the Devil Rays! That is so wrong. It is more wrong than Kevin Youkilis in a cheerleadering outfit (you only wish I was joking there). Mark Bellhorn had one of his crazy Mark Bellhorn nights: stolen base, yay! Caught cheating too far off the bag, boo. Error on a Sanchez grounder, boo. Stand-up double, yay! Strike out, boo. Another double, yay! But in the end it was all for naught, as our very own Alan the Chipmunk snapped his gum and tossed out exactly one gopher of a pitch that Eduardo Perez sent into the Red Sox-dominated stands at Tropicana. Le sigh.

The Tigs, in any event, finally got over their extreme embarassment at the hands of the Twinkies and pulled out a win with a walk-off homer by, surprise surprise, Pudge. In the 10th inning, after the Twinkies had rocked ol' Percy to force the extra innings. Not pleasant. At least we were able to win a one-run game this time around.

And it is always nice to see this sort of thing after a game.
12:22 AM