Tuesday, April 12, 2005
This is gonna be photo-heavy. Sorry if it breaks your computer, but this can really best be said with photos, I think.

So I ended up, er, not going to digital class in favor of watching the 2005 Boston Red Sox Home Opener. I have absolutely no guilt about this. It was 110% worth it, and there is pretty much nothing in the world that could convince me otherwise.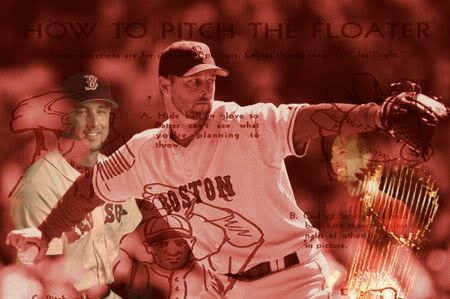 1995-2005 and, hopefully, beyond.

If you give a knuckleballer a cookie (or a Home Opener start), he's going to absolutely confuse the crap out of his opponents. The knuckleball was fluttering like only the most nectar-drunk butterflies can, the catcher was ready for it, the crowd was cheering for it, and Wake. Was. On. In true Wake fashion, we could tell right away whether or not he had it for the day, and have it he did. After 10 seasons with this team he got his first Home Opener start and made a gem of it. Thanks, Wake. For everything you've done, and everything yet to come.

For those who did not get to see the pregame ceremony, I took some cruddy screenshots off of MLB TV.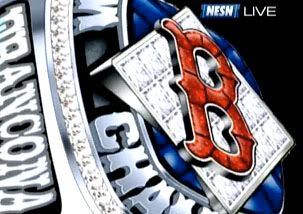 Sweet ring graphics used to introduce each player.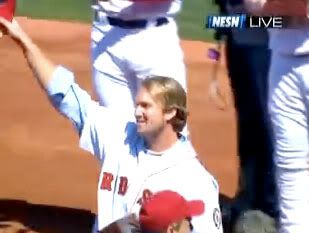 Welcome back, DLowe. Nice to see you again.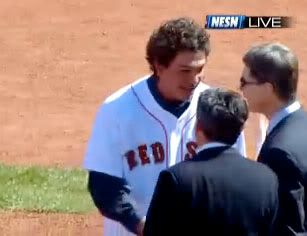 Abe Alvarez gets a ring!



Curtis Leskanic has the best hat. He needs to remain around this team in some capacity, maybe as a crazy color commentator or something.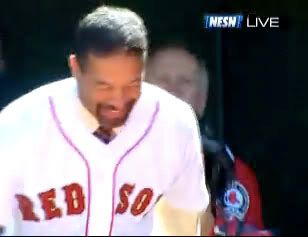 OHMYGOODNESSITISDAVEROBERTS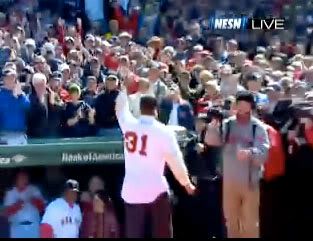 Aaaah Dave Roberts come baaaacck and never leave!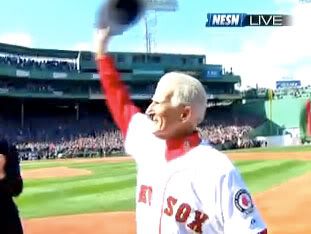 Johnny Pesky has his day. Finally.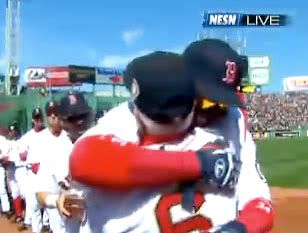 I want a hug from David Ortiz too.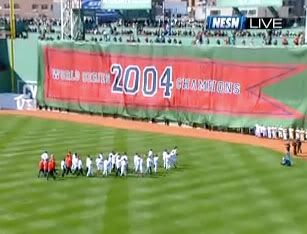 Ooo, shivery.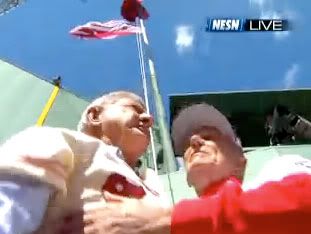 Yaz and Pesky raise the flag, how cool is that?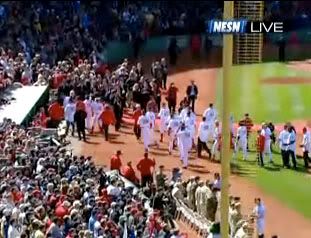 I'm not sure if you can see here, but there's a little figure in the bottom righthand corner shaking the hands of all the old guys lined up there. That's Trot Nixon. They were all supposed to be going back to the dugout, and Trotter broke away from the group to acknowledge all the old timers one last time. Oh, Trotter.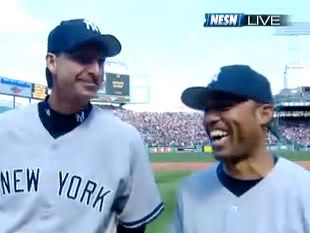 The Fruitbat gets a great big cheer from Fenway. Thanks Mariano! You helped us out tons! He took it pretty well and even managed to laugh at it. We decide that, unless he decides to start killing us again, we can kind of like the Fruitbat, much in the same way that one fondly tolerates the disgusting pet of a roommate, like a tarantula or something.

More highlights of the pregame festivities? The shot of Keith Foulke wiping a tear from his eye. Johnny Pesky getting hugs from everyone as he walked down the line of players. Pesky and Kevin Youkilis greeting each other by yelling, "Yoooouks!" and "Johnnnnyyyy!" respectively. Pesky saying, "Leskanic! You sonuvabitch!" when he got to Curtis. The Yankee batboy being booed when he was introduced. The ironic cheer for the Fruitbat. The sincere cheer for Joe Torre. The Yankees all standing in their dugout, watching the banner go up and the rings get passed out and actually clapping. Sincere or not (probably a range on that team), it was a nice gesture, and I'm feeling magnanimous enough today that I can commend them for it. Oh, and seeing two of the biggest and apparently most overworked hearts in Boston back out there: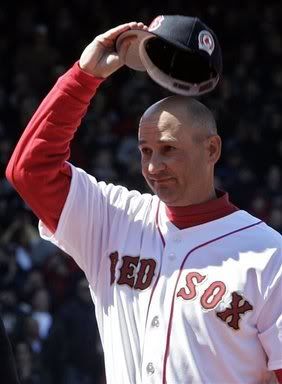 Tito, is damn good to see you up and going again.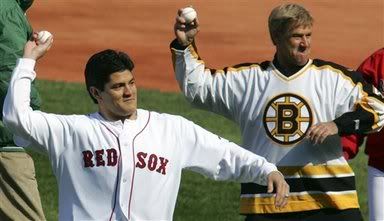 You too, Tedy. You too.

As for the actual game... well. Anytime we get a chance to use the phrase 'Dougie is a stud who hits bombs' in a nonironic fashion is a great day. Today, Dougie was a stud who hit bombs. Off of the Moose. Much to my delight.

I'm not sure what happened in the short time between the ring ceremony and gametime, but the eyeblack of everyone on the Sox appeared to have been hastily applied by a palsied monkey with arthritic hands. Some of them, like poor Billy Mueller, had gigantic splodges of black under their eyes, while others, like Trot Nixon, had weirdly fine and tailing lines. It was kind of disturbing yet also amusing.

A-Rod. Oh, Slappy McBluelips. How good you are to us. An error that broke open the inning for us? Really, you're too kind. He got a lovely 'Thank You A-Rod' cheer from the crowd, followed later by the rolling 'Aaaaaay-Rod. Aaaaaay-Rod.' chant, which sounds like the old Darryl Strawberry 'Darrrryyyyl. Darrrrryyyl.' chant. So saith Slappy: "I think I'm becoming a cult hero in Boston... I really don't want that at all."

And then Gary Sheffield lost a ball in the blazing Boston sun, which just made it all that much sweeter.

And later in the game, A-Rod made a routine play into something much more complicated, but managed to haul it in. The crowd gave him a standing ovation. It was hilarious.

Matt Mantei finally showed both the velocity and the control we need from him. He looked dominant for the short while he was out there. Really looked like the stuff we were hoping to get from a 100% bounced-back Mantei. It was a great way for him to be introduced to Boston. Plus, when he struck out Slappy I got to say "He really man-tied A-Rod there!"

In the 9th inning Jason Giambi hit a bouncer over into the Boston dugout. Damon and Youks were sitting on the top steps, and Johnny came sprawling out of the dugout to avoid the ball, arms flung up all overdramatic and suchlike. Youks, giggling heartily, hauled him back upright and back into the dugout. It was ace.

And, well, of course, we won. 8-1. Which is a pretty delightful score, any way you slice it.

I didn't get to see any postgame business, as I had to run up north right after the game to go monitor the fibers studio, but since I've already inundated you poor buggers with a ton of photos it wouldn't hurt to close this off right with a couple more.




This game was great. It was a great time to look back at those we miss and will love forever.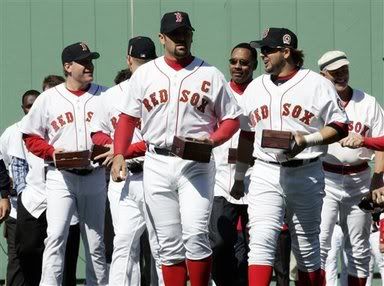 And it was an even better time to look to those who will lead us into tomorrow.
1:46 AM