Sunday, April 10, 2005
So I just had about the best Saturday ever.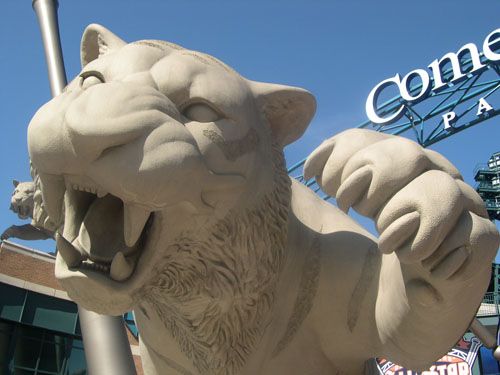 A few days ago my hallmate Nate poked his head into my room and said, "Hey, you wanna go to the Tigers game on Saturday?" Right. Yeah. As though this is a question that actually has to be asked, I am only the most insane baseball fan on the hall, on the floor, and probably in the building. Would I like to go see the Tigers game? Are the Yankees usually evil? Is the sky generally of a cerulean hue?

Saturday dawned bright and sunny and in the 60s, perfect weather for watching a baseball game, and off we went.

We were chatting as we barrelled down the highway, and I mentioned something about some aspect of Comerica or other, and Nate responded by saying, "I've never been to a game before." What? Like, no Tigers games? He is, after all, Michigan born and bred. He attended the same high school that graduated one Derek Jeter. He has a girlfriend who is a diehard Twins fan (and was going to the Twins/ChiSox game today... she kept calling to ask how the Tigers were doing and to tell us how the Twins batting practice was looking-- their game was later). And he had never been to a game?

"Nope. Well, I've been to triple-A. Or maybe it was double-A. The Whitecaps? [ed. note: they're single A] But yeah, I've never been to a pro baseball game."

Well, heck. I mean, I've been to Comerica a number of times, and I'd been to Tiger Stadium back when that was in use, and I don't even live in Michigan. I've met a lot of Michigan people like this, and it never fails to amaze me. There was a girl on my hall last year, lived in Michigan her entire life, had never been into Detroit until we went in for the Auto Show. Not once. I have a hard time fathoming this, but maybe it's something to do with how Michigan is such a big state compared to Massachusetts. Still seems weird to me.

Anyways, we made our way into Detroit with no trouble, parked in a garage in Greektown (cost us $3.25-- take that, $20 parking!) and took the PeopleMover to the park. The PeopleMover is hilarious. It was Detroit's attempt to create some semblance of public transit, but is a complete joke because it doesn't actually go anywhere useful (it dropped us off a couple of blocks from the park, for instance) and no one actually uses it. I don't think I'd known anyone who had used it before, so Nate and I were very excited to have the PeopleMover experience. There were maybe three people on it when we were there.

Now, we hadn't gotten tickets ahead of time, because we figured that the game wouldn't sell out, even though it was an afternoon game on a beautiful Saturday. But we did expect that we'd be sitting in the bleachers. After a short wait at the ticket window, we asked what was available. It transpired that there were tickets to be had in the lower deck. Behind home plate. For $35.

I think my eyes bugged out for a full minute before I managed to squeak, "OKthat'scoolsure!" and pay for my ticket. Because, lower deck tickets that you can get 5 MINUTES BEFORE GAMETIME? For $35?? I love Fenway, and I love the Red Sox, but this is just not something that can ever happen in Boston, ever. You can't just wake up on game day and say to yourself, hm, I think I'd like to go watch the game at the park today. In Detroit, you can. Heck, if we'd been willing to spend 60 bucks we probably could've still gotten front row seats right then.

The whole time we were in line for the tickets Nate kept saying, "I refuse to believe I'm going to be at a game until we're inside." Then we got the tickets, all lamely printed and bright orange, and he held his up with two hands and this look of utter happiness on his face, and said, "I'm going to frame this." Then we went through the gate, and were in the park, the Big Cat Club on our left and crowds on the right and the field right in front of us.

And Nate got this look of utter amazement and joy and awe and said, "It's... it's so green!" and "How much smaller are minor league parks? They must be way smaller," and "Those smells! Like everyone always says!" and "It's so green!"

We got to our seats, which were 35 rows back, granted, but still right behind homeplate and in the lower deck, and I expressed astonishment that we were able to just walk up at gametime and get these seats. And Nate was staring at the field, saying, "It's so close!" and "Look, it's Dmitri!" and "It seems to take so much longer between pitches on TV!"

And I pointed out the dugouts and how you could see into them and look, there's Craig Monroe whacking his bat against the bars, and there are the Indians all leaning out to watch Westbrook, and see the bullpens out there in the back? And that scoreboard out there, they'll update all the out of town games on that, and if you want to see how fast the pitcher is throwing you have to look at the ribbon scoreboard over here on the side because they don't put it up on the big board. And that's Vance Wilson, they must be giving Pudge the day off, he's our backup catcher, we got him from the Mets and he'll be good for us, and if we get a run in the General Motors fountain back there will shoot up, wait and see, and Nate was just spellbound with sheer happiness.

I swear, I felt like a proud parent or something, taking their kid to his first baseball game. I'd never been with someone who loved baseball but had never been to a ballpark. I guess if you go to a lot of games, or even a few like I do, you get sort of used to the whole thing. I mean, obviously it's still a great time and something to be cherished, but you appreciate it all anew when you get to see it with someone who never has before.

It turned out that we could have hardly picked a better day to go to a Tigers ballgame, and I'm not just talking about the weather.

Metropolis allowed one run and 7 hits in 6 innings, with 3 Ks and not one single walk.

Jamie Walker was our set-up man for two scoreless innings. I explained to Nate that in an ideal world he'd actually be just a LOOGY and only have to face lefties, and I think this worried him. Walker likes to get guys to pop out, so there were big high hits off of him that didn't do any damage, but after the 8th Nate turned to me and said, "I don't like watching that guy pitch, it makes me too nervous."

Brandon Inge was a homerun short of hitting for the cycle... in his first three at-bats.

Carlos Pena had a two-run homerun in the first inning. It happened so early that we actually got to our seats, looked up at the board, and realized the Tigers were already up by 2. We had to ask the guys sitting next to us what had happened. Carlos Pena has crazy salsa music for his at-bat song.

So does Omar Infante. I kept shouting "Let's go Omah!" in the most blatant Boston accent ever, just because I could.

Craig Monroe made a number of spectacular plays in right field, one of which absolutely robbed the Inbreeds of a hit that would have gone over the wall.

The River Thames made a delighful diving catch in left field that sent him bouncing over the grass. He also, you know, had the small matter of HITTING A GRAND SLAM in the third inning that sent the park into absolute pandemonium, everyone screaming and hugging and high-fiving complete strangers. All this after he had been called up from triple-A just the night before (after Opposite Nomar crushed his own hand) and had gotten about two hours of sleep.

It ended up being 11-1, Tigers. The only Cleveland score came off of a homerun hit by, yes, you guessed it, my EVIL NEMESIS Aaron Boone. Aaron Boone! He's like some hateful villian in a cheap novel, he just keeps popping up and doing evil things all the bloody time. But, anyways, it was a great game.

After the game we waited for most of the crowd to file out (didn't take too long, sadly) and then we wandered around and took a bunch of pictures, because it was Nate's first game and he would insist on pictures. You can see all of mine right here, they're very exciting.

At one point, when we were down leaning over the wall looking at the field (Nate: "It's SO GREEN!") a group of inebriated fellows behind us started yelling, "Michigan baseball sucks! Miiiichigan baseball suuuuuucks!" I was wearing a tshirt that said 'Michigan Baseball' on the back with big crossed bats, see, and Nate had on his Michigan hat, and these gentlemen were, judging from their attire, of the Spartan persuasion.

Drunken belligerence is about what we expect from Michigan State folk, though, so we merely chuckled heartily and made some choice remarks about football and gave them a thumbs-up, which caused them to launch in volleys of 'Michigan sucks! Michigan sucks!', which just made us laugh harder and caused Nate to shout out, "Yeah, I'd like fries with that, thanks!" "Regular unleaded, please!" I added. They got rather red in the face and had no adequate comeback to this, other than more 'Michigan sucks!' chants. Oh Michigan State. Maybe one day you will not suck so hard, but today is not that day.

Then we had to go outside the park and take pictures of the tiger statues, naturally (Nate: "Look at that bat! It's HUGE!"), because the tiger statues are unspeakably awesome. Because it was so nice out we decided to walk back to Greektown instead of taking the PeopleMover again. I at this point realized that I had gotten very, very badly sunburnt. Like, my arms are now lobster red kind of sunburn. Nate, who does not burn, obviously, laughed at my pain. We saw a drunk guy riding a shopping cart through busy intersections, two guys playing trumpets on different street corners, some crazy pimp-wear shops on Broadway (Nate threatened to buy a hat or a lime green suit), and a really bad car accident with a lady being taken out of the driver's seat by the paramedics and moaning loudly.

Once we got to Greektown Nate insisted on going to this amazing bakery and getting baklava, because 'it's tradition'. Don't ask me, I have no idea. I pointed out the horribly awesome little Coney Island place we eat lunch at before Thanksgiving Day football games, and we ate really messy but delicious baklava and warily eyed the other Tigers fans in the bakery.

Then we drove home and got incredibly lost due to the most poorly marked major highway detour I have ever seen. On the plus side, we got to see a lot of Dearborn and Inkster that neither one of us had ever had occasion to see before. On the minus side, Dearborn and Inkster are not really places you want to spend more time in than you absolutely have to, even in a car. Also, we got to see a completely beat up old car with 20-inch gold rims, which caused Nate to exclaim, "Look at that! WE'RE IN THE HOOD! Jim (the whitest guy on our hall, who occasionally thinks he is black) is going to be so jealous!" and then to start worrying that he maybe shouldn't have classic rock blaring from his stereo in this area.

Eventually we made our way back, hyped-up and starving and exhausted, and in my case wincing slightly from sunburn, and happier than a pair of psychotically manic clams, whatever that means.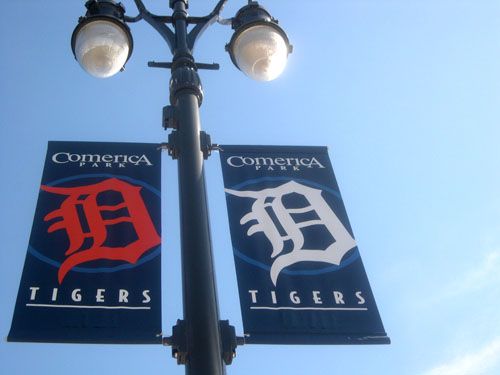 Tigers baseball. Say what you will about Detroit and the Tigers, but there's nothing like it on a sunny Saturday afternoon.
1:42 AM