Thursday, April 07, 2005
Quite the day for injuries, wasn't it?

Kevin Millar walked off of first base with cramps (we're told they're cramps, anyhow. No indications of anything serious). No more fried chicken pregame gluttonfests for you, Millar.

Mike Timlin beaned Derek Jeter in the shoulder (yes, the shoulder. It only ricocheted into his head and knocked off his helmet). CT scans came back normal, if the brainwaves of a sexually confused, overpaid, overhyped New York Yankee shortstop can be considered normal. Oops, did I say that out loud?

Mariano Rivera bent over on the mound and screamed like the high-frequency, sonar-reliant fruitbat that he is* after giving up a homerun to Jason Varitek last night, and tonight was forcibly removed from the game by a befuddled Joe Torre. Oh Mariano. You are our pet fruitbat. We will keep you in a small but adequate cage, and will feed you on humble New England-grown fruits. Like, uh, the delicious cranberry. Maybe we will let Manny take care of the cage for a while, because he likes animals, but he's forgetful sometimes, so you might have to sit in little piles of your own guano until Bill Mueller comes in and clucks his tongue disapprovingly and gives you some clean newspapers. We will occasionally let you out to play with other teams, but in the end you will have to go back in the cage because we are the Boston Red Sox and you are our pet fruitbat.

Magglio Ordonez left the game in the 4th inning with what is being mysteriously described as 'dizziness'. I'm unprofessionally guessing that Maggs hasn't been eating enough since being diagnosed with diverticulitis, or perhaps has let himself get dehydrated. Entirely likely, if he's having to change his entire diet and was being hypersensitive about reaggravating his intestinal tract, and that would definitely cause dizziness. Who needs art school when you have this magical innate medical knowledge?

Bobby Crosby was placed on the 15 day DL with a rib injury. Cracked rib, I think. Can that be fixed in 15 days? Sucks for the A's, I'll say that. I was rather looking forward to seeing Crosby play, too.

Barry Bonds announced, in a terrifically dramatic pregame speech to the crowd, that he "will be back". Eventually. At some point. Like the Terminator. Maybe this is a secret message that he'll be running for governor of California at some point in the near future. Look out, Ahnahld!

I watched the Braves/Marlins game earlier, because it was on, and damn if those teams didn't defense each other to death. Ended in the thirteenth inning with a score of 2-1, Braves. Jeez. There was Chipper Jones and Carlos Delgado and Juan Encarnacion and Mike Hampton and all these people I pay no attention whatsoever to, but damn if I was not favorably impressed.

I'm watching Dodgers/Giants right now, and somehow Eric Gagne contrived to get himself thrown out of the game, despite the fact that he is not actually in the game to begin with. He is, in fact, on the DL with an elbow injury. I'm not sure exactly what he did to get thrown out because I am having this game explained to me by the dulcet tones of one Chris Berman, and the Schwab is not good at things like 'knowing what the hell is going on in a baseball game' and 'telling the people watching at home what the hell is going on'.

But, you know, none of that stuff matters today.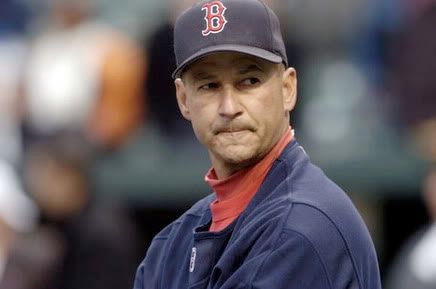 Tito, please please please be OK. Please let all this just be precautionary.

We want you back out there. We need you back out there. Oversized fleece and giant wad of gum and crazy rocking back and forth on the bench and dryly humorous comments and gleefully reporting what various players look like 'in the shower' to see the male reporters wince... we need this back posthaste.

Be well, Tito. Be well and get your bum back in that dugout.


*Biological lies. Fruitbats are not reliant on sonar, those are insectivorous bats. But it sounded good.
12:43 AM