Saturday, February 19, 2005
I just wrote up a long, ranting post about all those people who say they used to like rooting for the Red Sox, underdogs extraordinaire, but now they see them as just another iteration of the Yankees, and they hate them. Those people get me up into my Extreme Anger Level, which is reserved for things like Steinbrenner ruining baseball, neo-Nazis, poachers, people who are vehemently anti-homosexuality, and the fact that the US pulled out of the Kyoto Treaty. We're talking serious, eye-bugging, speechless-with-rage levels of anger here. So it was a pretty nice rant.

But I'll post it another day, because screw all that stuff! Screw David Wells and Curt Schilling's tshirt and A-Rod. Screw hockey (U of M beat Notre Dame tonight, pro season might not be done, etc). Screw the glorious shining completion of my fibers final project. Screw the news about Pudge that I'll talk about when I'm goddamn good and ready to.

UGUETH URBINA'S MOTHER HAS BEEN RESCUED!!!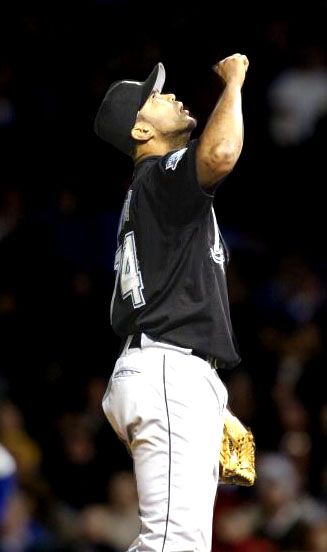 On this occasion, it is indeed appropriate to do the 'throwin' it up to the big man upstairs' gesture.

Not to be, you know, a 13 year old Livejournal fangirl about this, but OMG WHEEEEEEEE! YAYAYAY!!!!11!!

:D :D :D :D :D :D :D :D :D :D :D :D :D :D :D

Yay! Thank you Venezuelan police force for getting her out safely! Thank you Urbina family for holding firm and not giving in to the kidnappers' demands, which would have made future kidnappings more likely! Thank you Detroit Tigers for being so understanding throughout the entire ordeal! :D

The story is here, if you want, uh, the official word on it. Without the myriad of exclamation points and smiley faces, but you know what, screw you all, UGIE'S MOM IS SAFE, GLEE!!!!!

From the Motown Sports message board:

HankusPankus: Thank goodness. Best news I've heard in quite some time.
Motor City Sonics: This is the best news of the entire offseason. Magglio, Farnsworth and Percival don't even come close to this!
TOM84: channel 7 just showed UU's mom released !!!!! :)
estrepe1: YES!!!!
CaliforniaDreaming: A real life victory outdoes any baseball victory any day!!! Yeah!!!
kpking3032: Great, great news, I hope UU takes on an advocacy role once this gets put in his rearview mirror because it's a horrific trend that keeps getting worse in South America
PantheraTigris: I'm seriously sitting at my computer, just grinning at the screen right now. This is GREAT. There is no emoticon sufficient for how happy this makes me.

Aw, seriously guys, I feel like throwing open the dorm window and just cackling like a loon.

*does the happy dance*

*does the happy dance some more*

*turns around and makes sure the shades are actually closed*

*resumes the happy dance*

So, angry rant some other time, discussion of the latest Pudge (meep, can we call him that now?) news some other time, I'm gonna turn the computer off now and go to bed HAPPY.

:D
2:07 AM